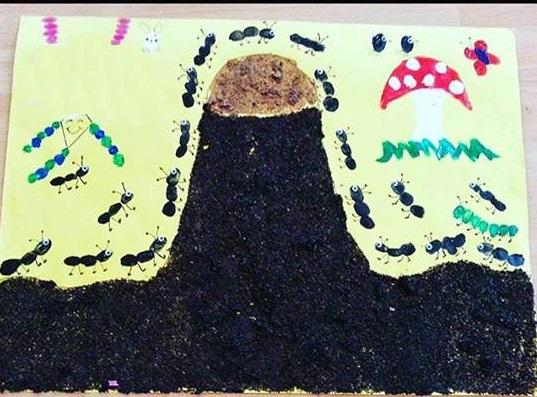 Fingerprint ant activities for kids
An activity of making ant nest out of finger print
How to make an ant nest?
Ants are the most hardworking creatures in nature. They spend their lives with working all summer and resting underground in winter.
We, as teachers, should present the nature to our students as it is.
Most of the students know little about the lives of ants. We wonder how many of our students have seen an ant nest before?
Ants work symmetrically without spoiling the order. They can carry the objects that are ten times bigger than themselves. Sometimes they build tunnels, bridges on their ways. Just like us…
Our purpose is to present the beauty and the productivity of the nature to our children. Because we are aware of the fact that education is the life itself…
Instructions:
First, we need a background paper for the background.
You should find something black to represent the ant nest. It might be any material you have; for example, tiny black stones, black tea or any other black plant's seed.
You can build ways in the nest
You can put shrubs, mushrooms, caterpillars etc. to decorate around the nest.
Now we can make ants out of fingerprints as seen in the picture. A lot of ants inside and outside of the nest.
6.Our activity is completed. Now it is time to talk about it.
7.Have a good lesson