This page includes a science activity   for winter theme prepared  by me for my sweet girl.
Snowflake baking soda science is a quick and easy sensory science activity for young children. We love baking soda science  experiments. This simple chemical reaction is so fun for kids!
Here it is a snowflake search  and baking soda science experiment all in one. I took a baking dish and put all my little snowflake buttons on the bottom. Then I covered them all with baking soda. I set out a bowl of vinegar that I colored blue. To help in the search I provided her with an eye dropper, jumbo tweezers and an ice-cube tray. She went and got her magnifying glass.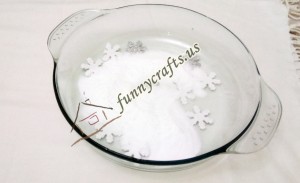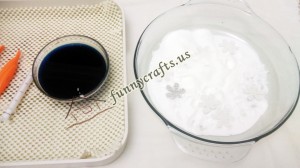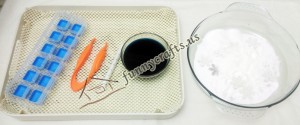 She loves this type of dropper and it's great for fine motor skills too! It's a bit harder to manage than a traditional dropper so I like that she has to go a bit slower and think about what she is doing a little more! She spent a lot of time depositing the vinegar around the baking dish and uncovering the "snow" covered snowflakes. She loves the fizzing action and will spend a lot of time making sure she uses all the vinegar and making all the baking soda fizz and bubble!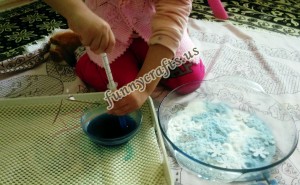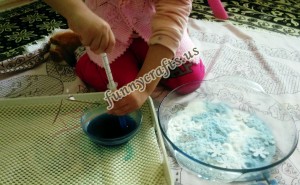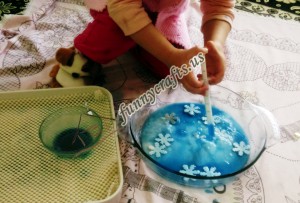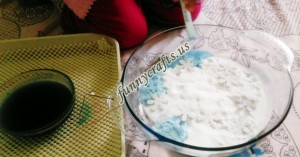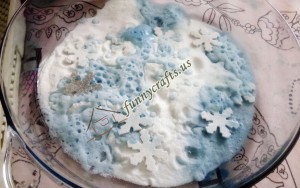 To extend the snowflake baking soda science activity just a little bit more, I had her use jumbo tweezers and place a snowflake in each section of the ice-cube tray! Even though it was a science experiment, there are so many valuable skills that can be learned and practiced. She counted all her snowflakes!