All of kids likes bookmarks.
We made these cute corner bookmarks yesterday.The kids and I are a bit addicted and want to enjoy
Cute corner bookmarks
Pop sicle stick bookmark craft ideas for preschoolers
Emoji bookmarks in the art room
Monster themed bookmarks
Bookmarks gift for children
Our bookmarks ready to hide in our library books before we take them back.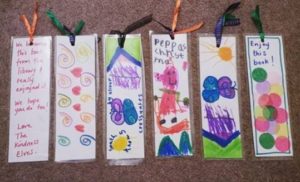 Pop sticks bookmark craft(sweet animals)
Homemade bookmark fun.Children 4 had loads of fun making her very own bookmarks using pencils,stickers and streamers.