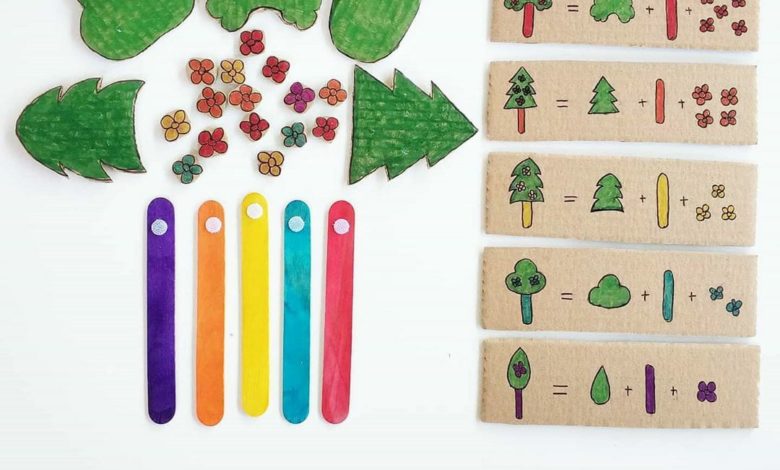 Cardboard Puzzle
The tree parts have different trunks, so let's place the appropriate piece on the trunk, complete the trees 😉
I prepared this game in order to develop the problem solving skill and visual intelligence, and to establish a part-whole relationship.🤗 This type of games plays an important role in its development, as it enables them to use their intelligence.😉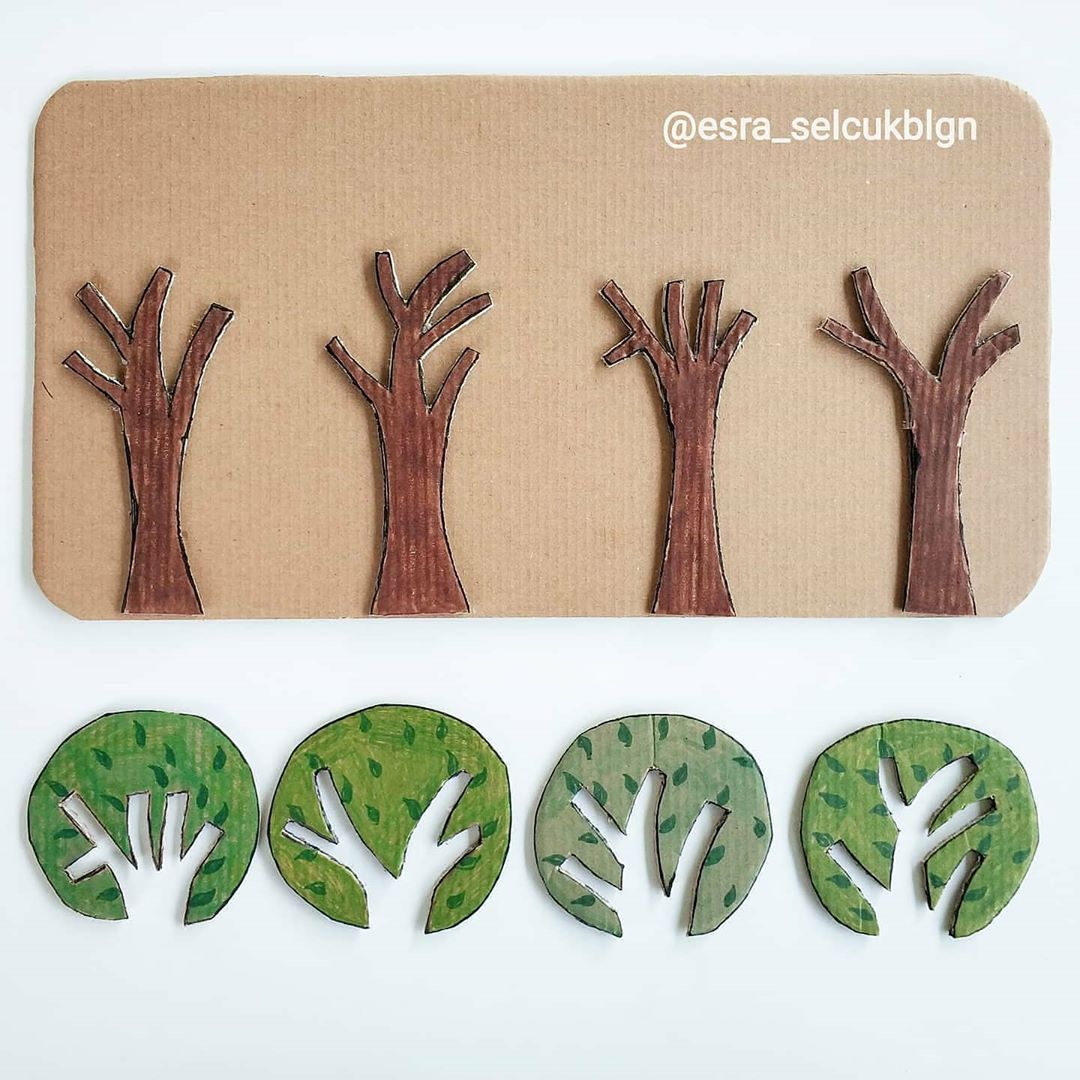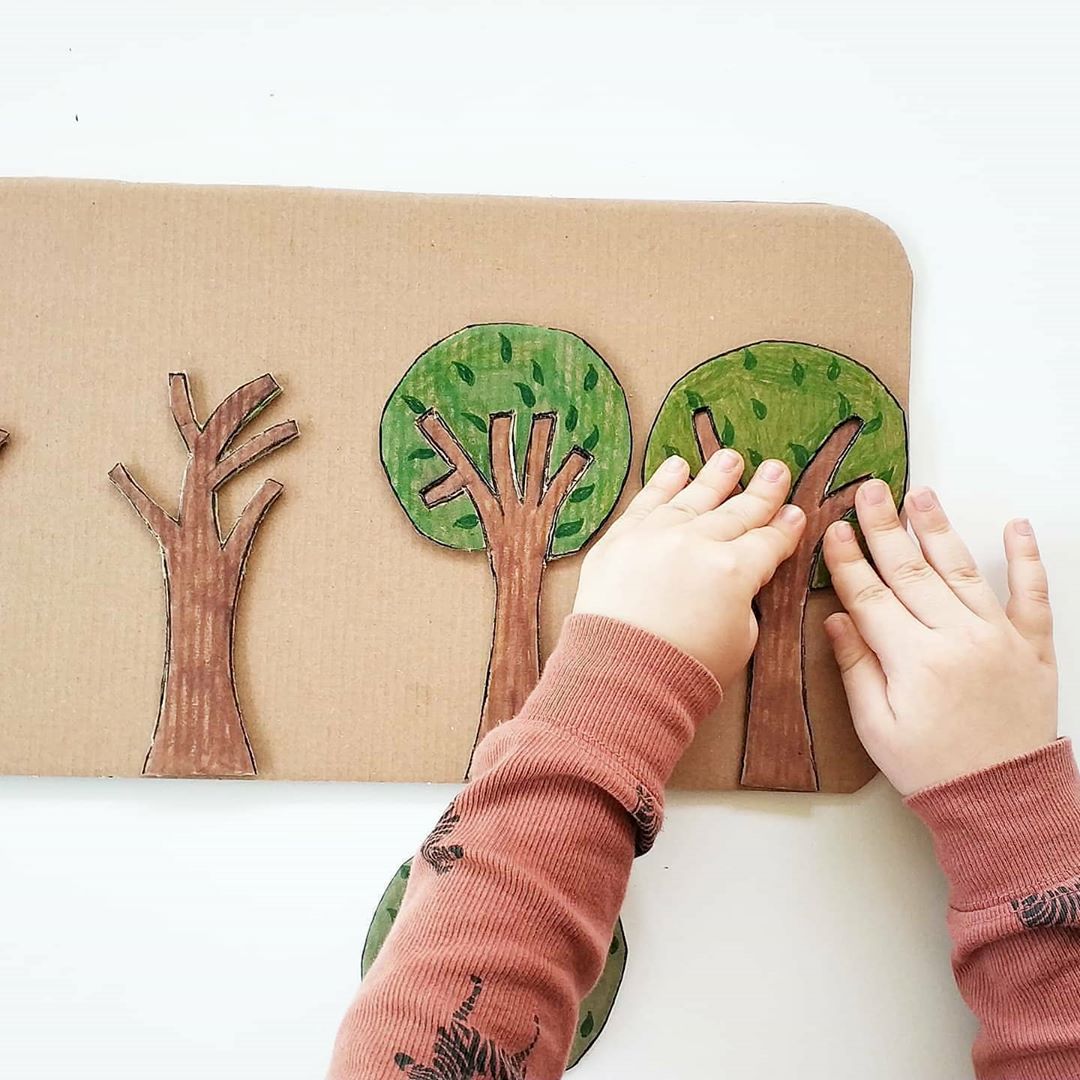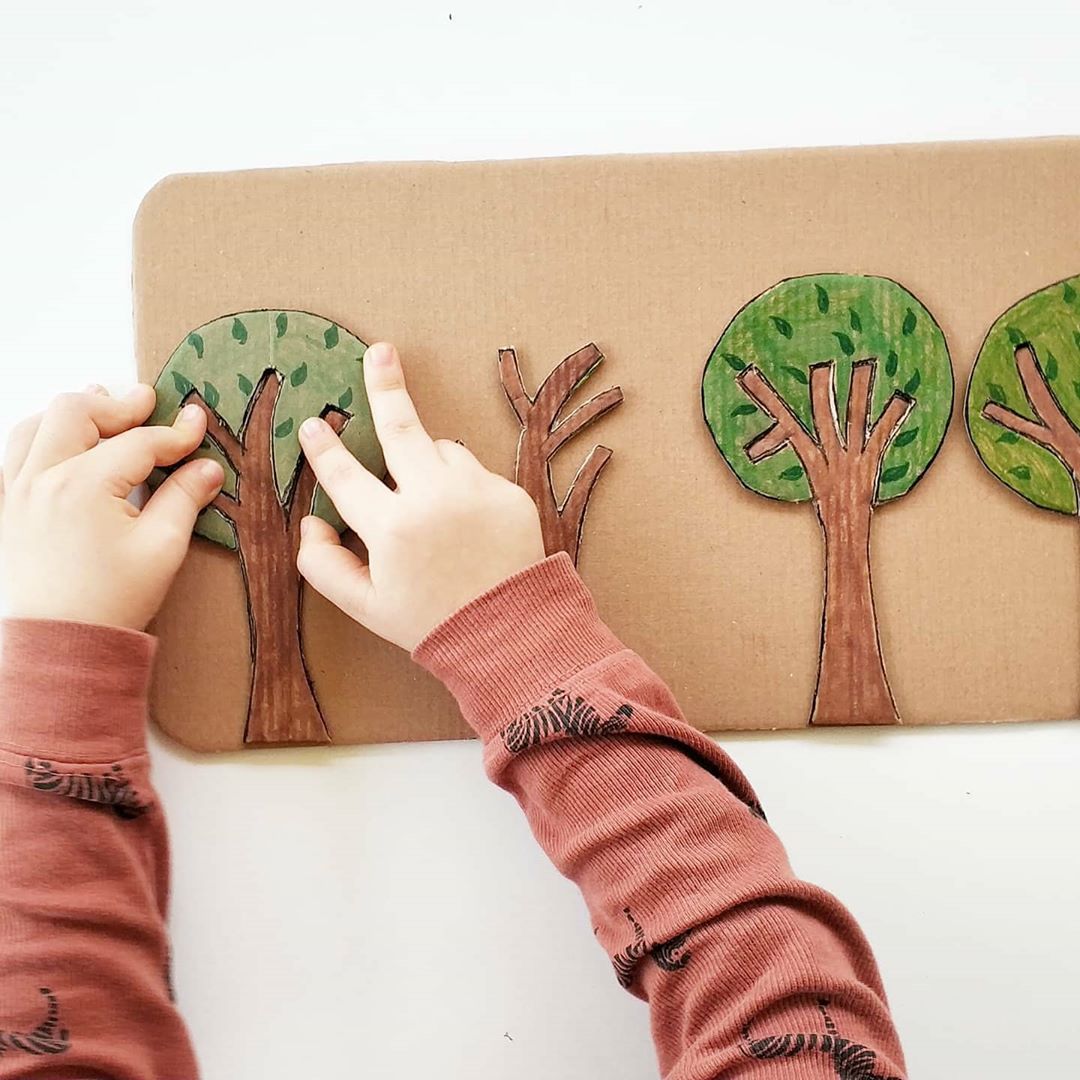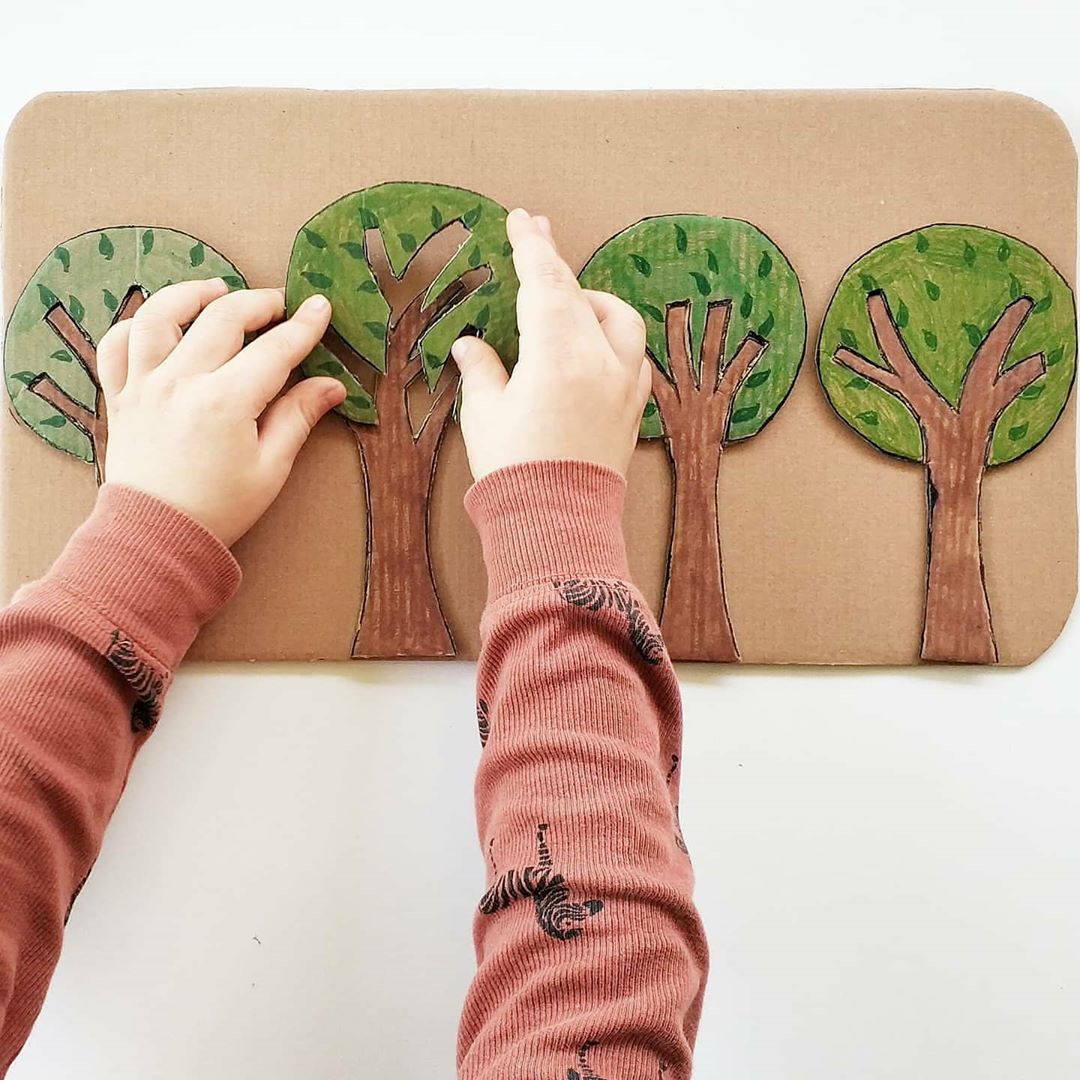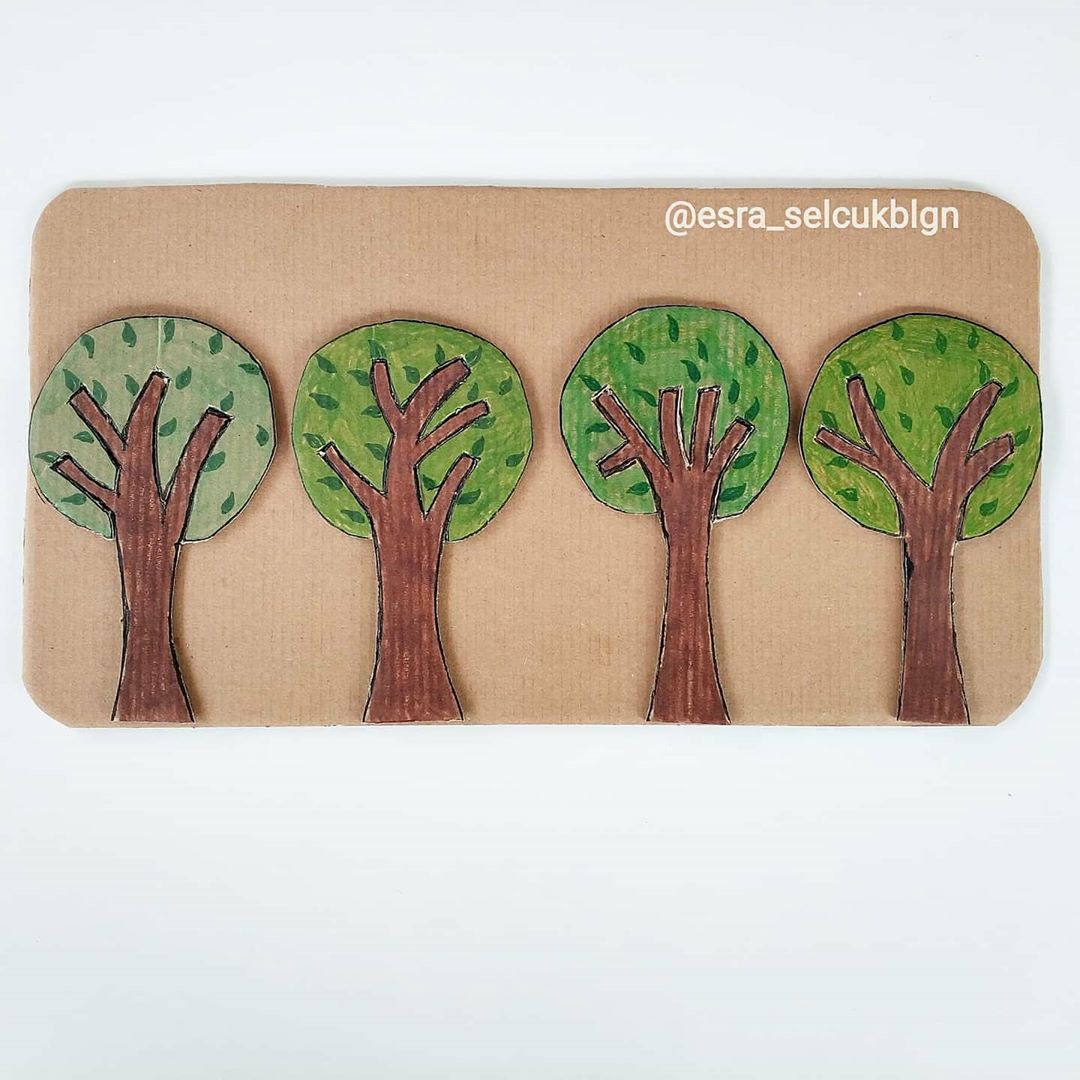 Letter Matching
Let's first find the letter written on the grape leaf among the purple grains,then place the pom pom in this pane we found.💪I love the purple-grained bunch of grapes that appear after all the pom poms are placed.🤗🍇
My goal in this game is not to teach the alphabet. Letters are symbols that we use only for matching now.😉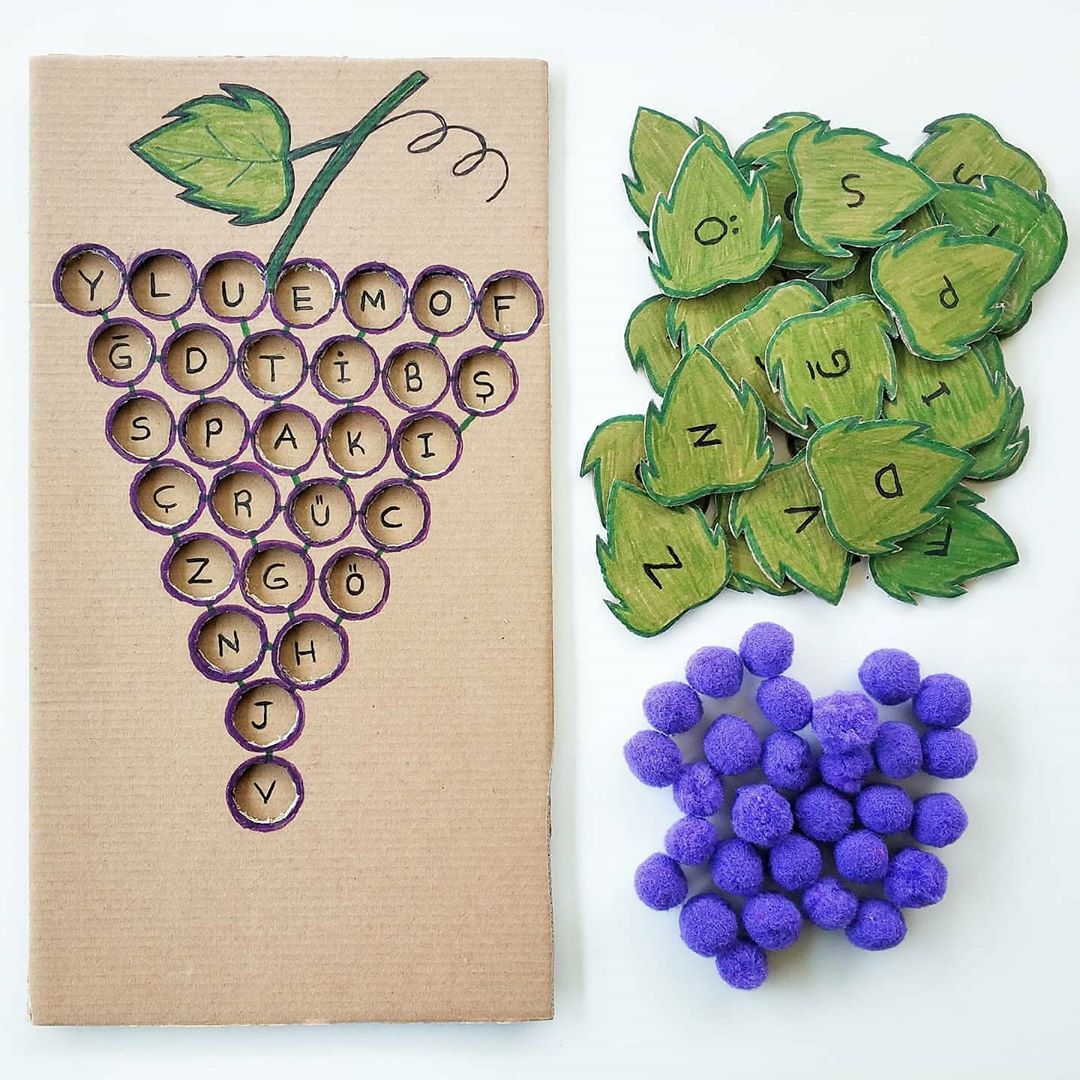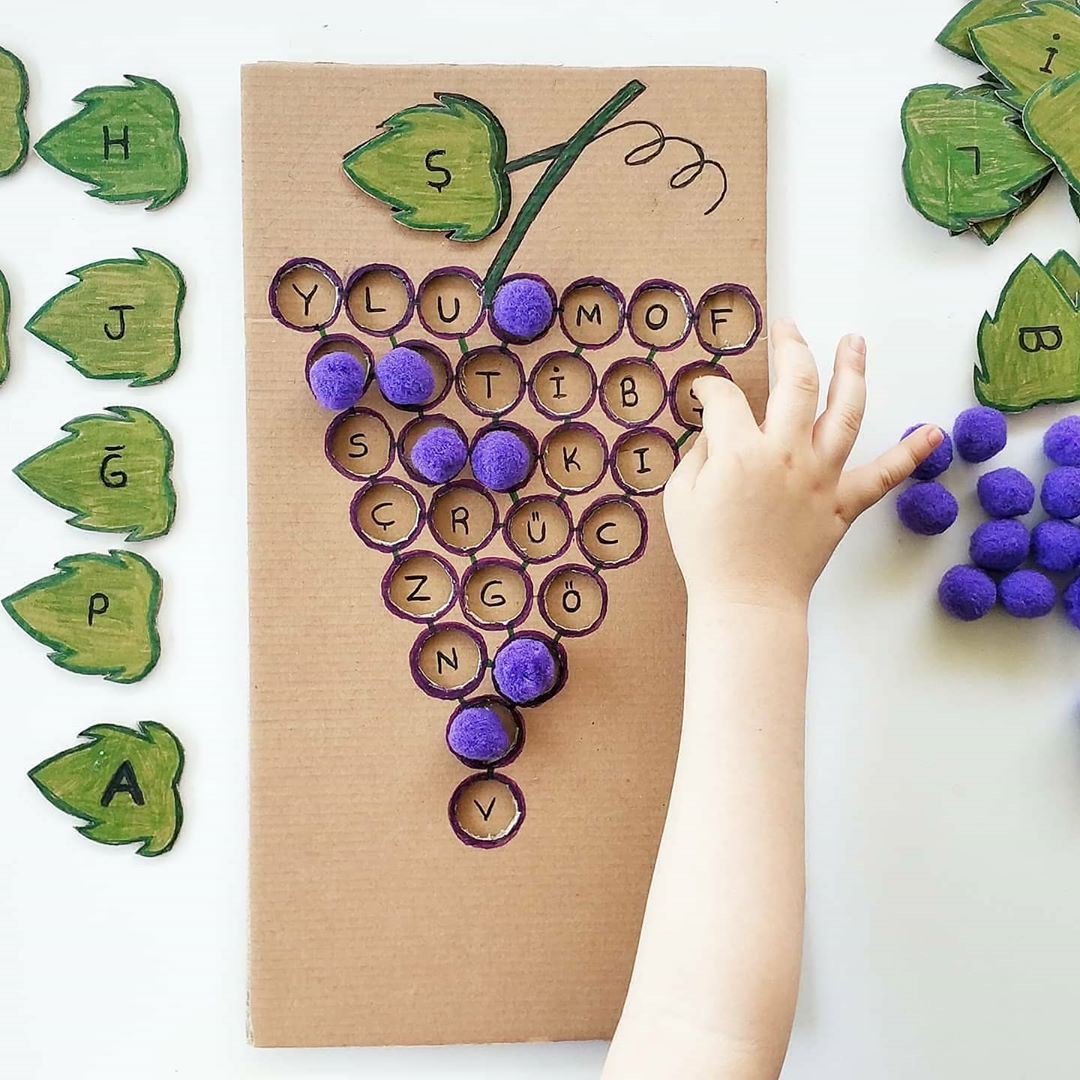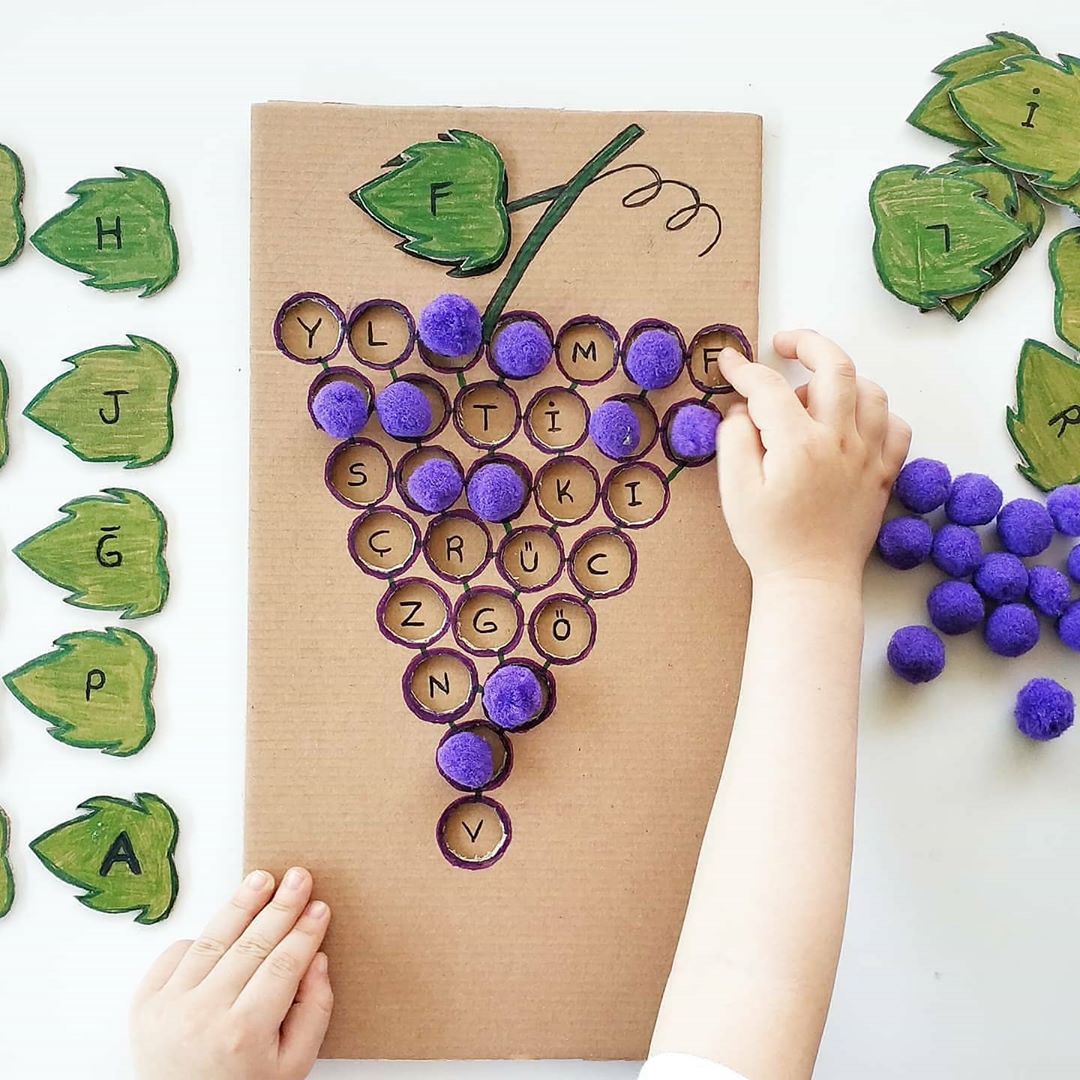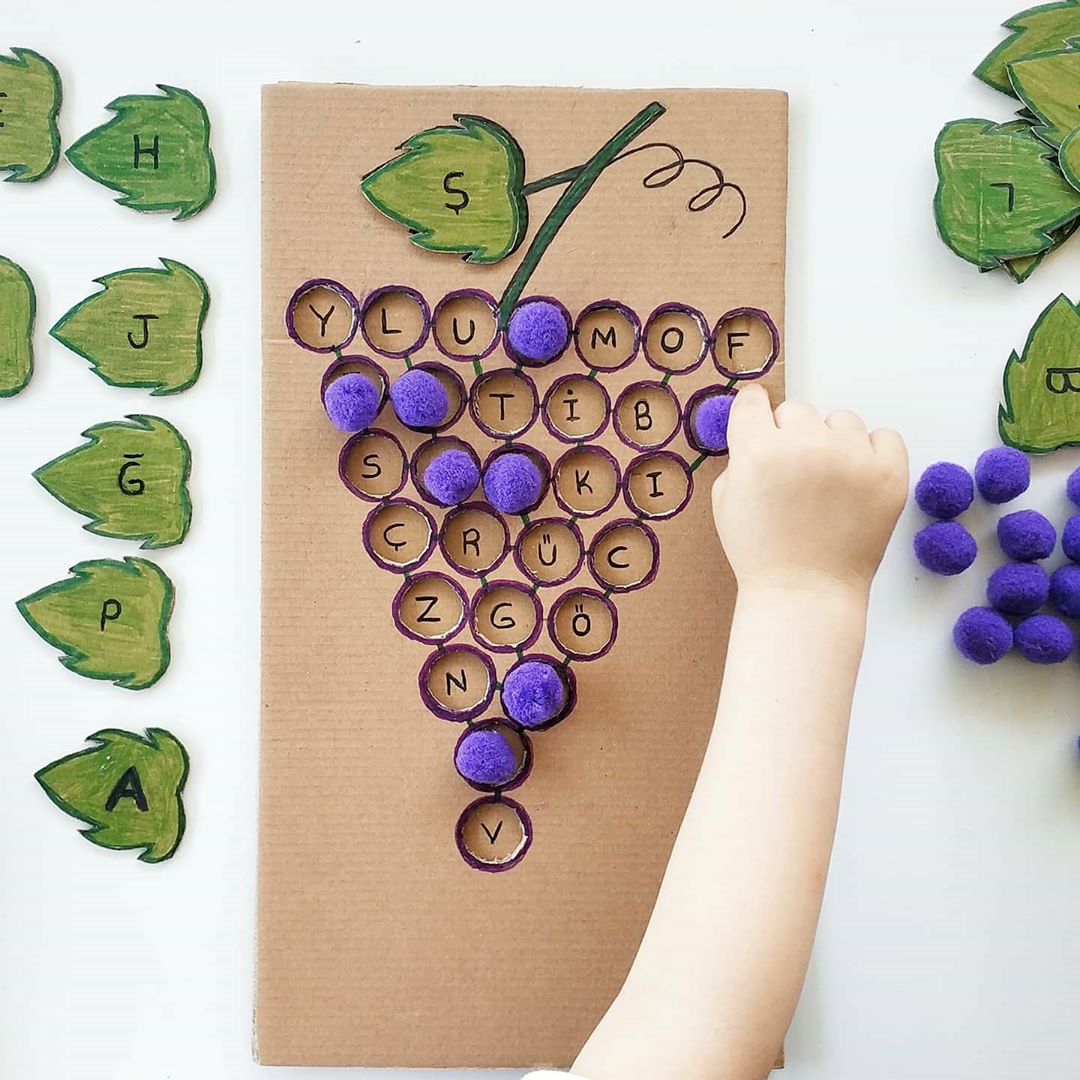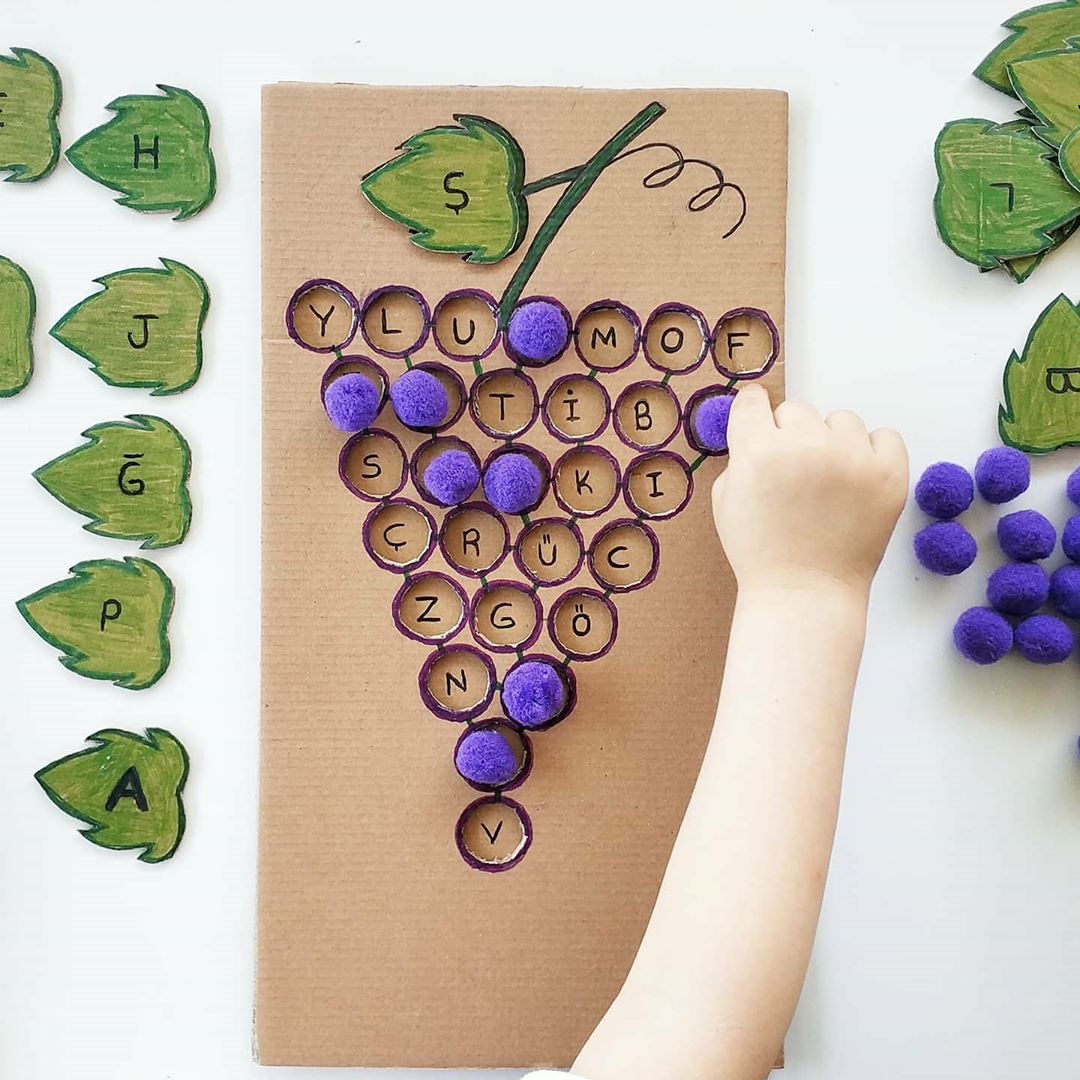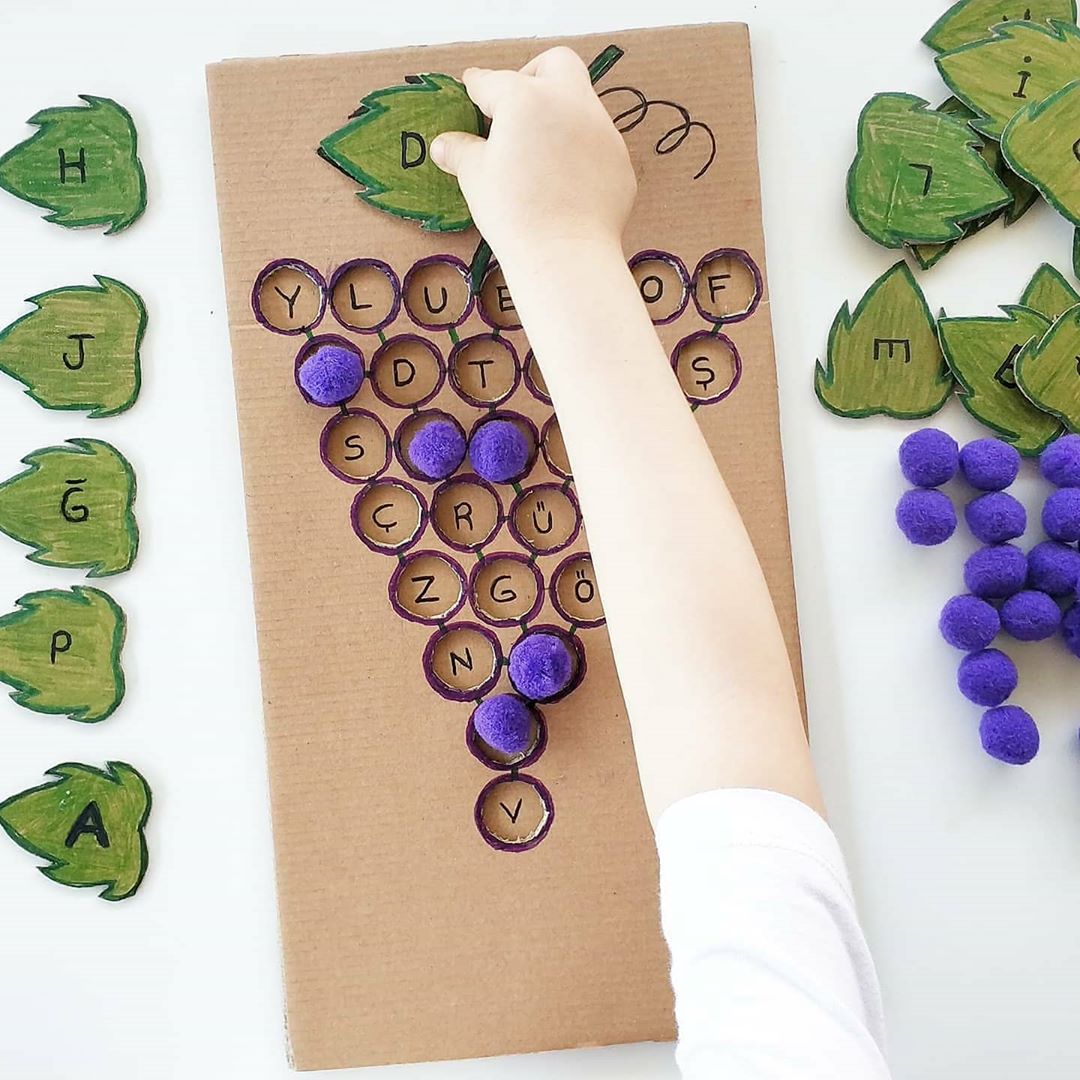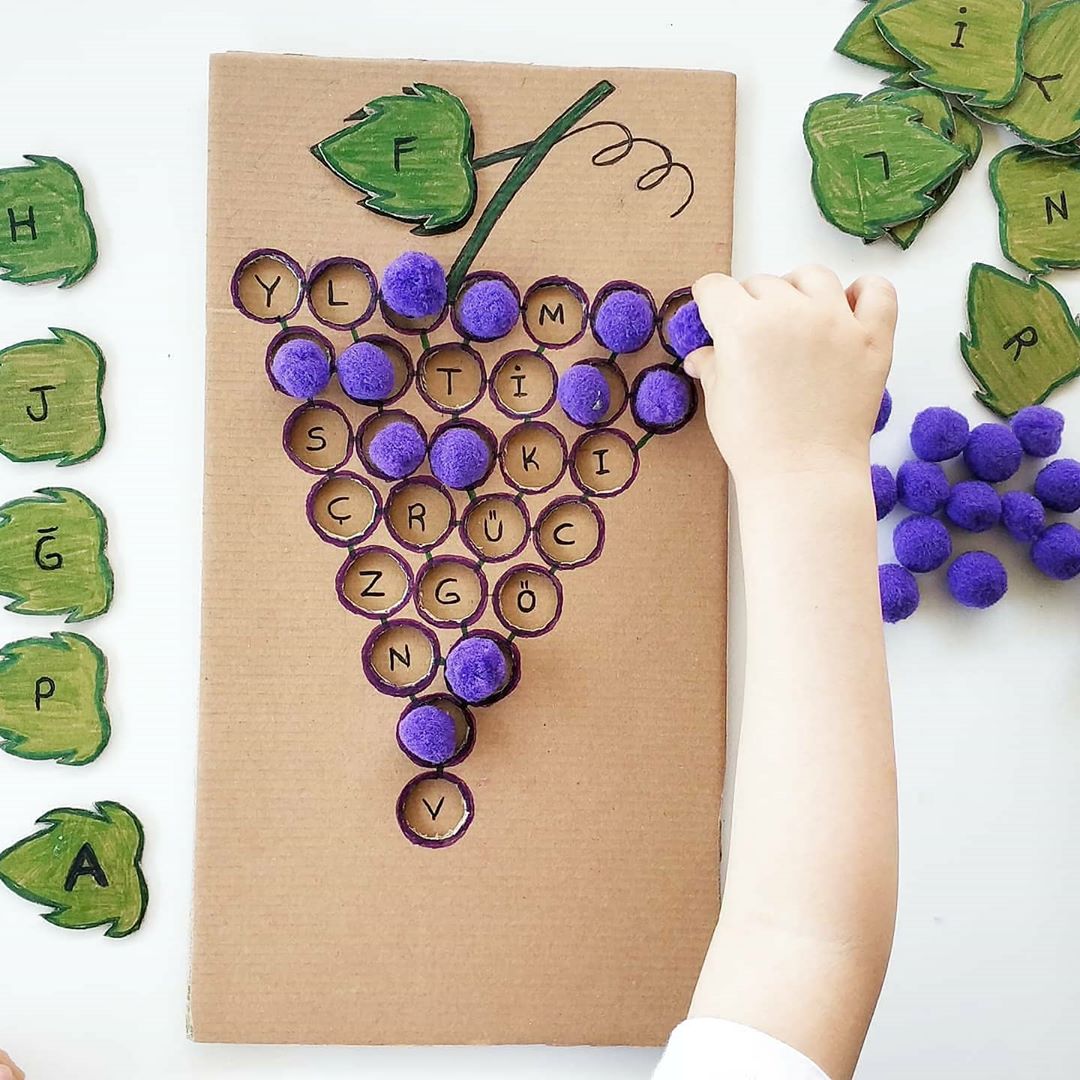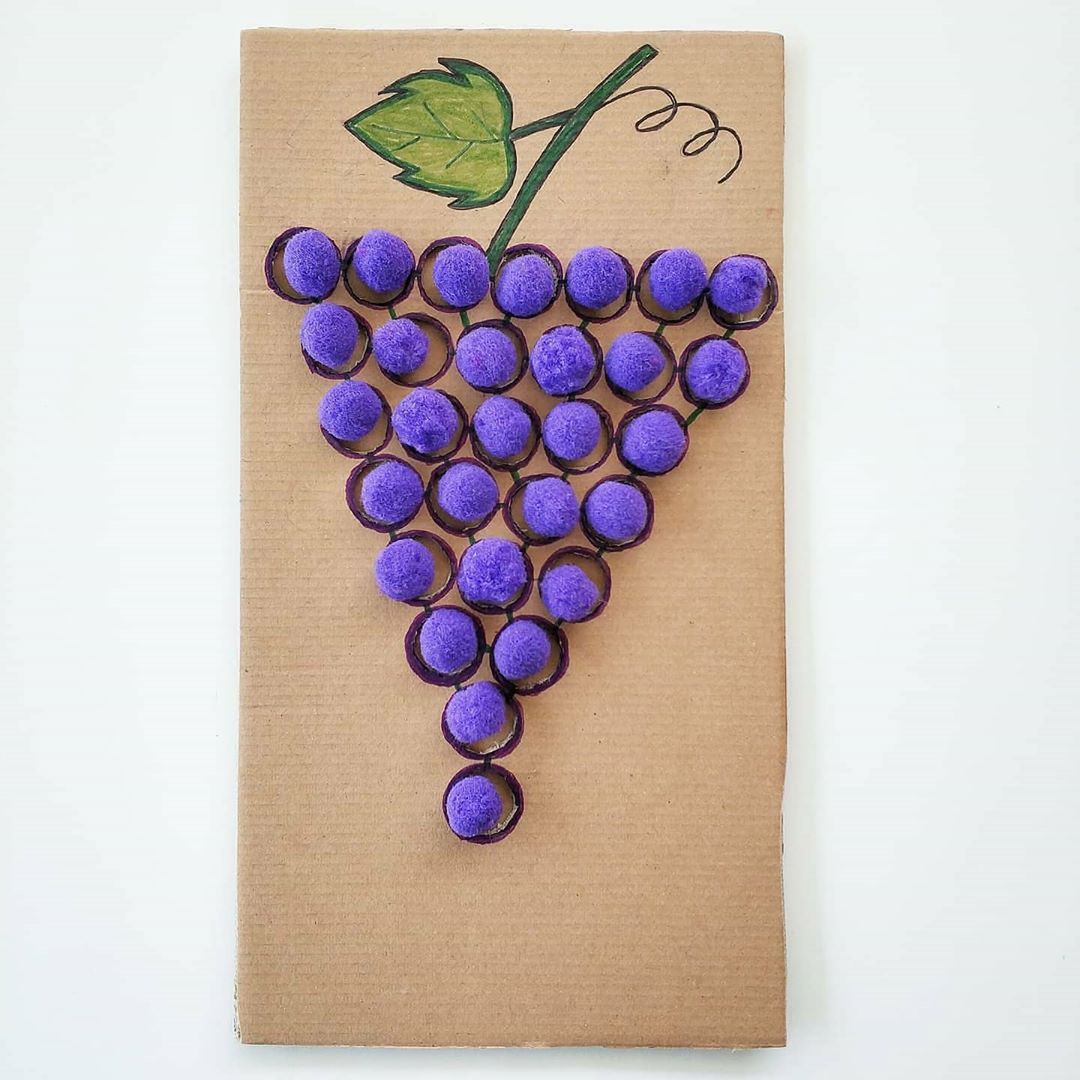 ‌Coloring the Rainbow🌈
‌Today, the clouds are very sad because all the colors of the rainbow have faded.☹️☁️
‌When the insects saw the clouds were upset they wanted to help them🐞🦋🐝🕷️
‌They thought that if they gathered everything that was in the rainbow colors on the road in the forest and placed it on the rainbow, they would get their old look.🤨
‌Let's help them, let's color the rainbow😉
‌I prepared this game to teach which colors and how to rank in the rainbow, easy counting, fine motor work, the development of imagination and, most importantly, how beautiful it is to help.
‌-By the way, the idea of ​​turning this story into a cardboard book came to my mind😉
‌(I attached beads to the back of the insects to make it easy to move through the thread.I glued the colorful flower petals on the rope with patafix.)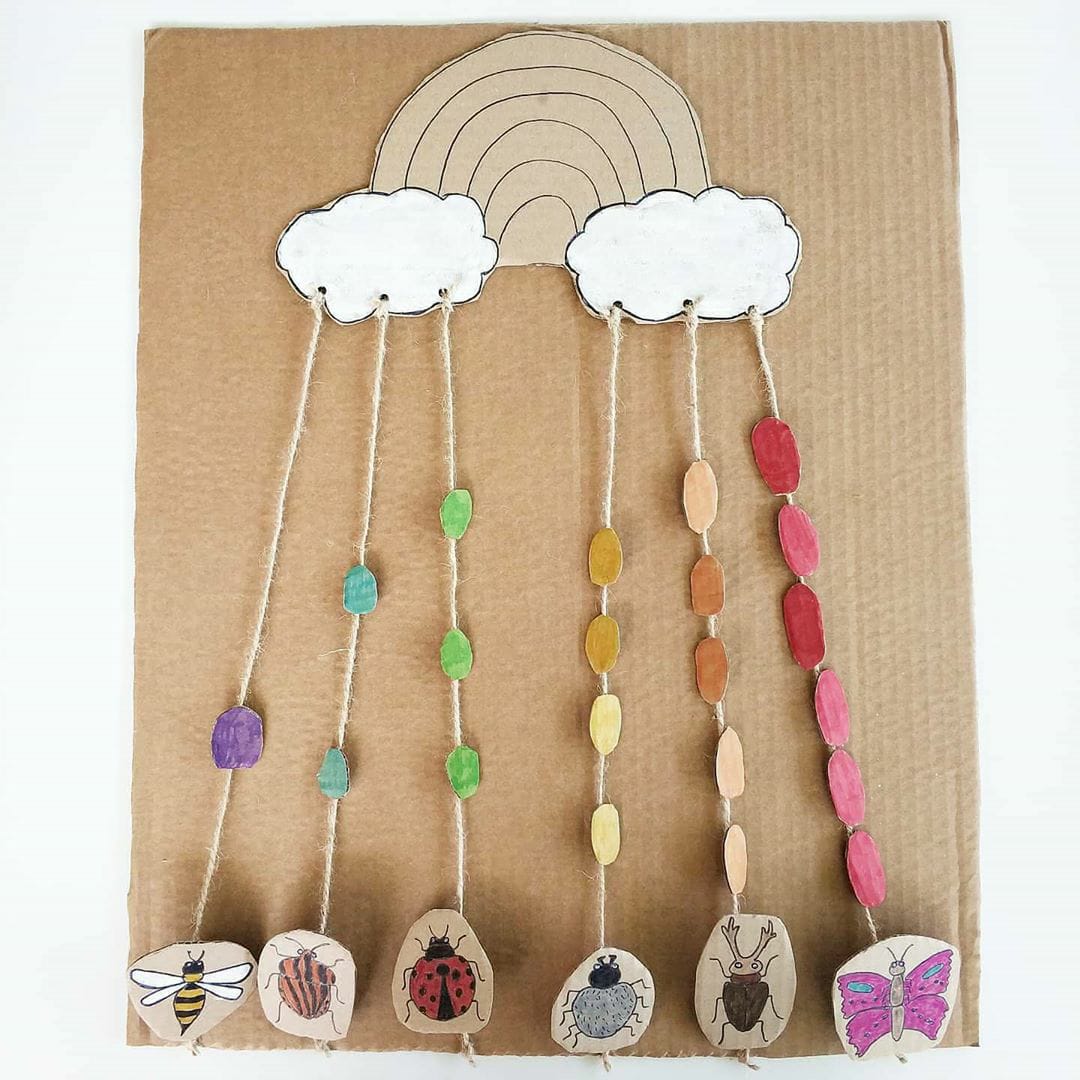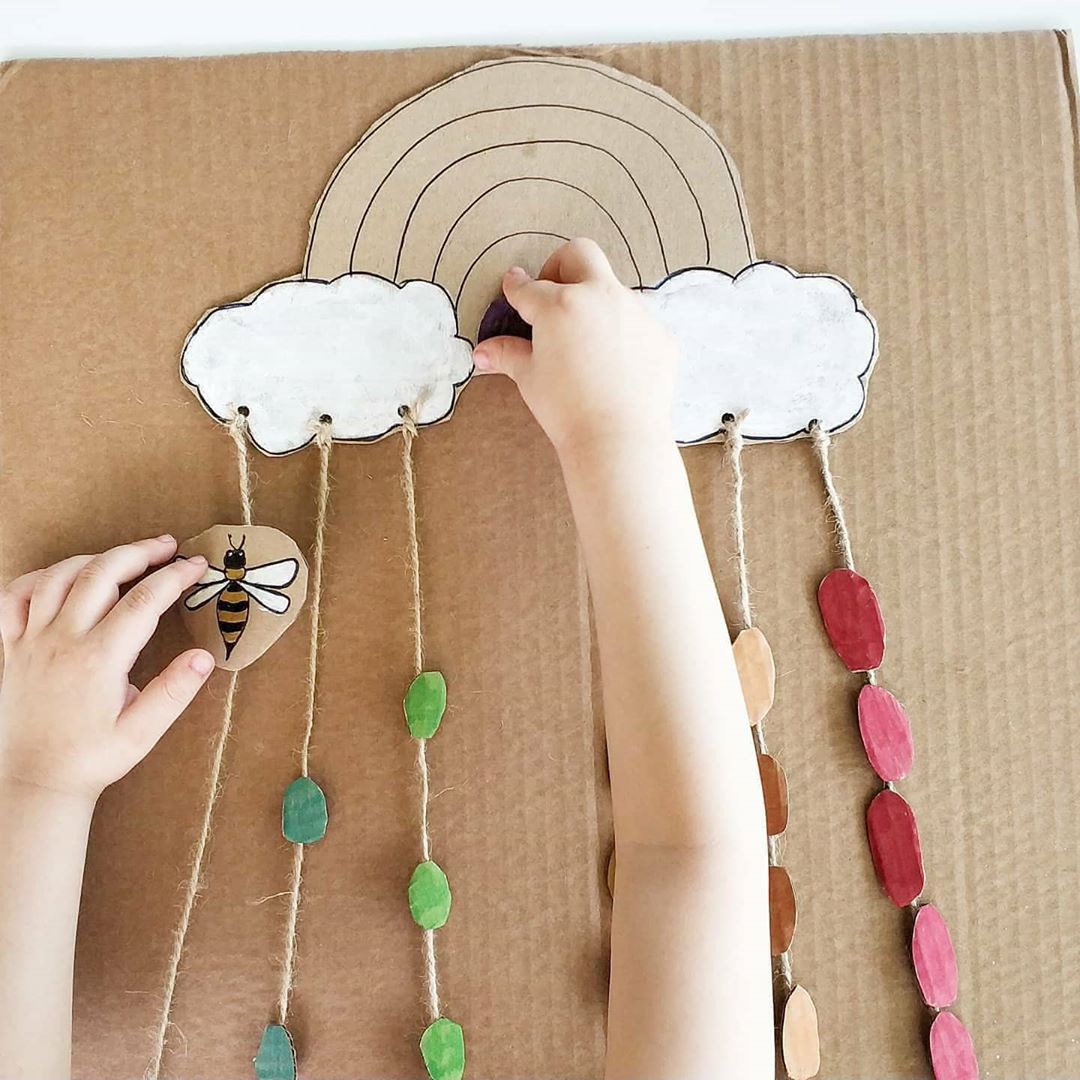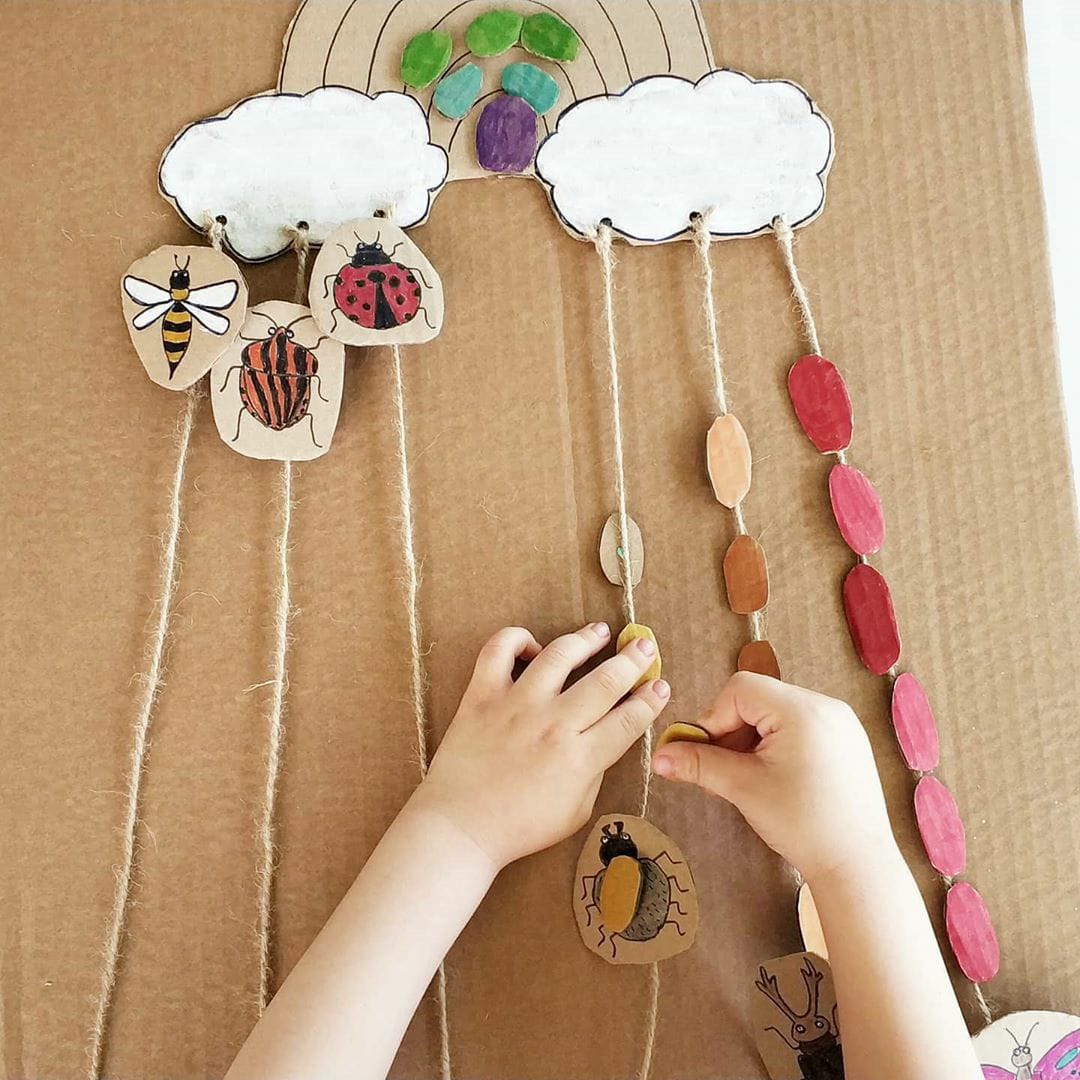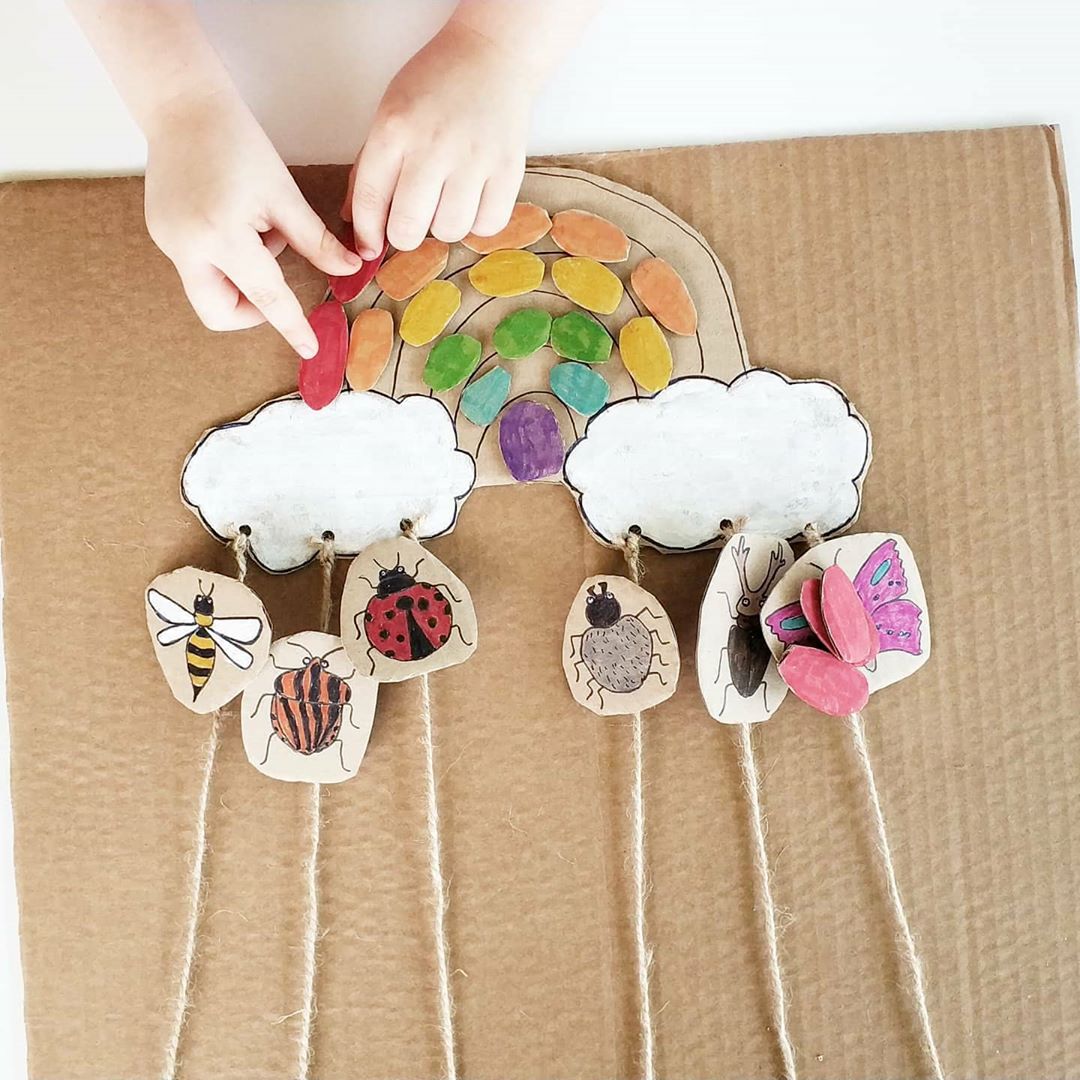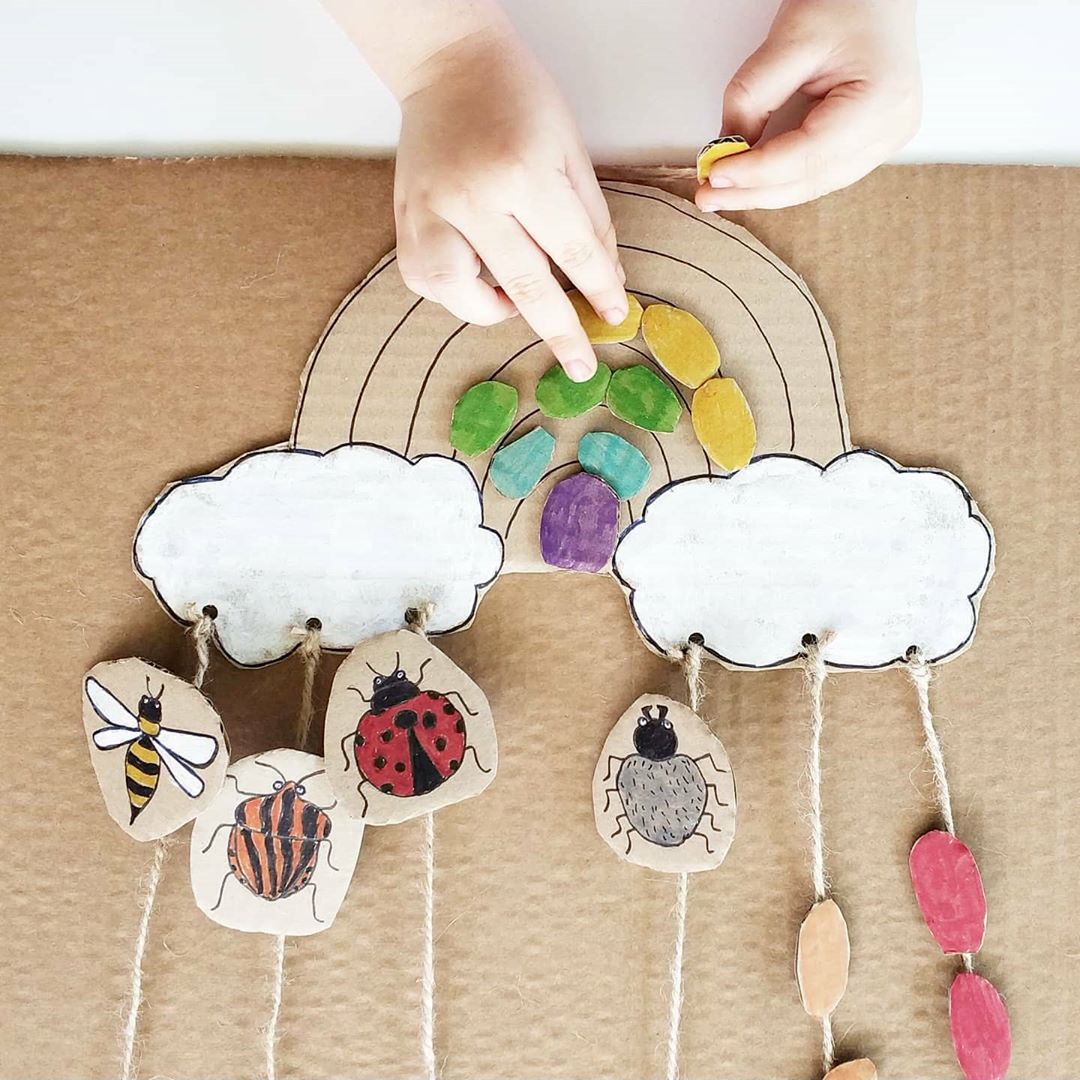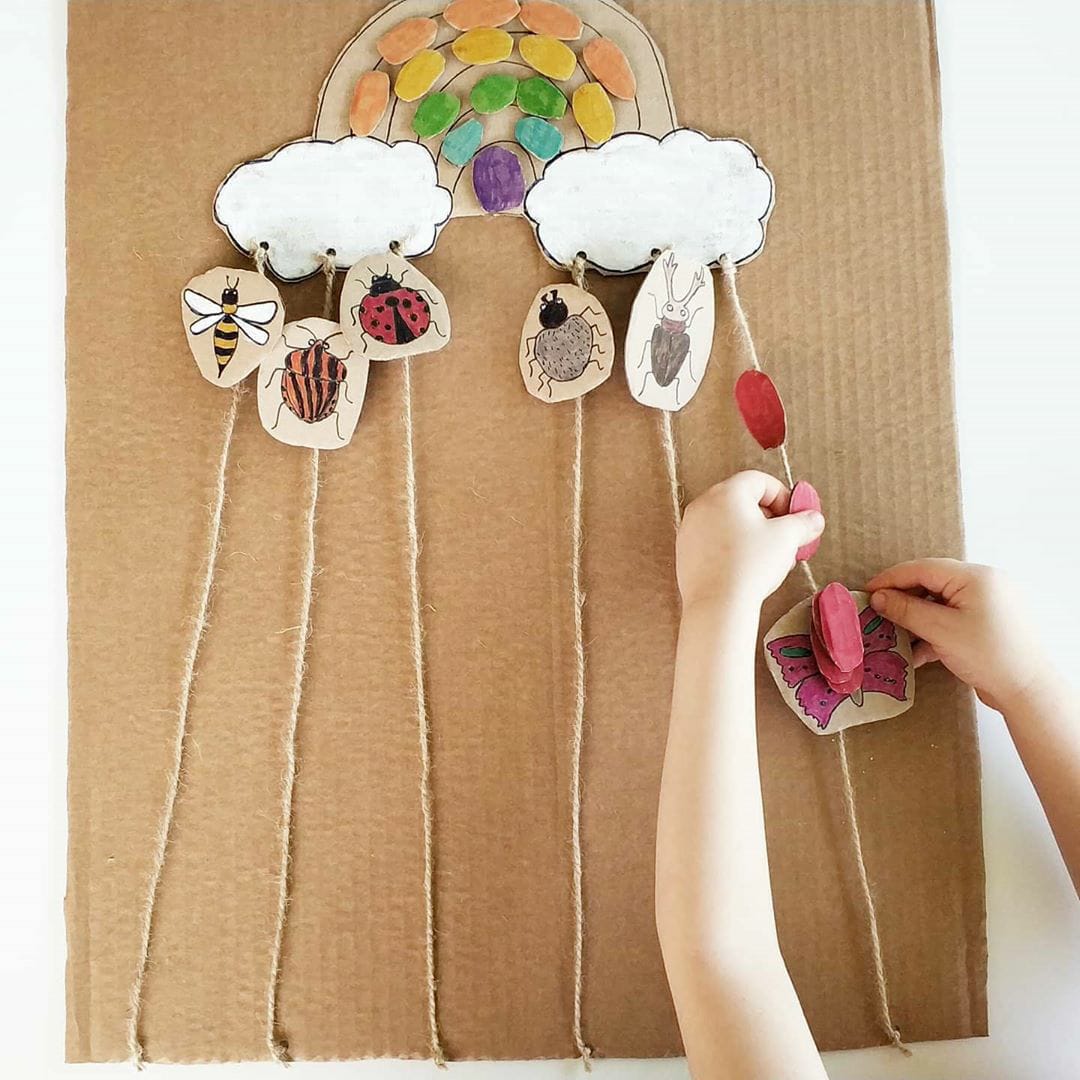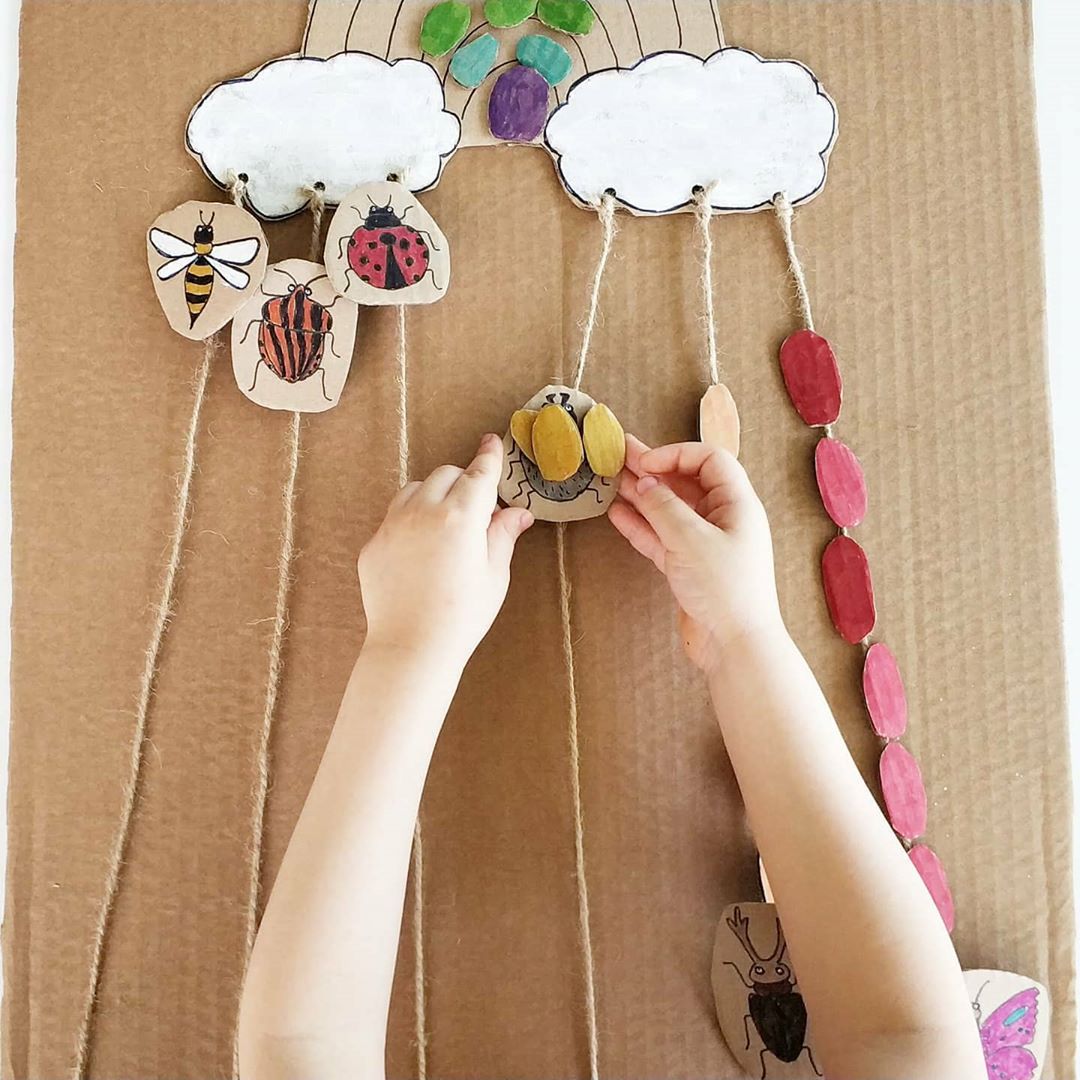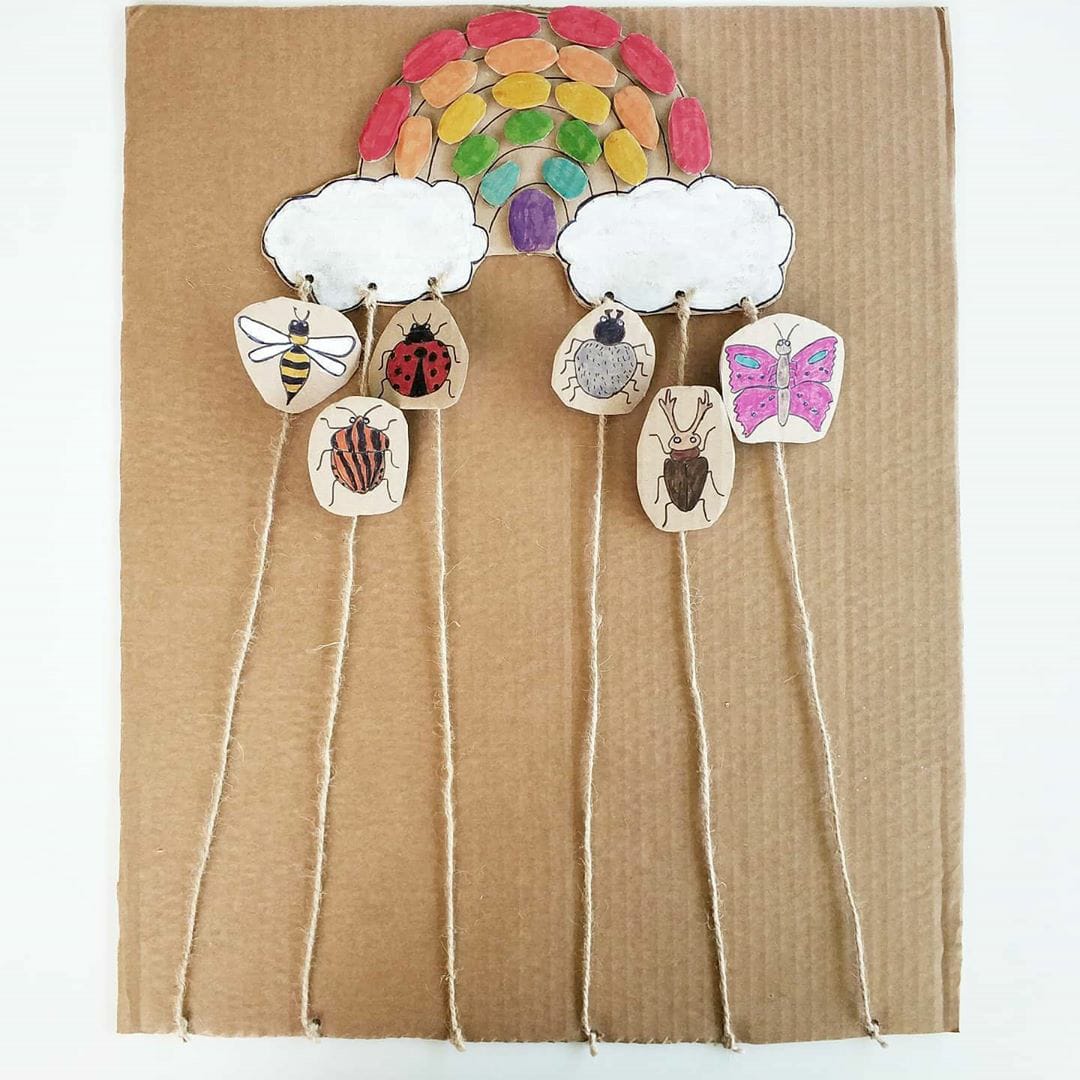 Colourful Gift Packs 🎁
A cloud brought six gifts to Ali Eymen today. The rainbow whose colurs were faded away in our previous play, sent the gifts. Ali Eymen helped the bugs to paint the rainbow 🌈 that's why the rainbow sent the gifts to appreciate his help. Let's unpack the gifts, I wonder what's inside them. (There were flowers in the colours of rainbow. I prepared a chart for helpful Ali Eymen so that he could match the flowers.) I made the flowers out of self-adhesive Eva Foam and the packs out of mats. I used pom-poms instead of buttons.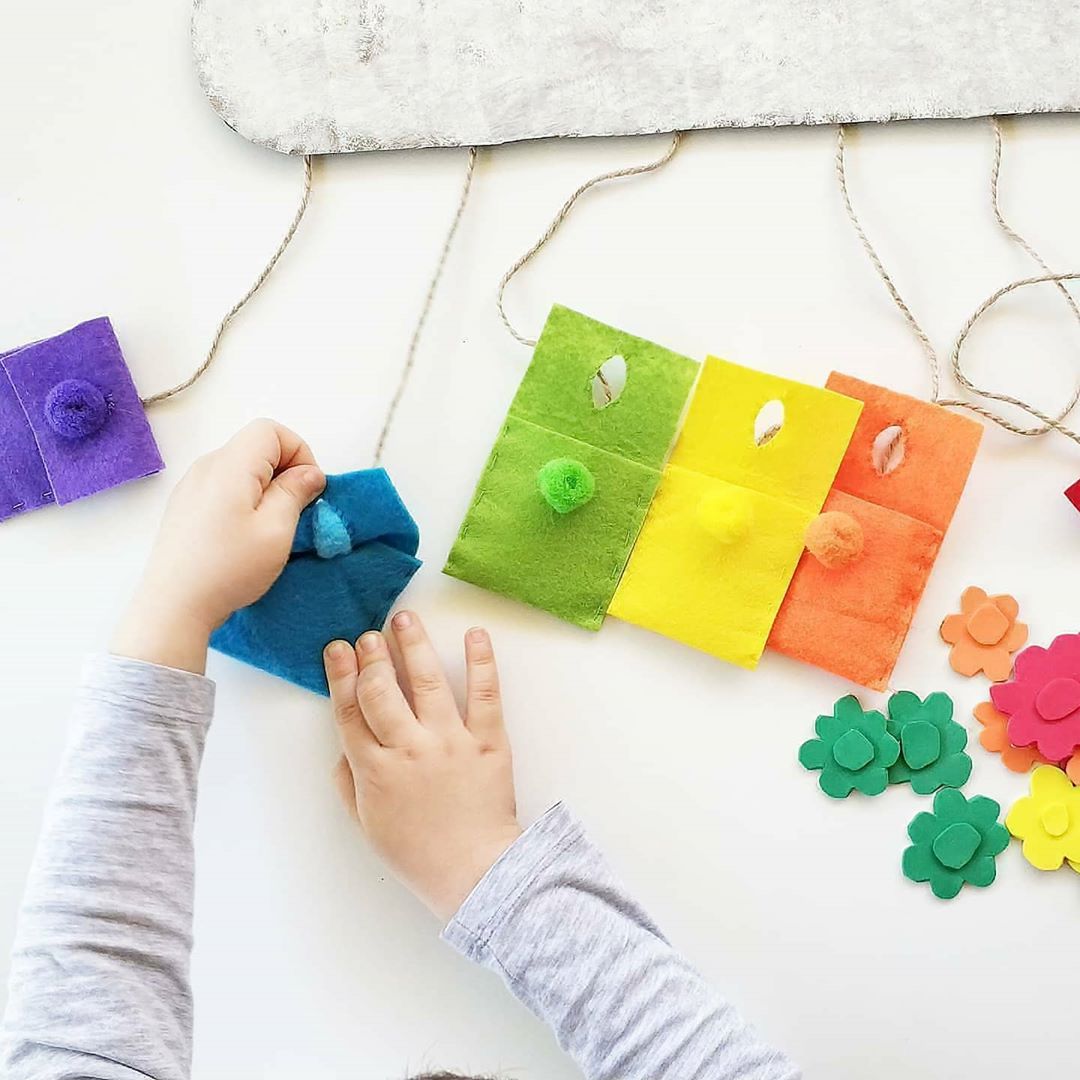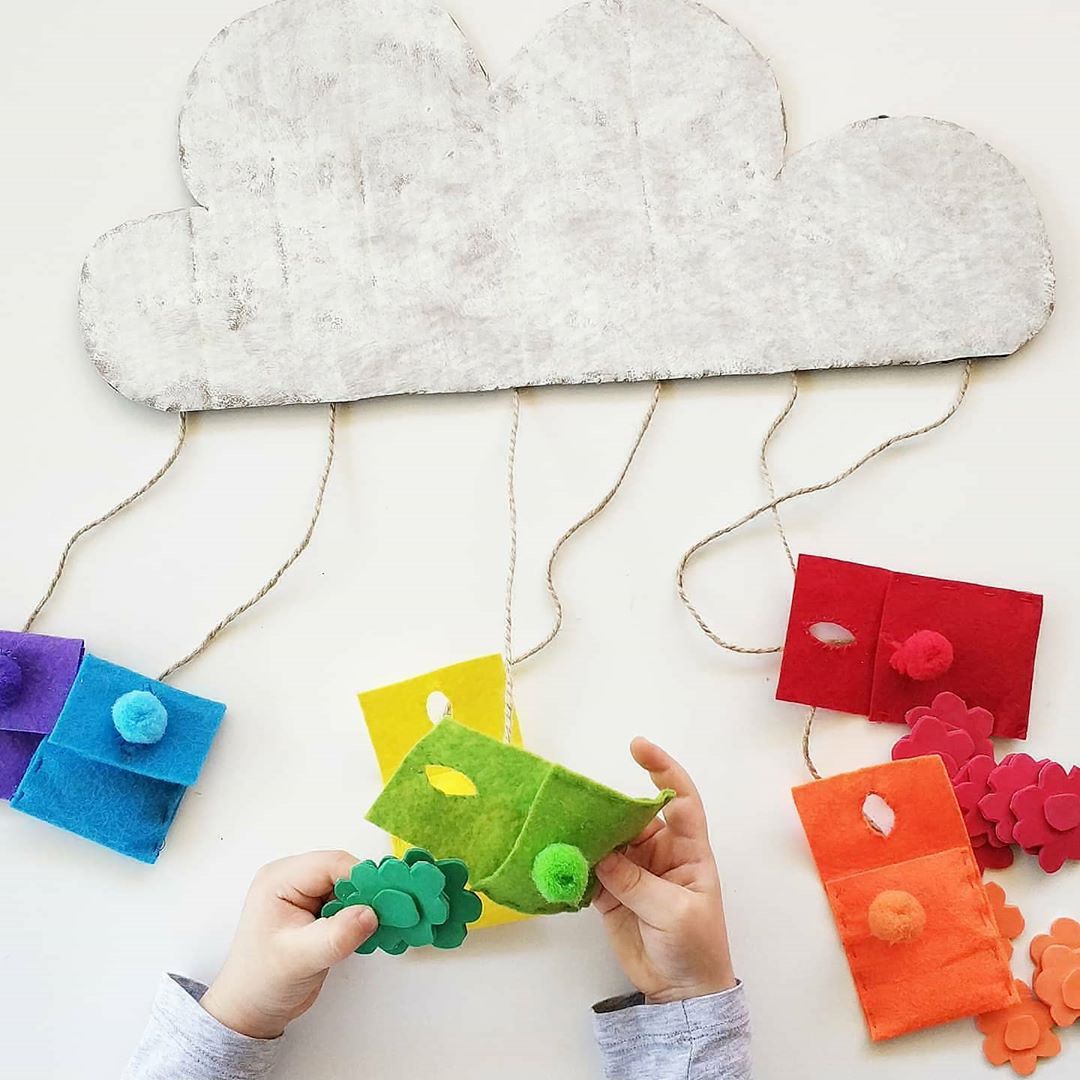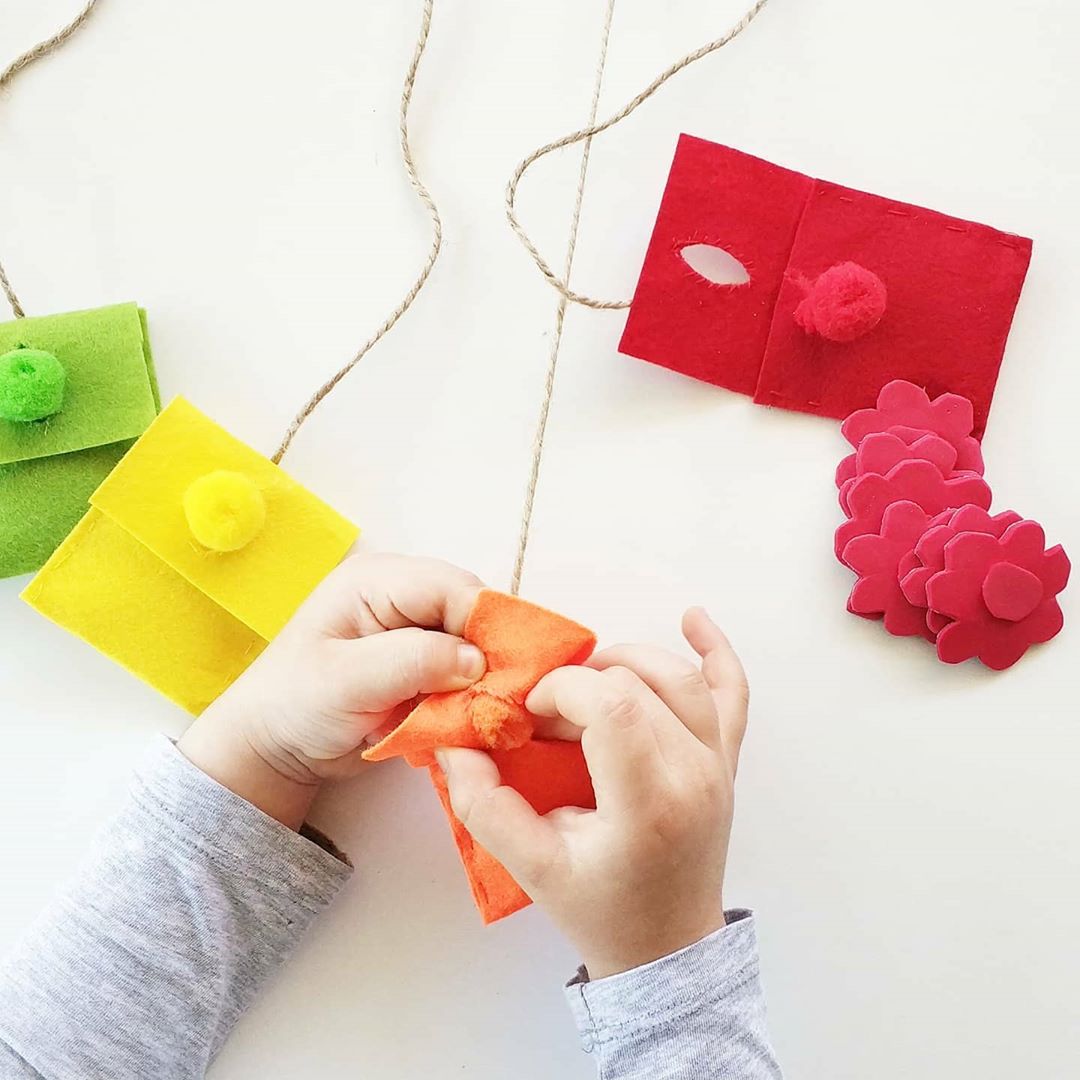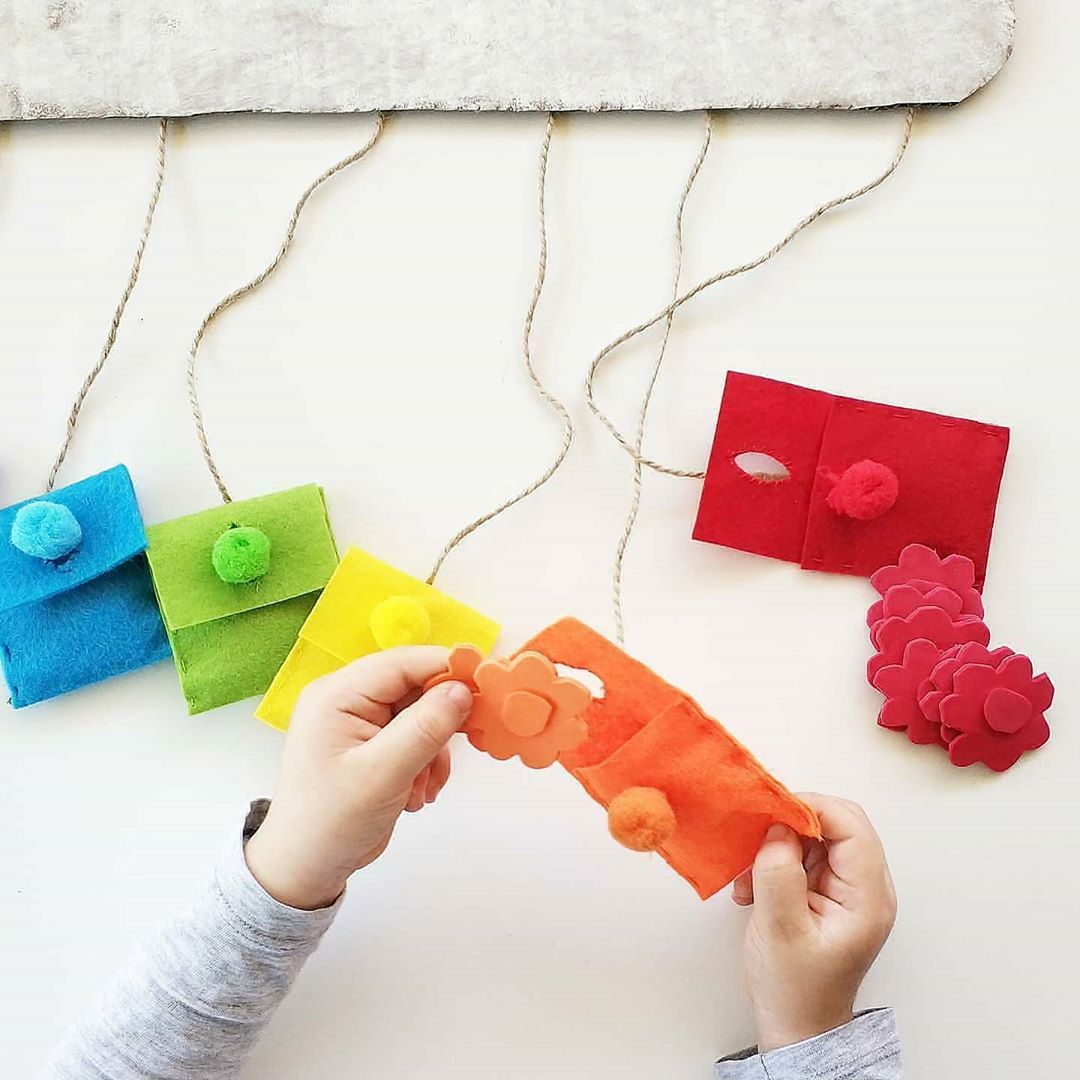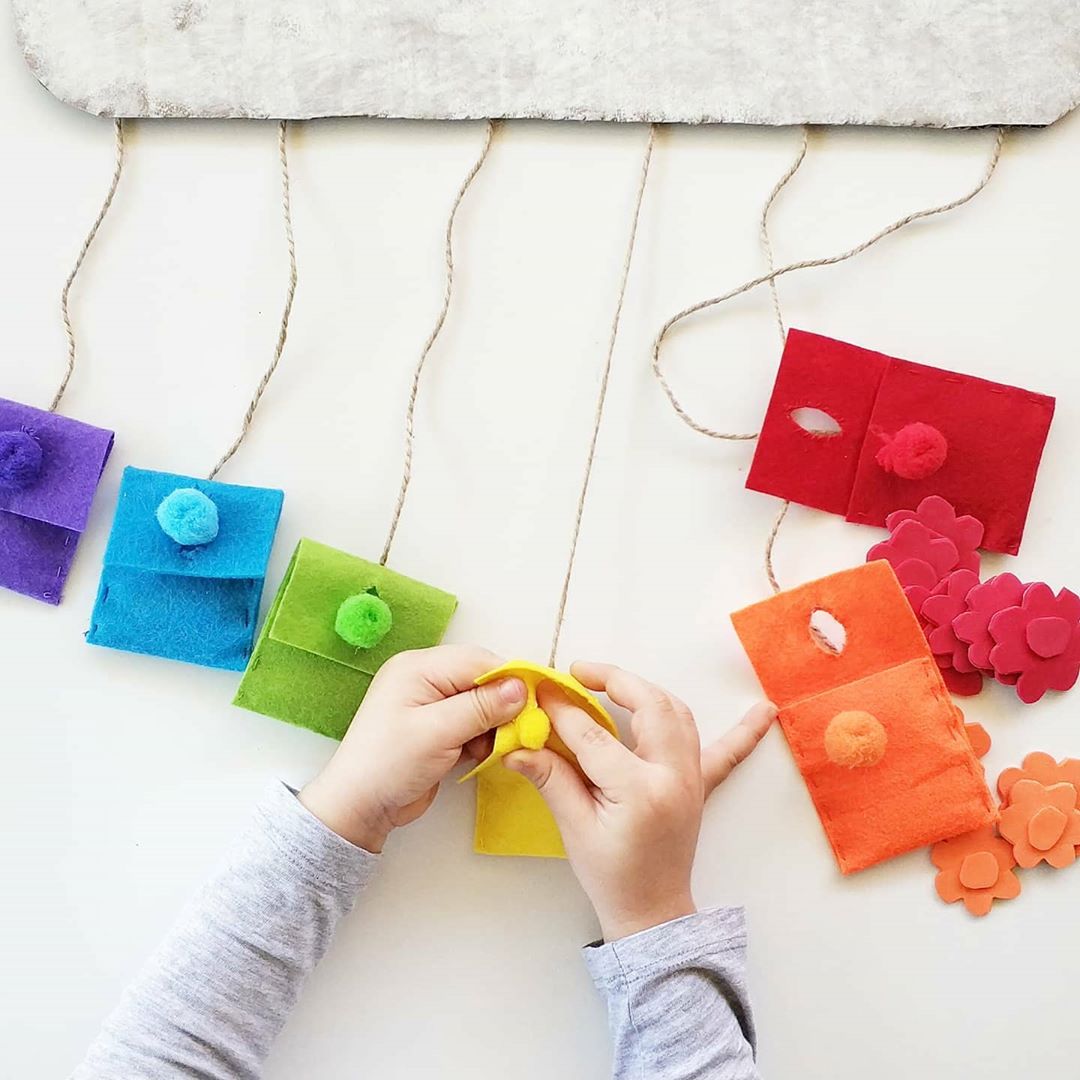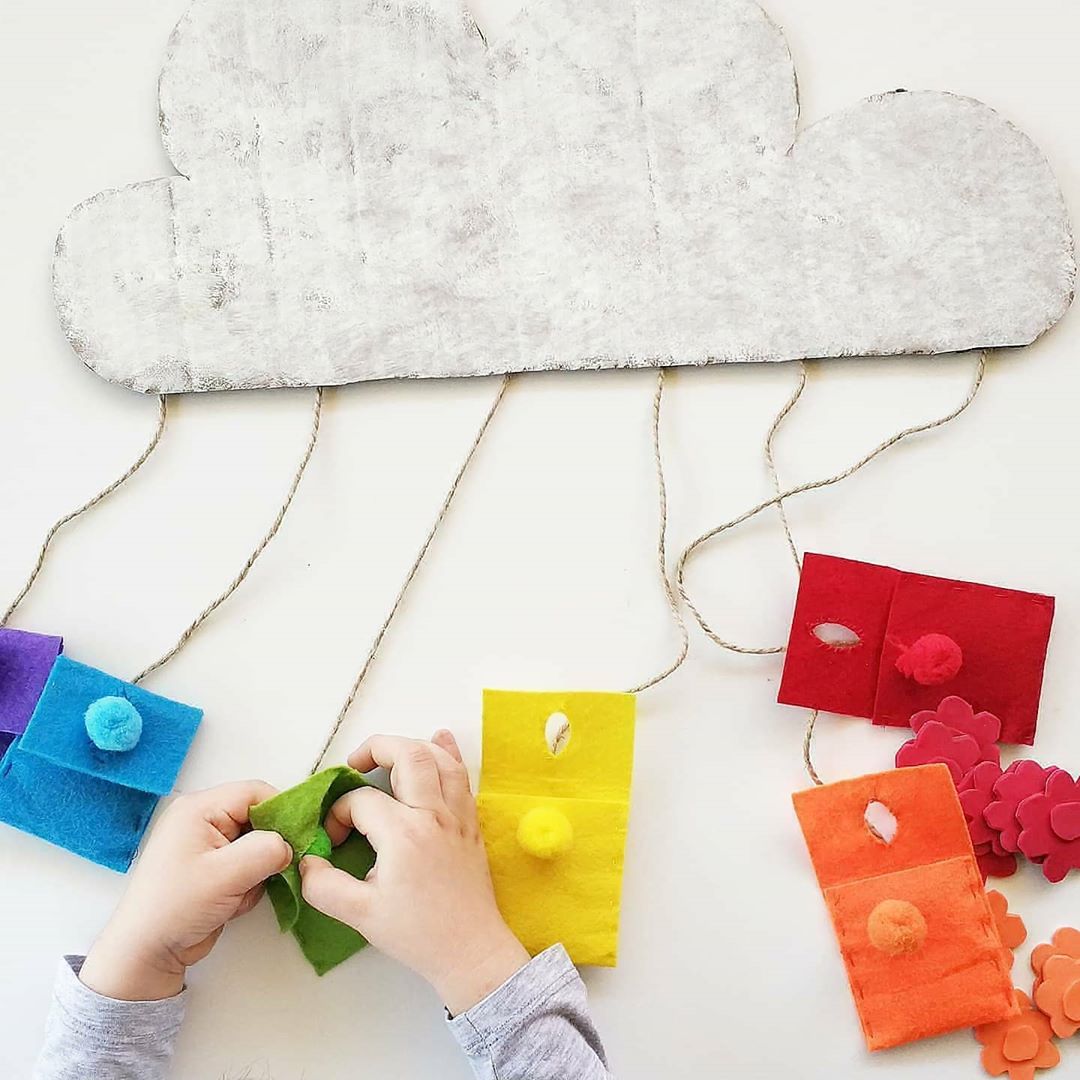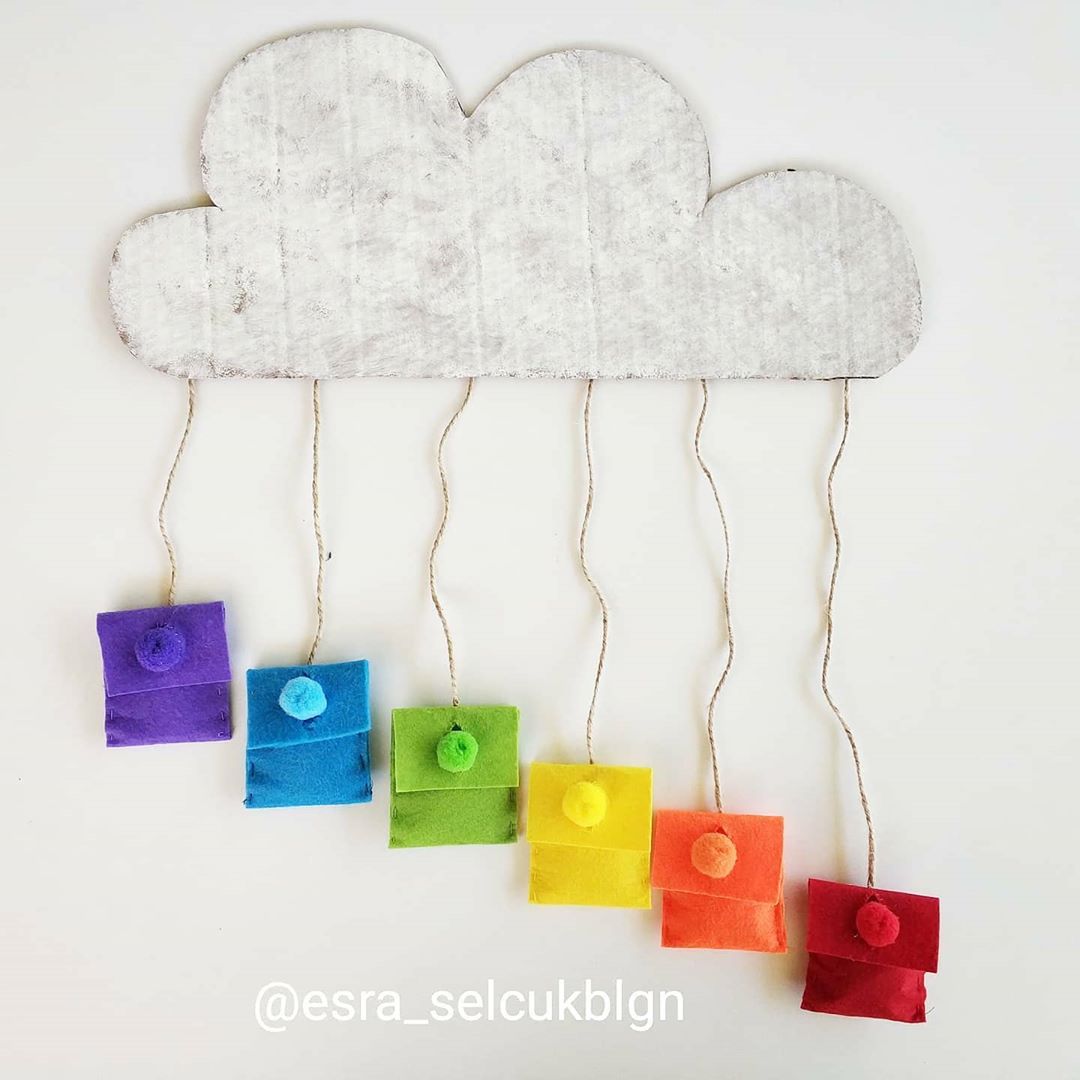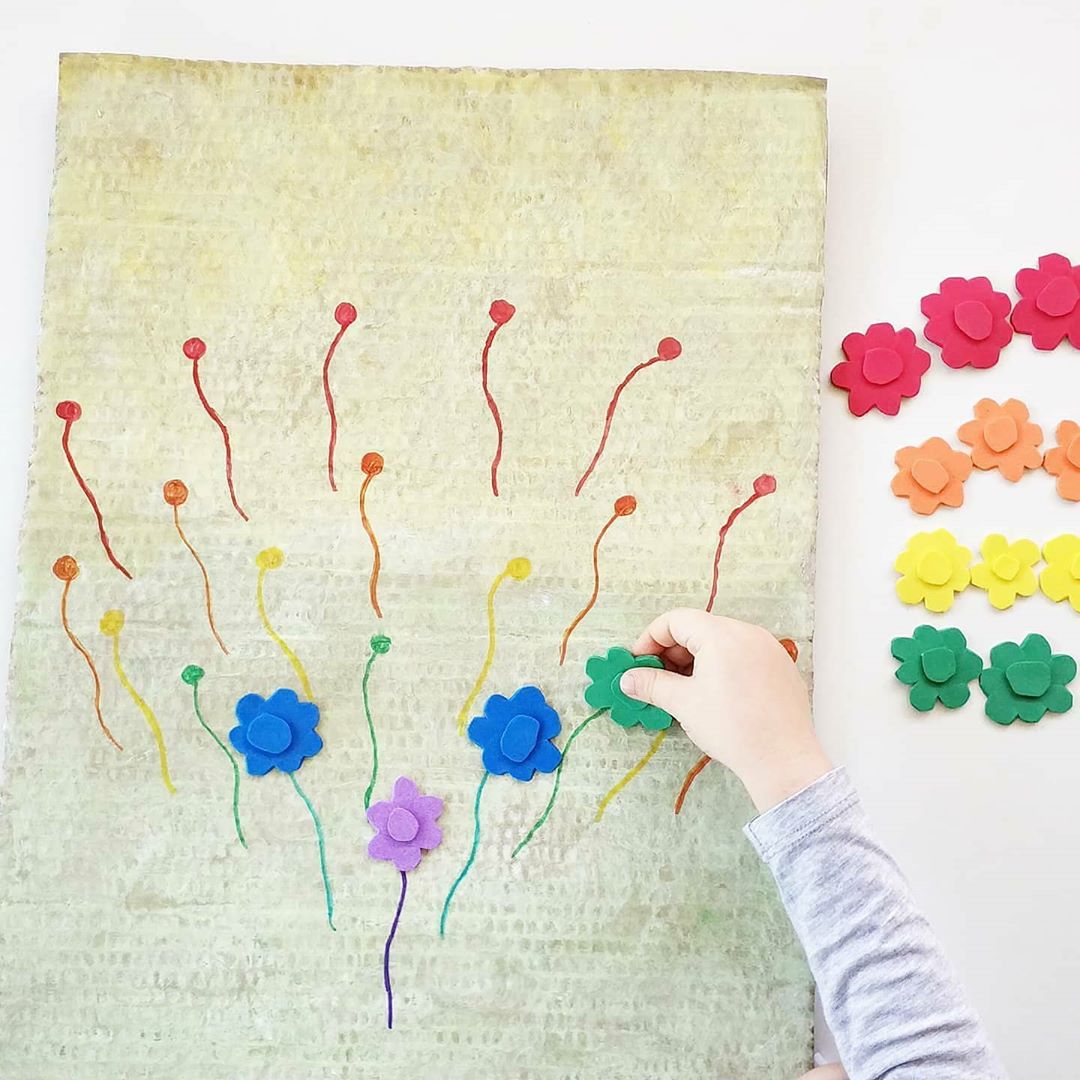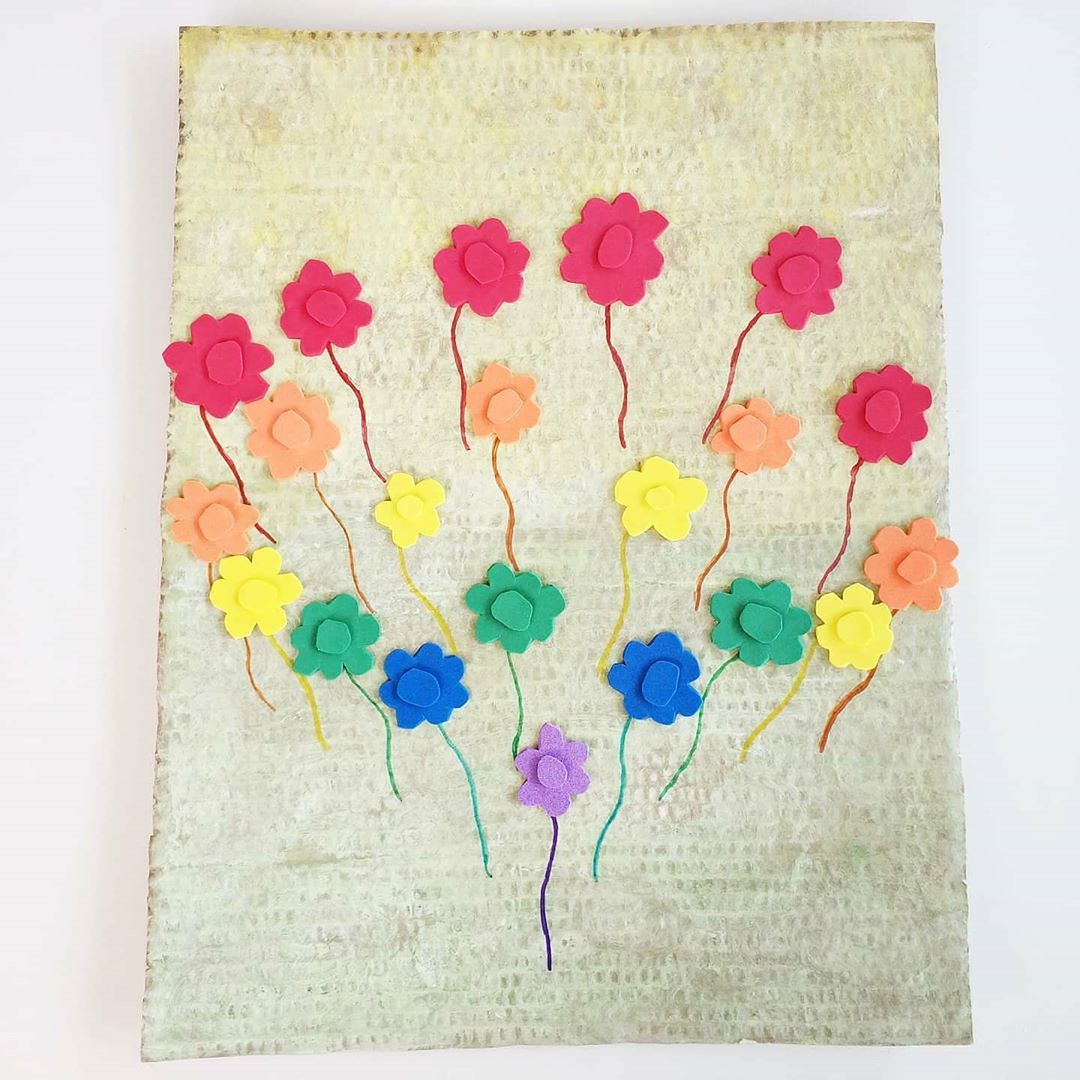 Fruits and Vegetables
Pay attention to the shapes in the middle of the fruits and vegetables and pass them through the appropriate rods.😉With this game we played before, we reinforced the names of fruits and vegetables.🤗
I prepared this game with the aim of distinguishing the differences between shapes and images and making matches.🤗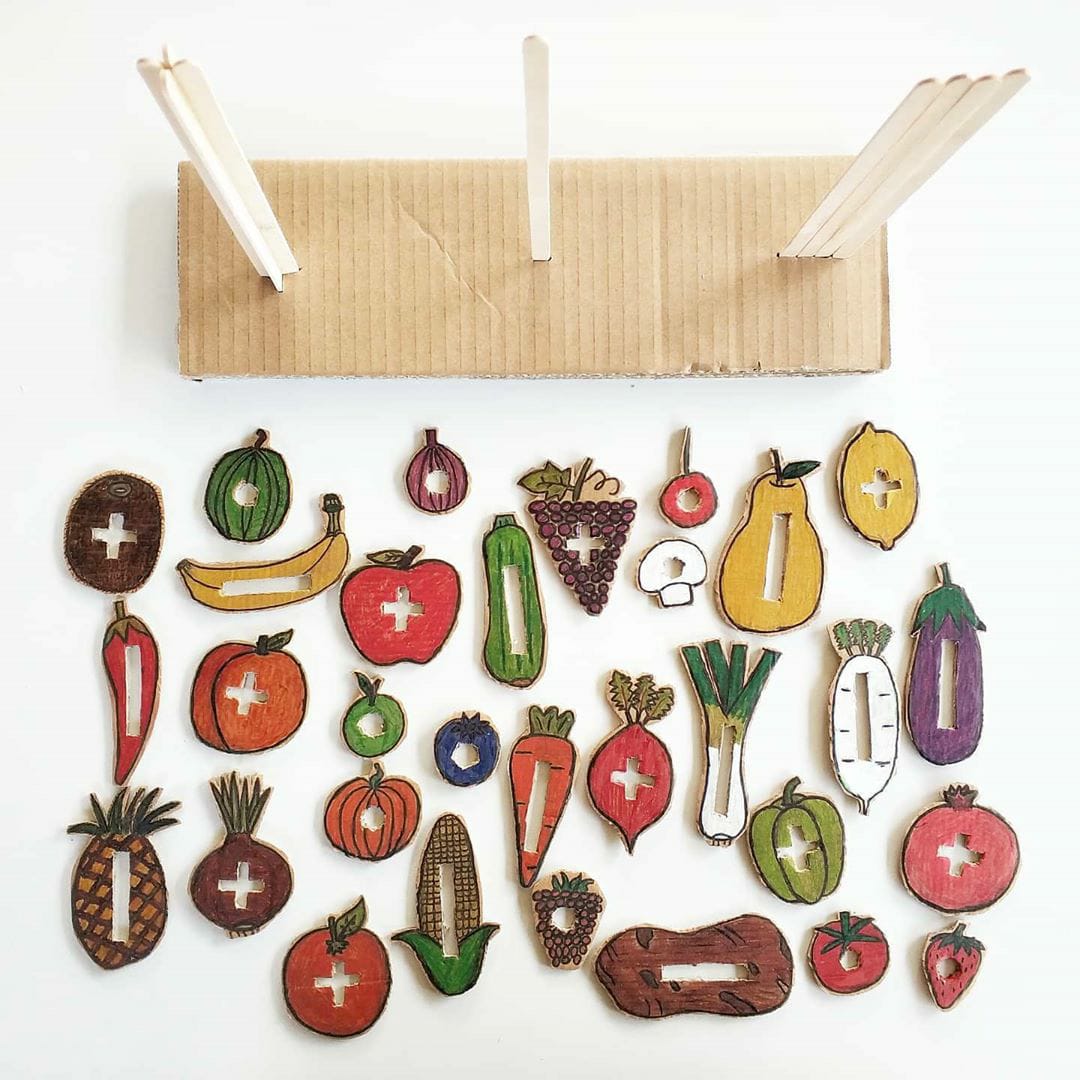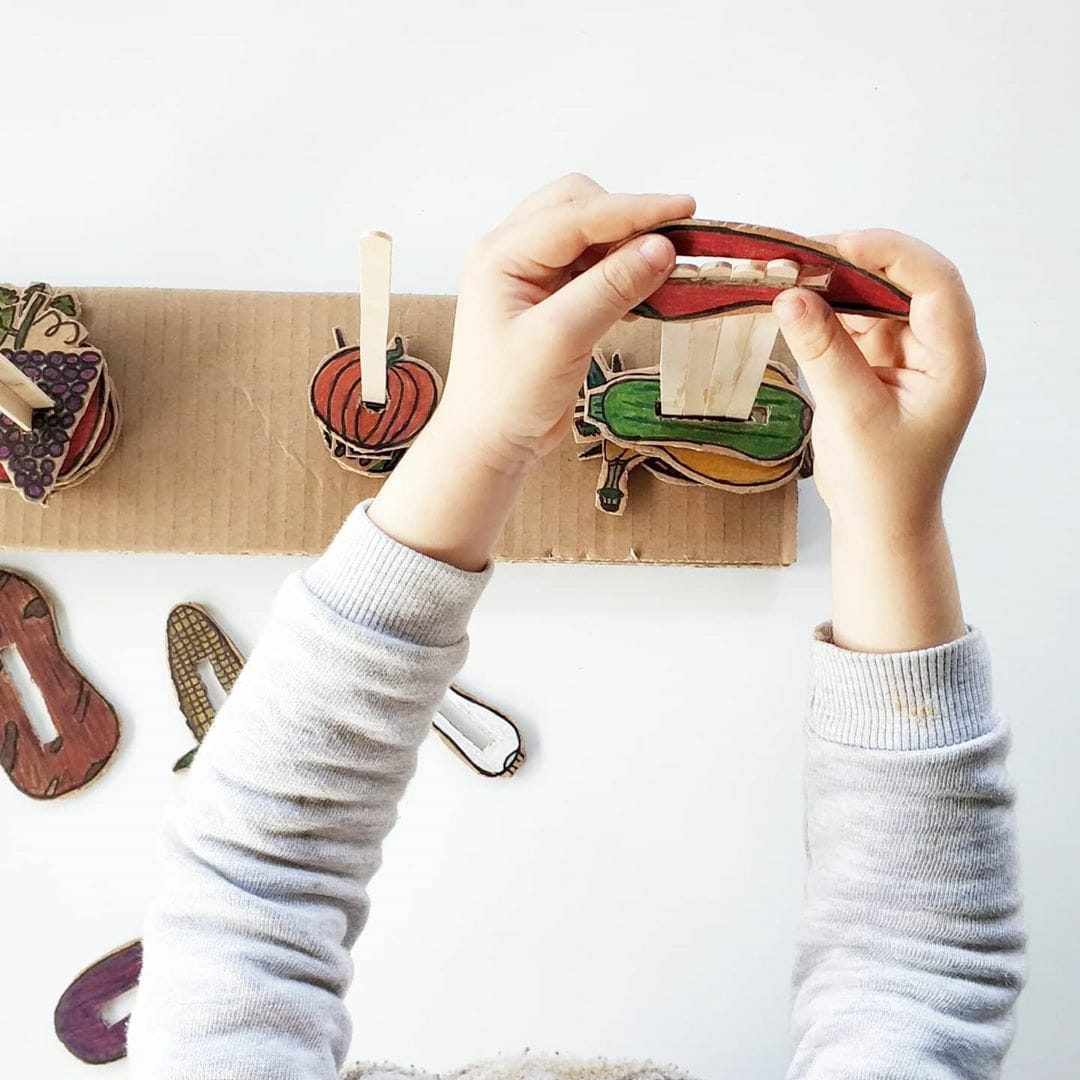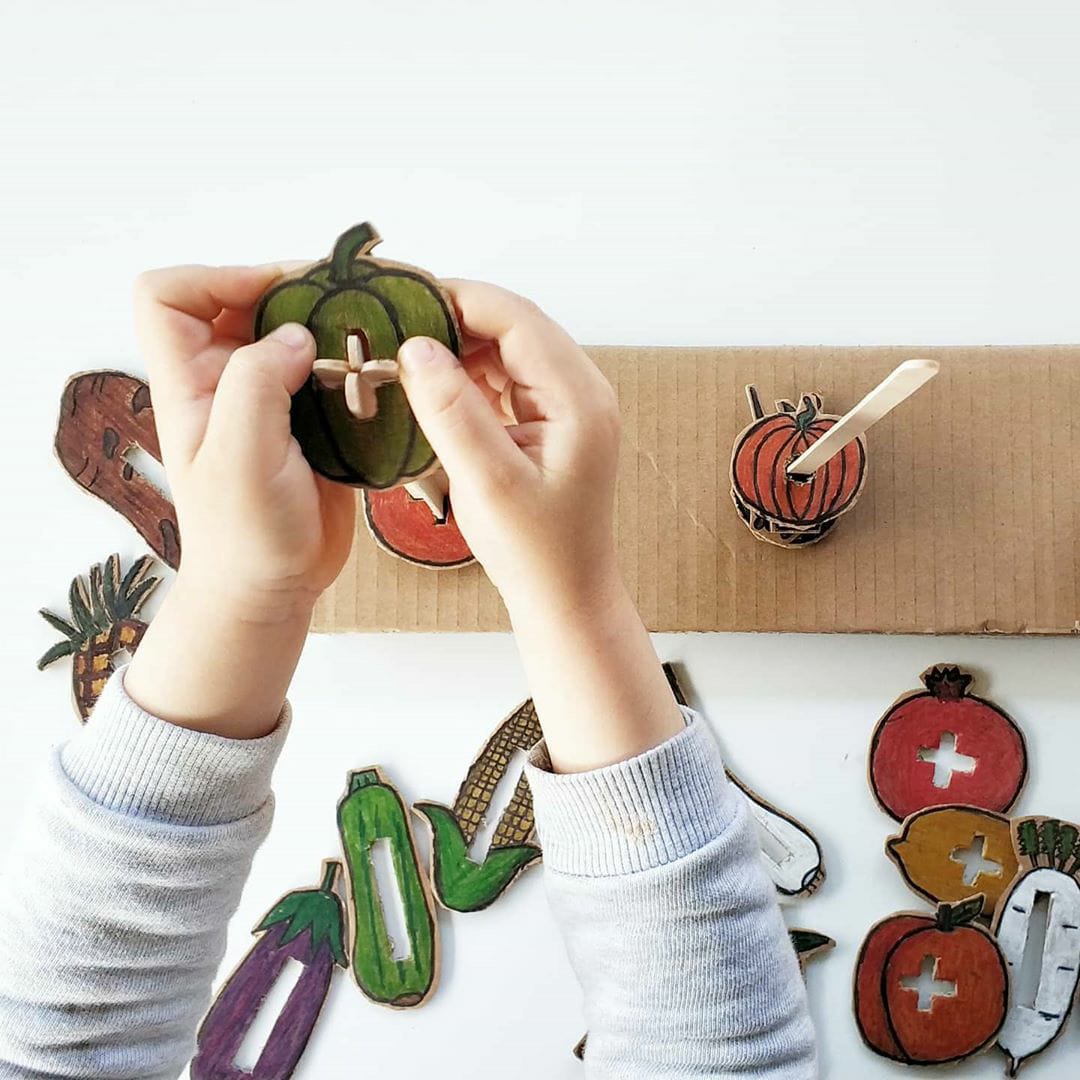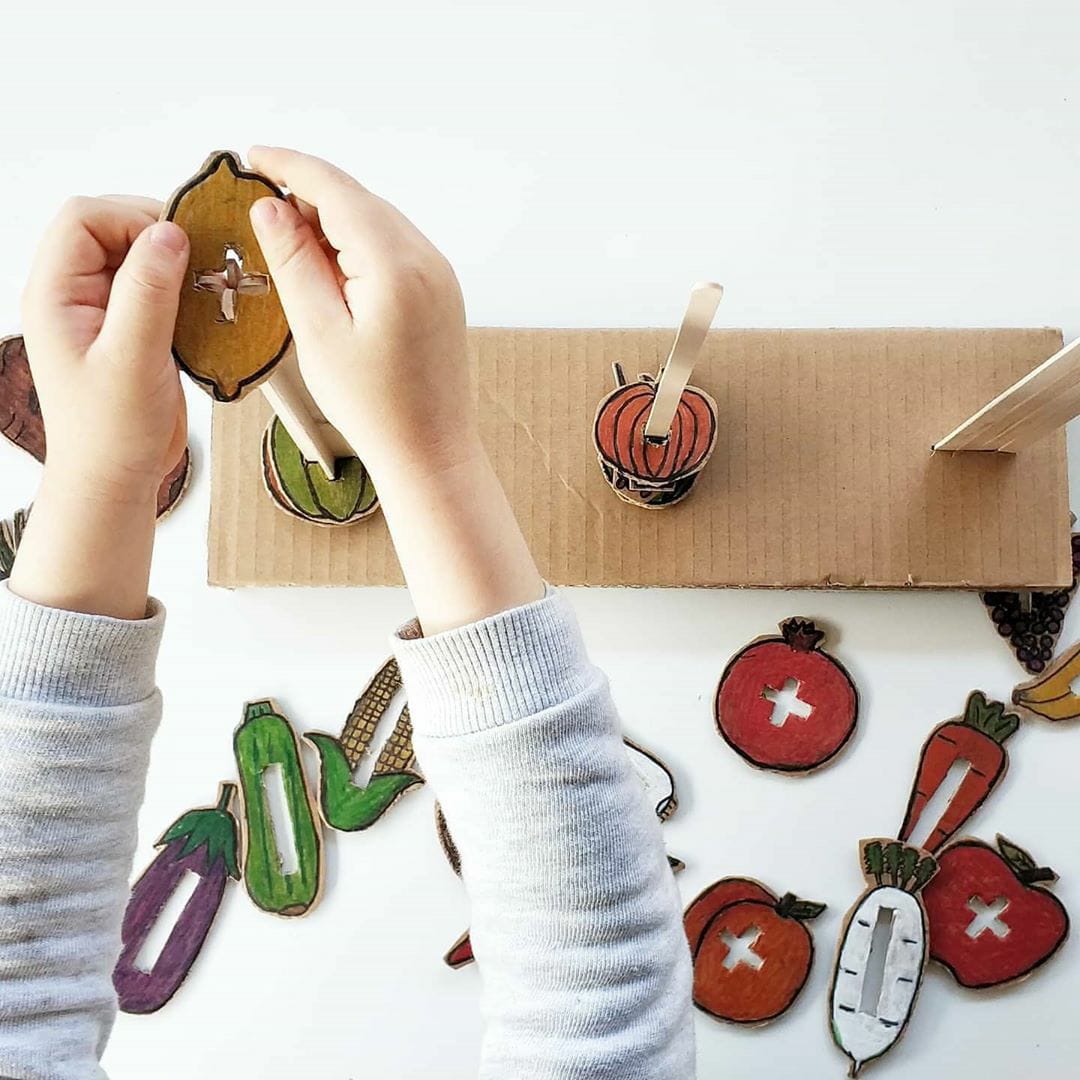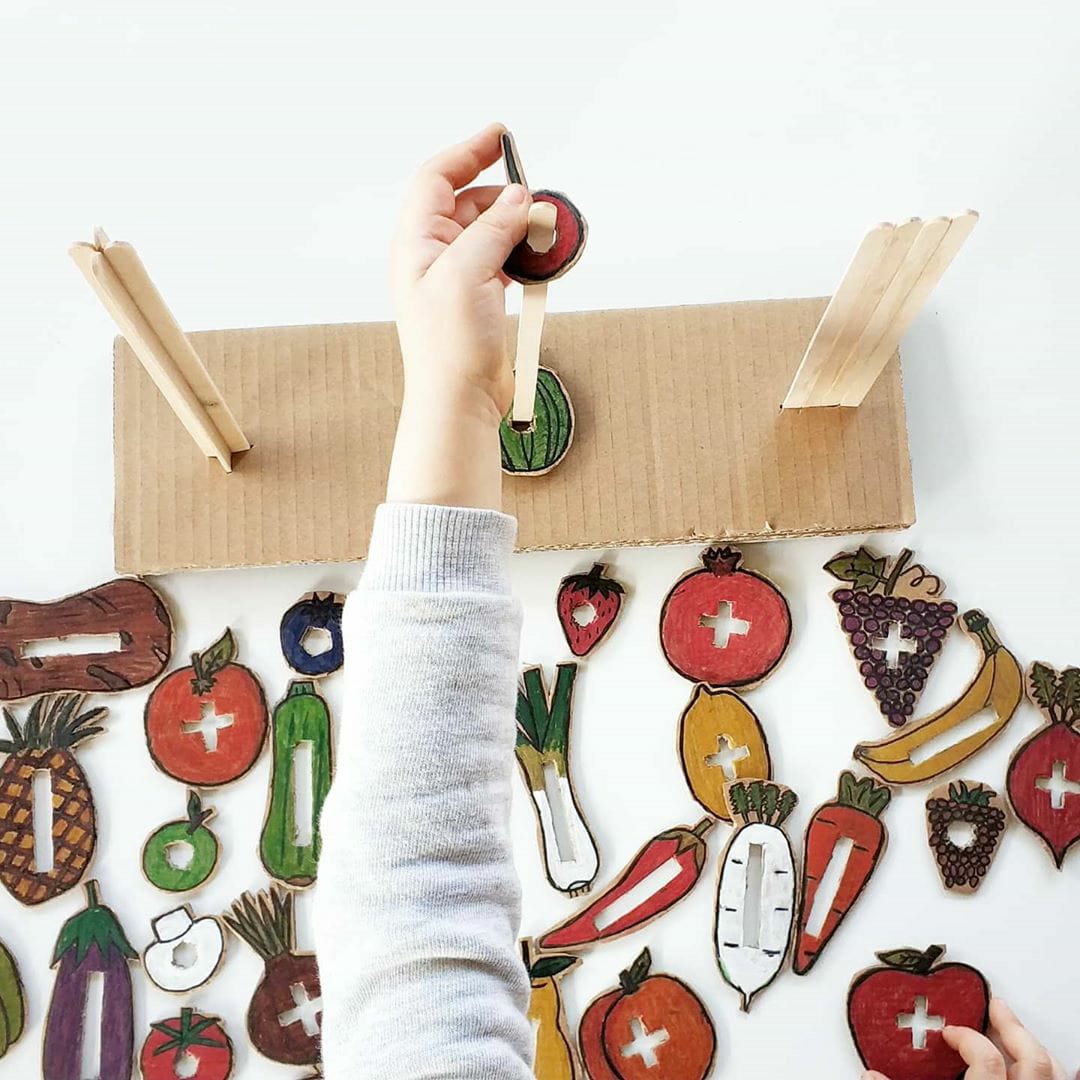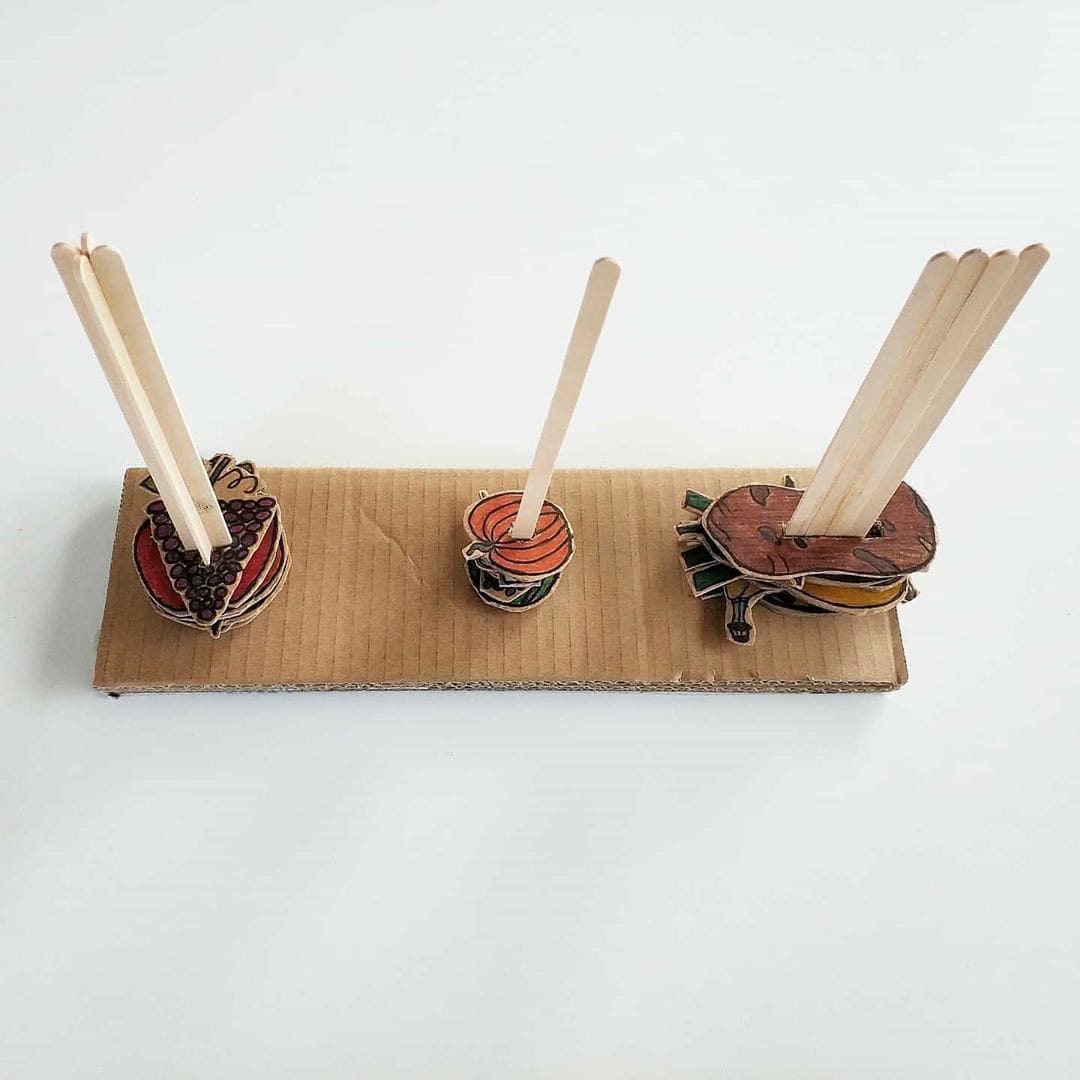 Colourful Trees with Blossoms
Let's follow the instructions on the cardboard in order, let's complete our trees.😉
I prepared this game for my son to code and apply what he sees on the cardboard. He may count while placing the blossoms onto the trees and match the colours and shapes. 🤗
I used hook and loop fastener to join the trees and dough for the blossoms.🙂
Today we practiced letter "T" with this game.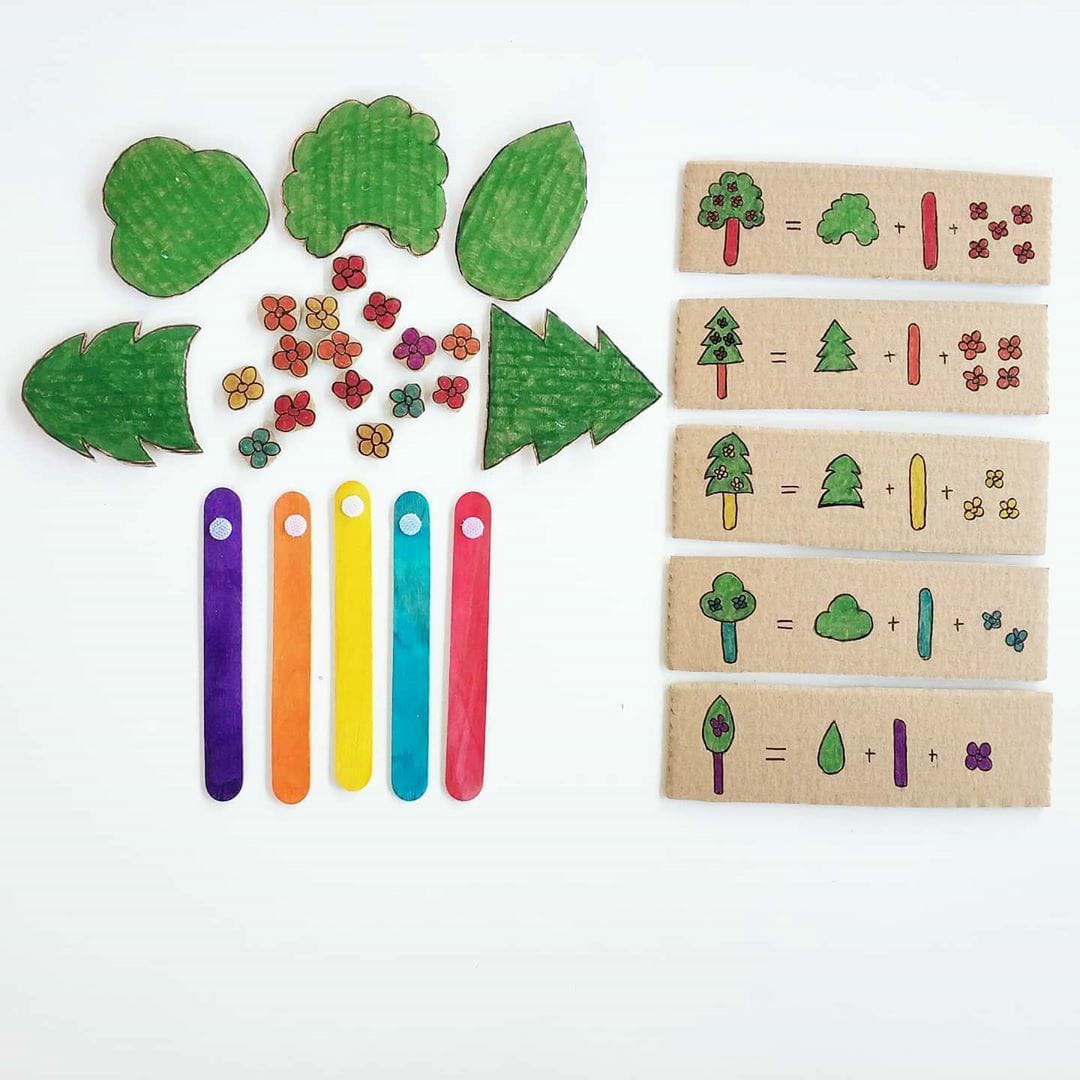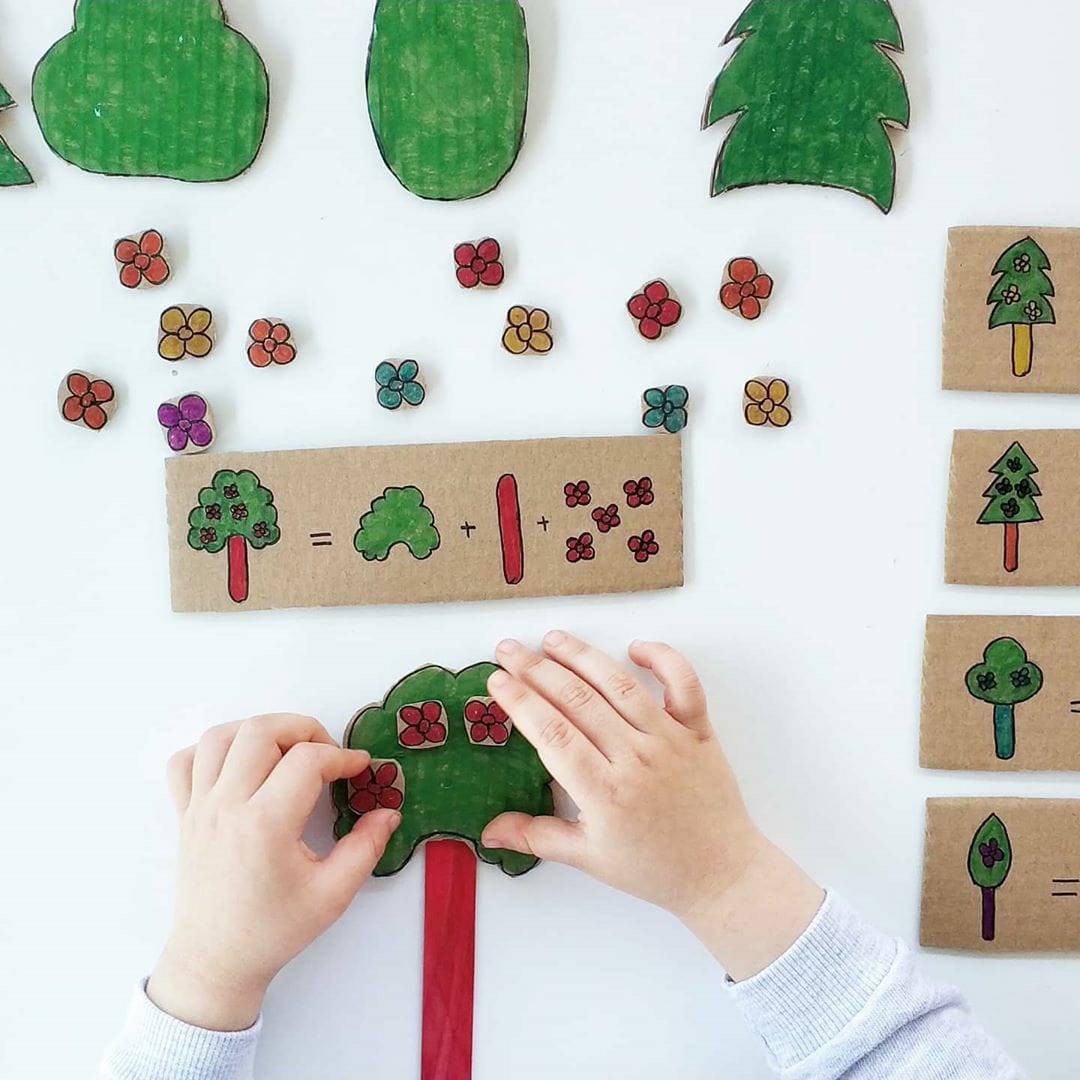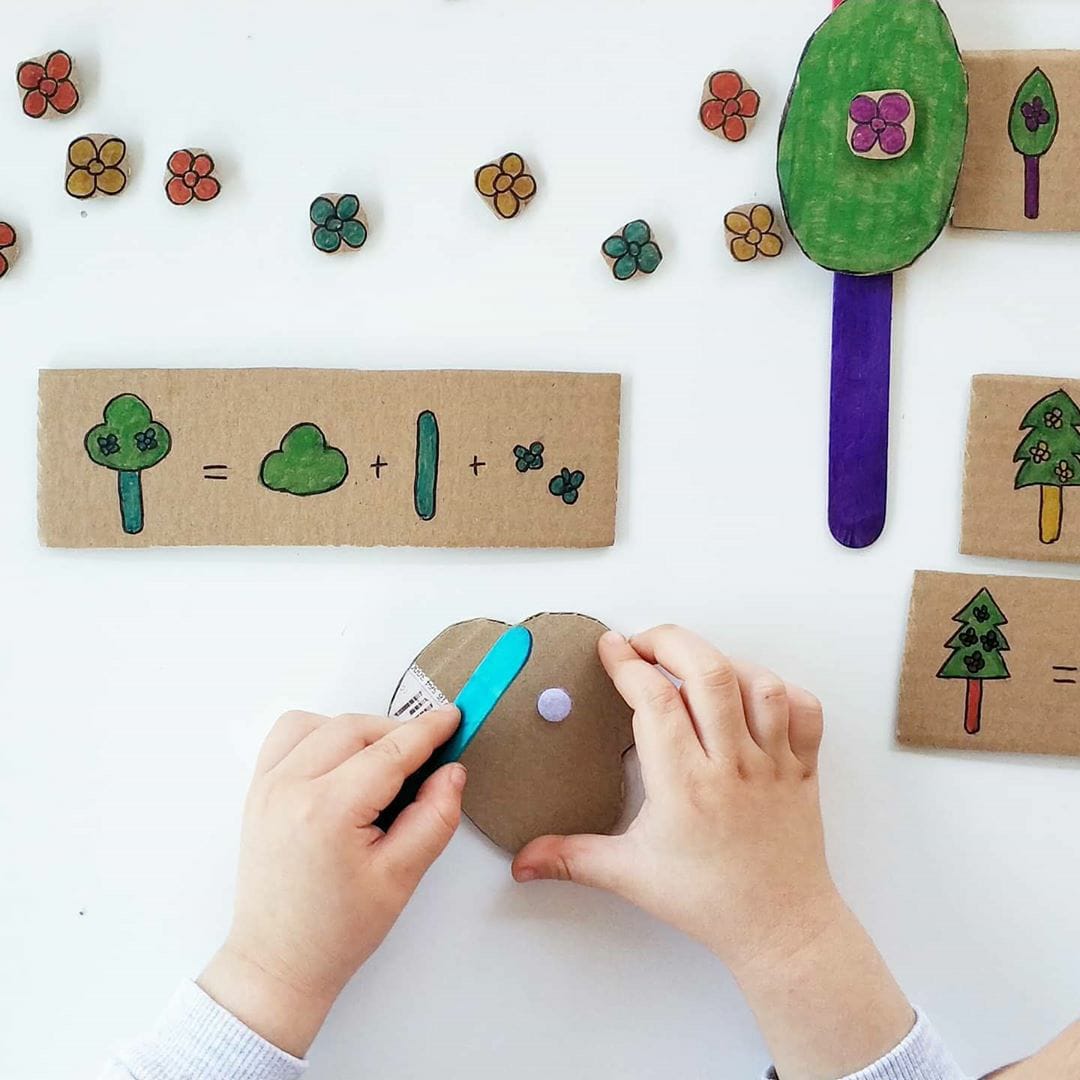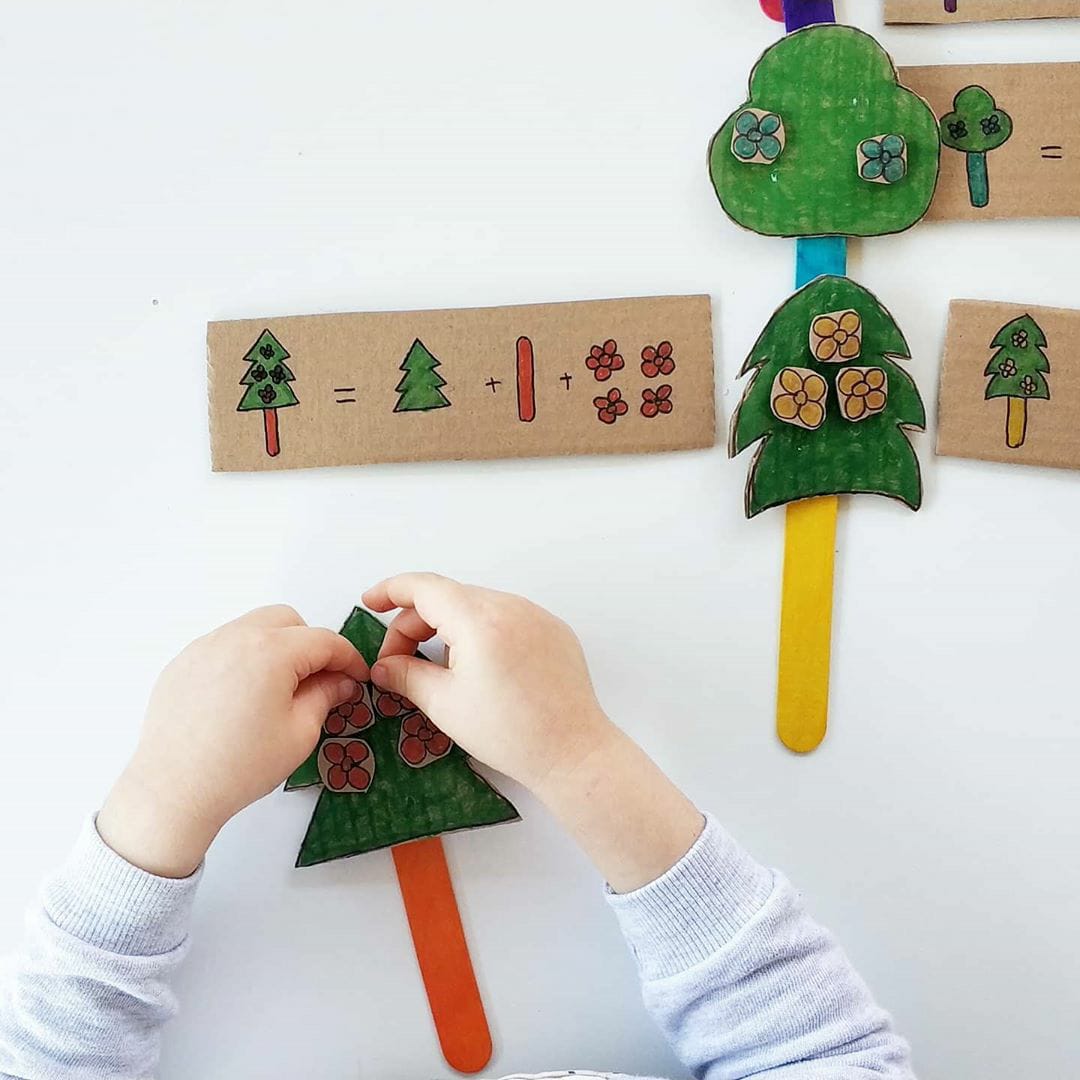 Patterns and Living Things
There are many creatures with various patterns living in nature. Patterns of some creatures resemble each other.
Today, we divided the living things into groups according to their patterns.
I prepared this game with the aim of grouping according to pattern types, fine motor operation while placing it in its compartments, and pattern matching.🐍🐛🐟🐸🦎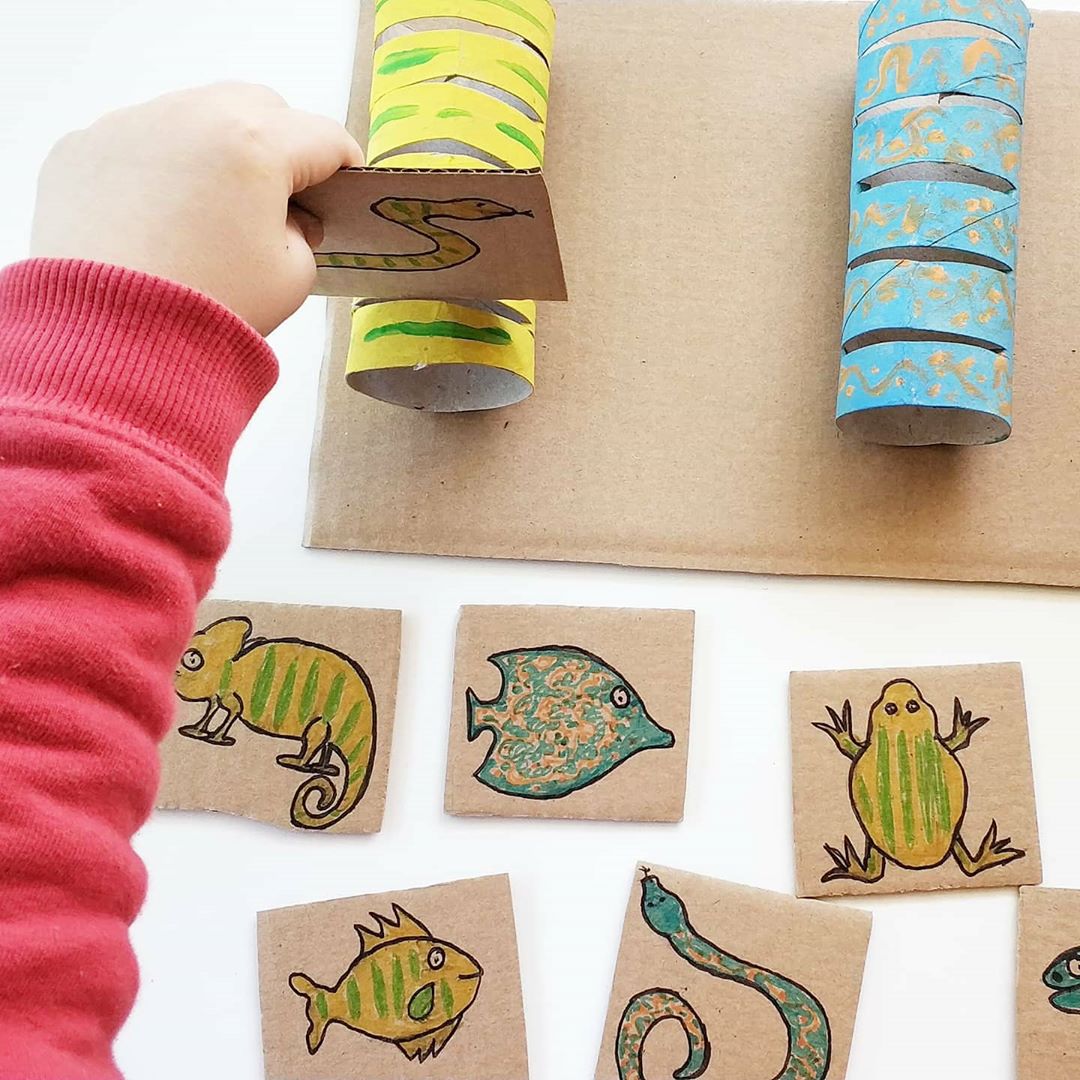 Colored Kites
Six colorful kites that want to fly among the clouds.☁️
As they fly in the sky, they will make us a visual feast with rainbow colors.🌈
But the kites' tail ornaments are missing, they can never fly like this.🙁
Let's help them.😉Let's add colorful paper clips to their tails according to their colors and numbers.🤗
I recommend you to take a look at my dear friend had prepared a wonderful event with colorful paper clips.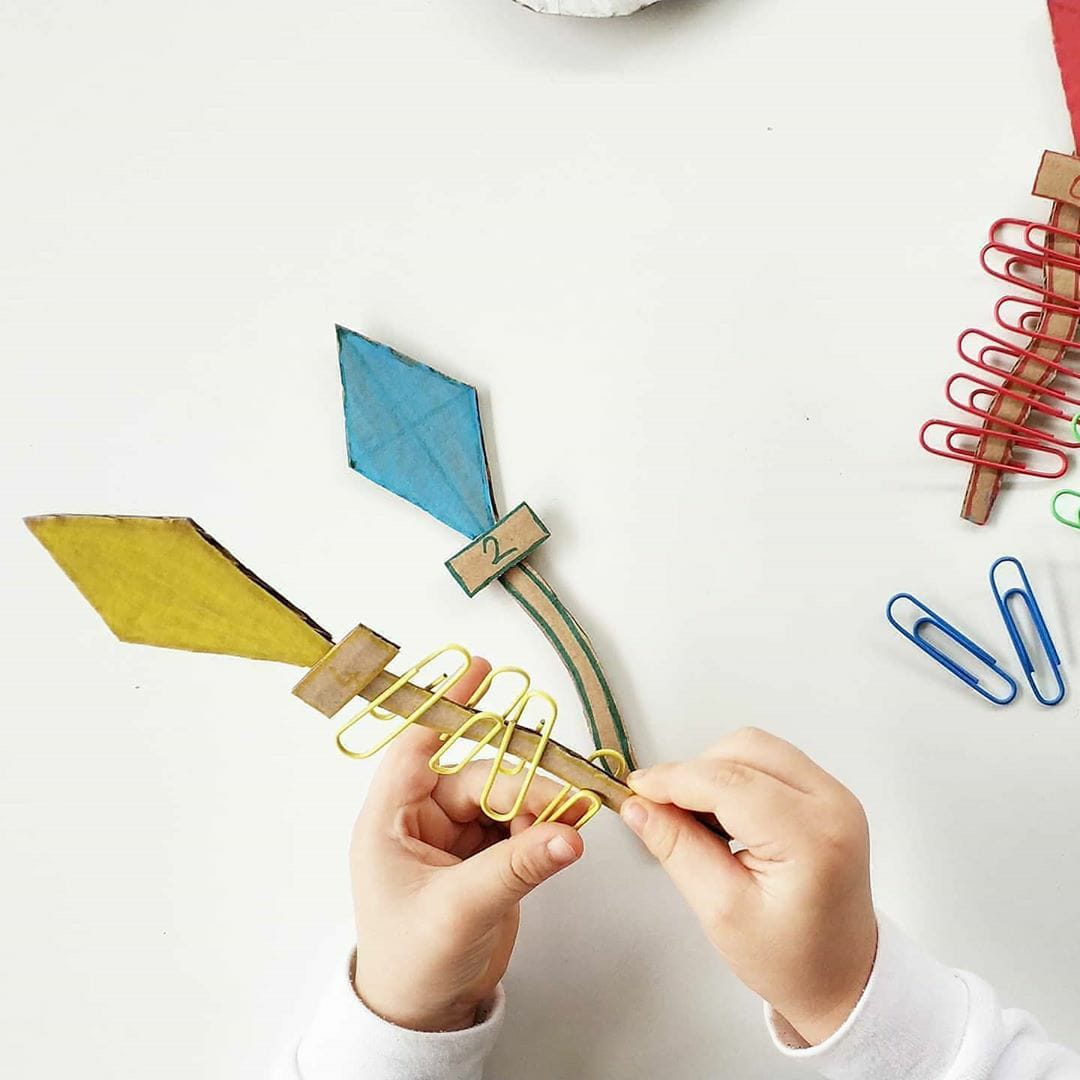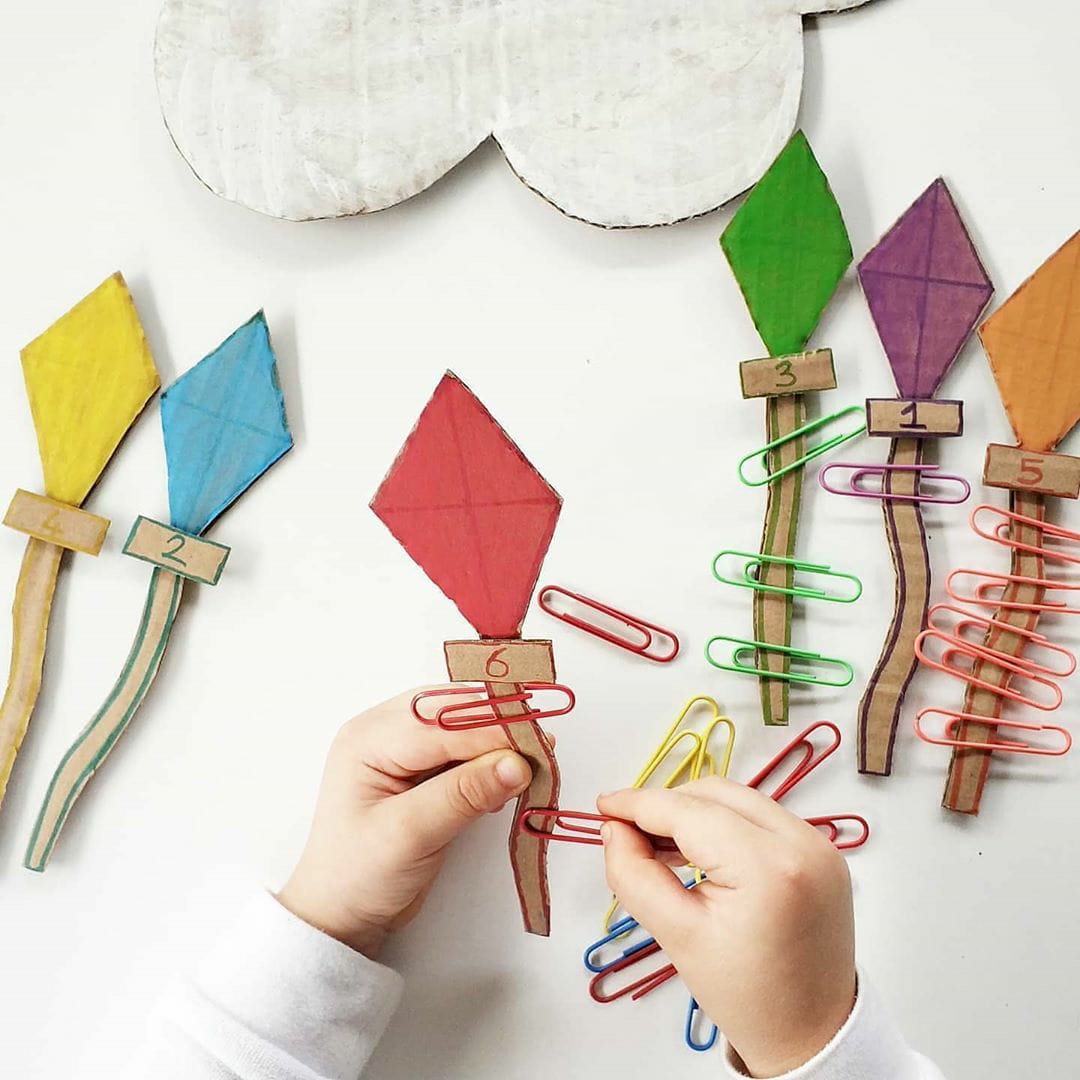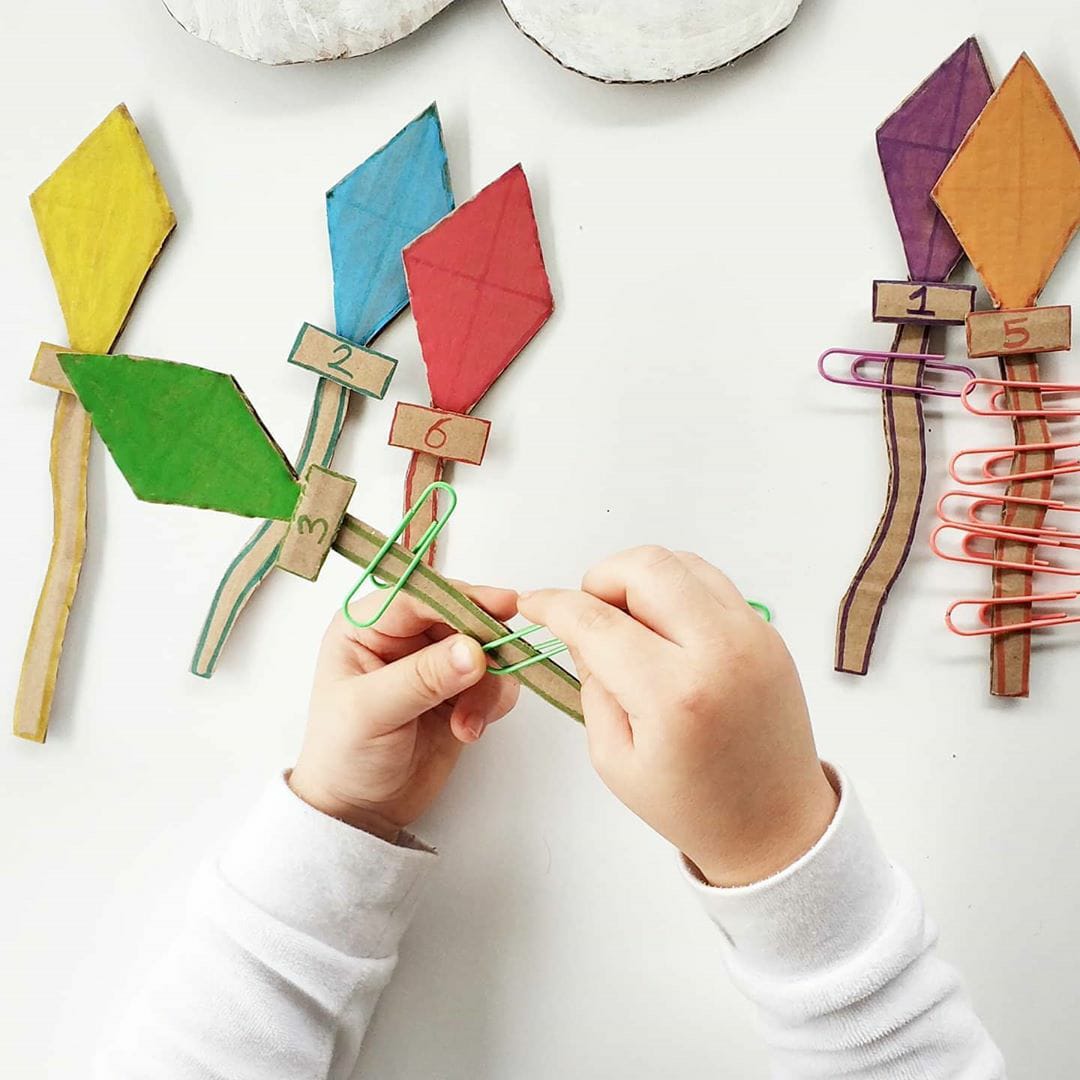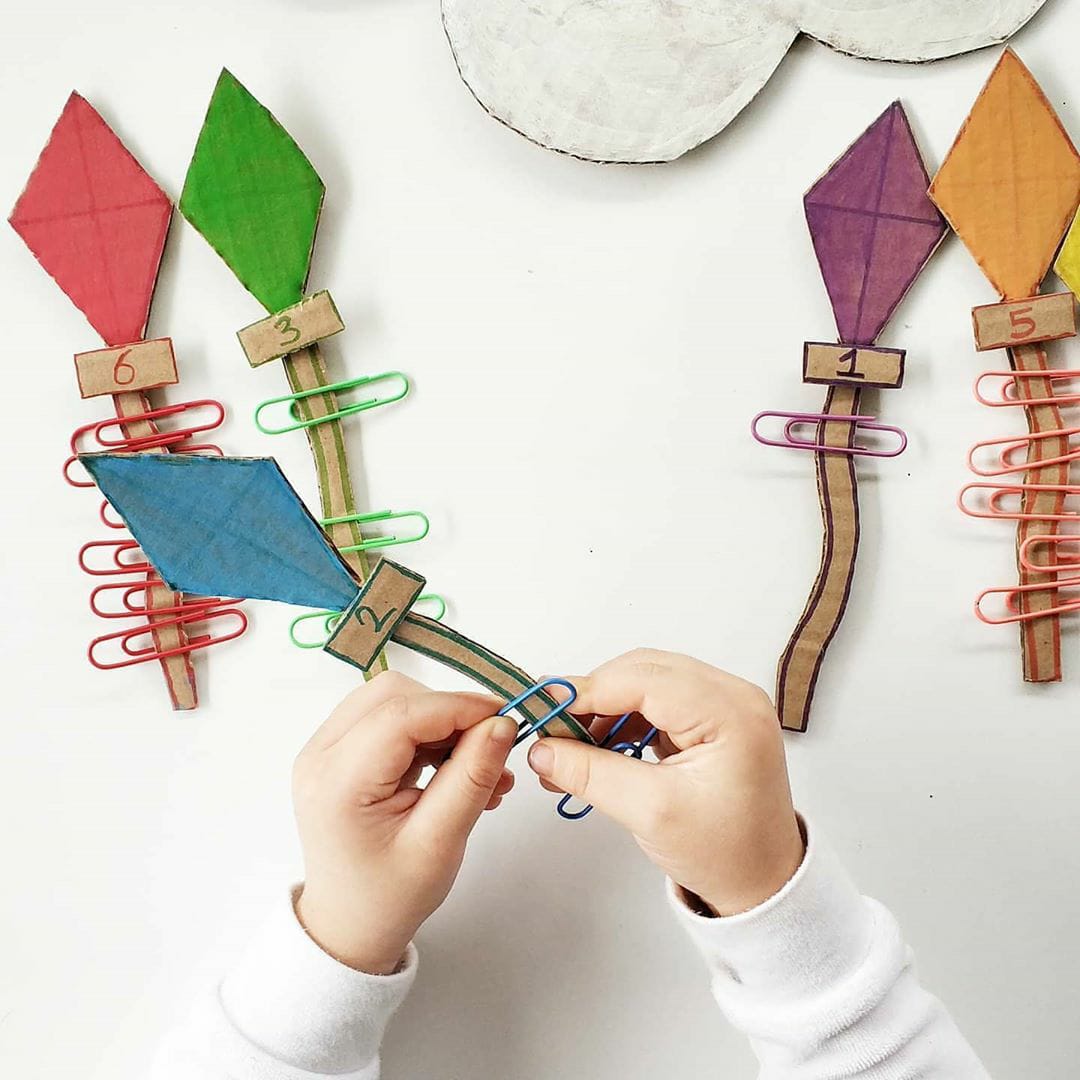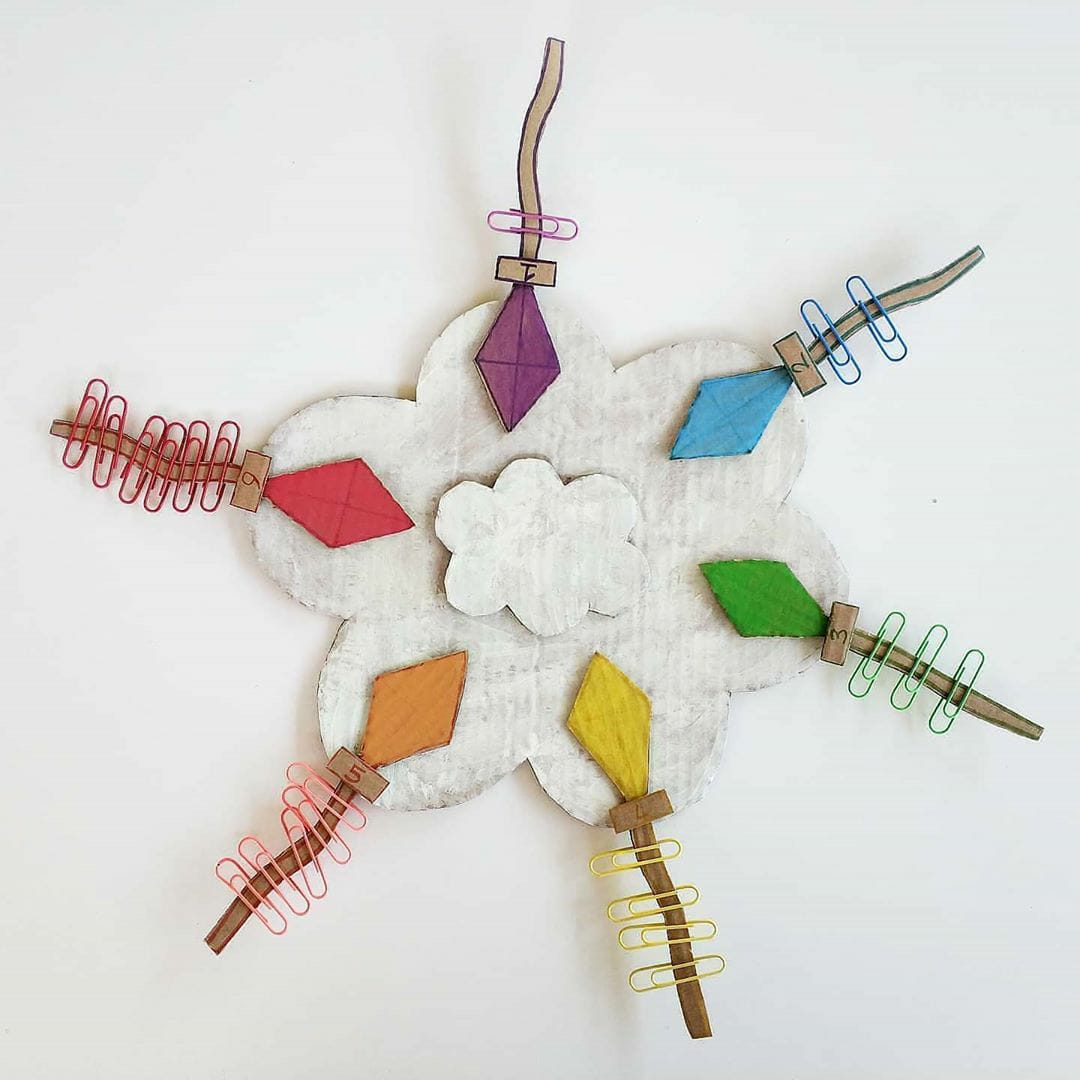 Colored Covers
Find out what color to get from which line according to the card and place it on the card.
I placed the covers on the game frame with different colors in each row and column.
I put colorful stickers on three small cards.I indicated from which line to take the colored cover.I prepared this game in order to support the development of mind and intelligence and to ensure logic.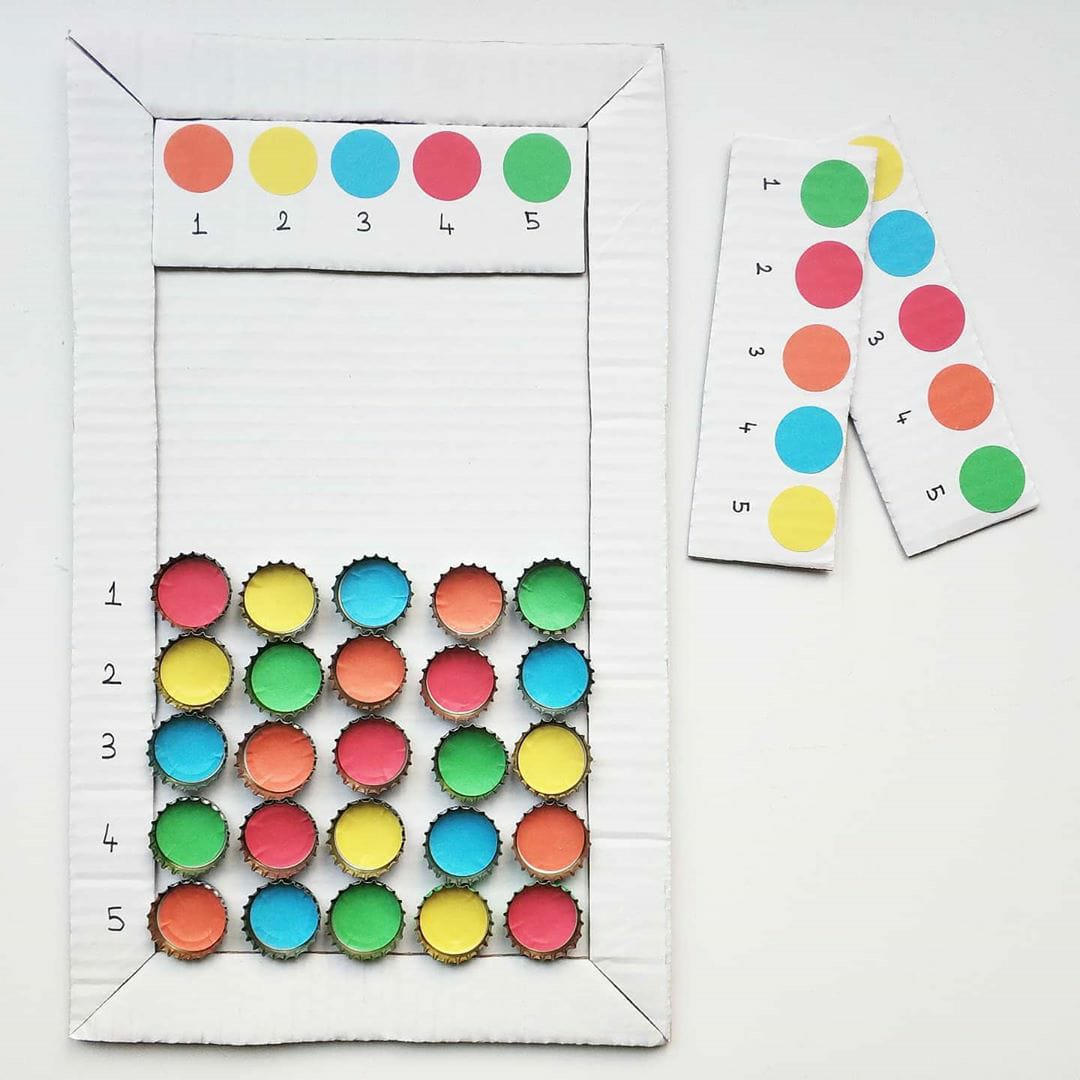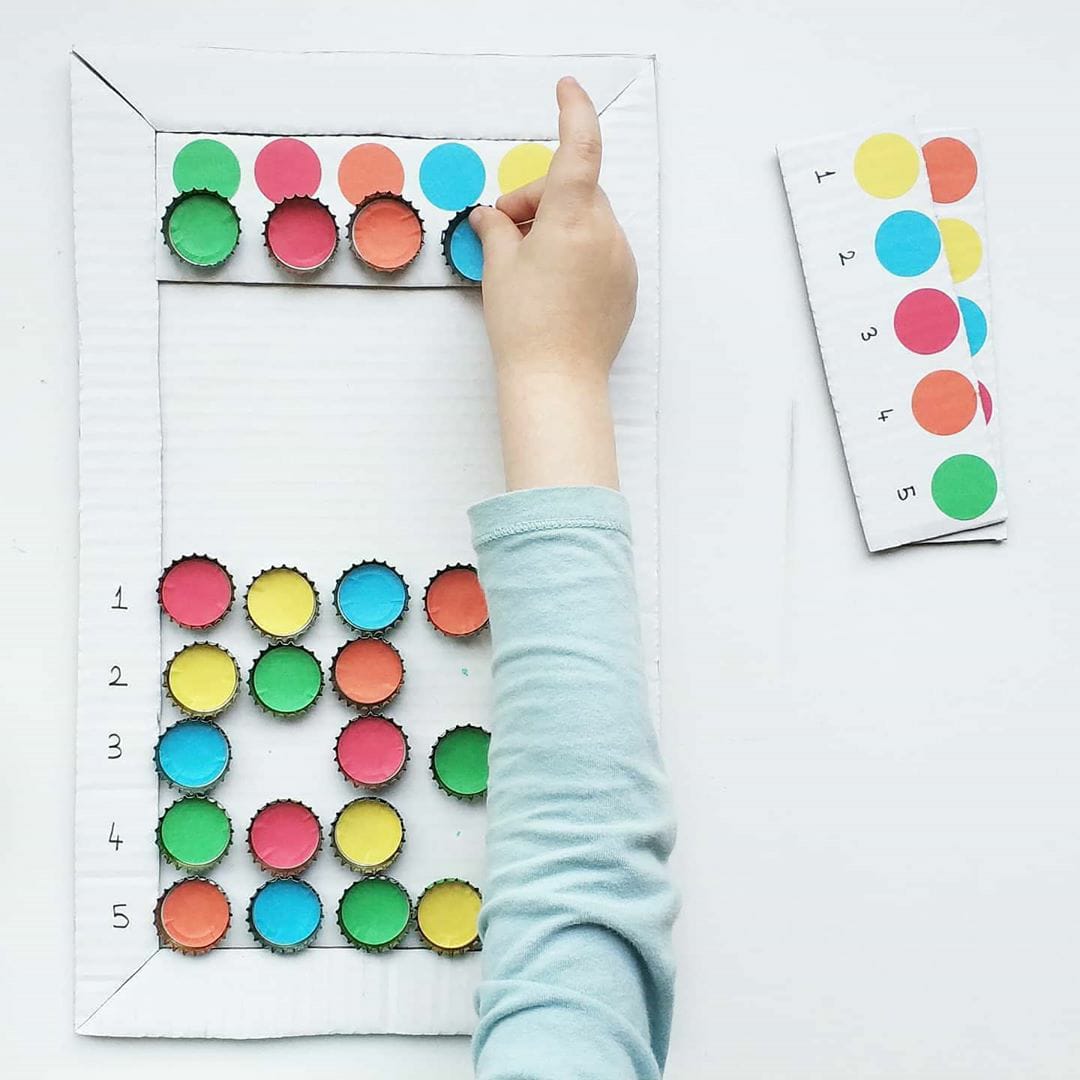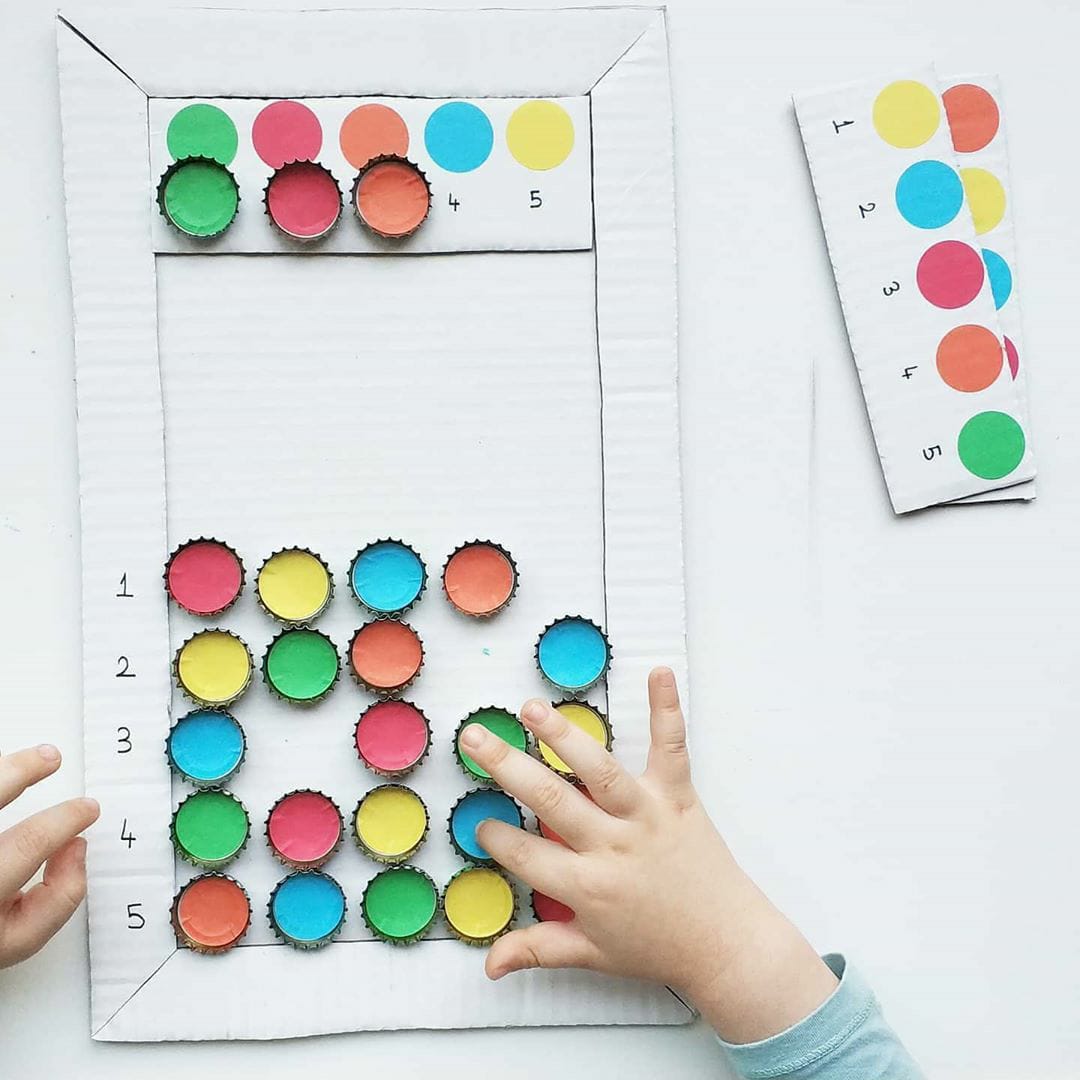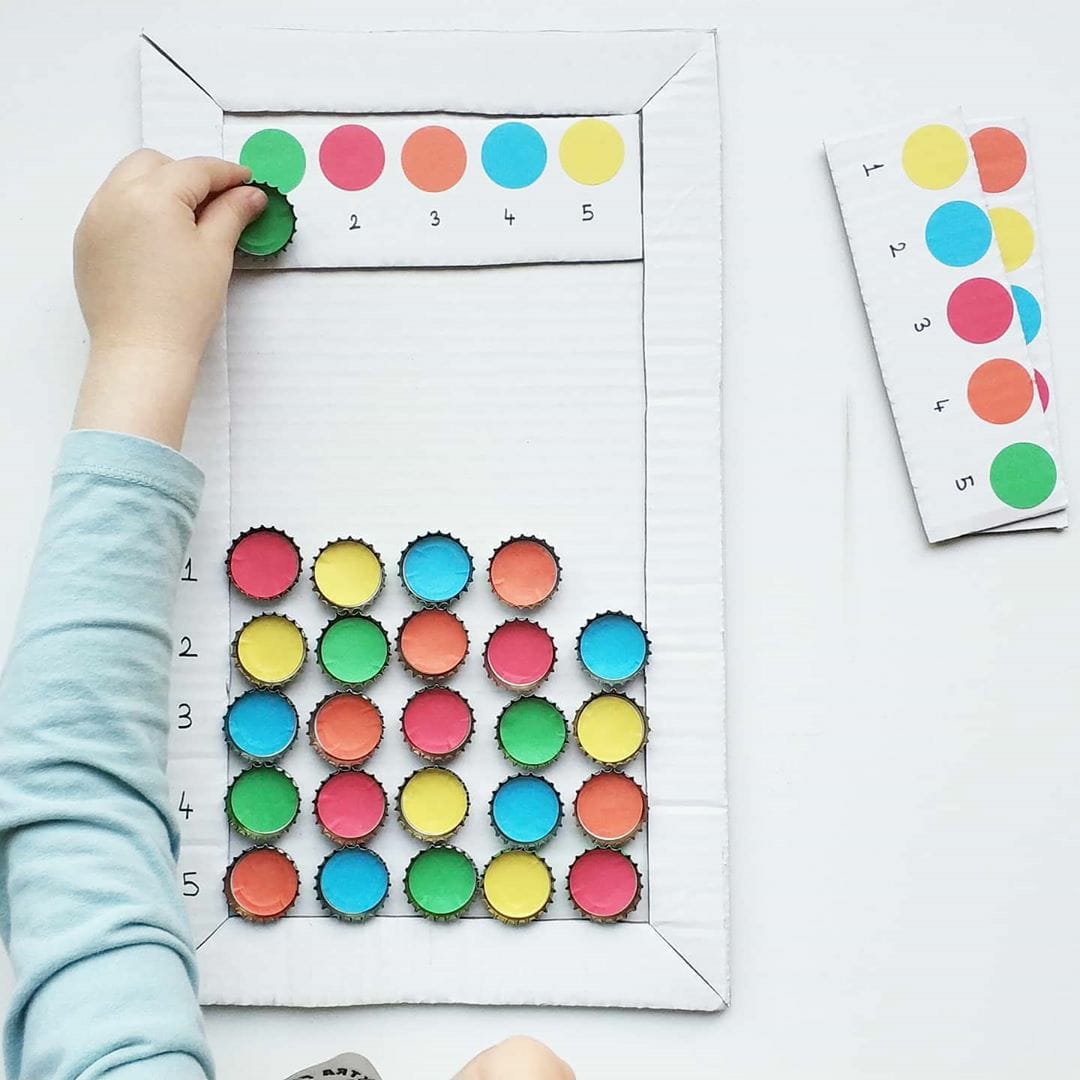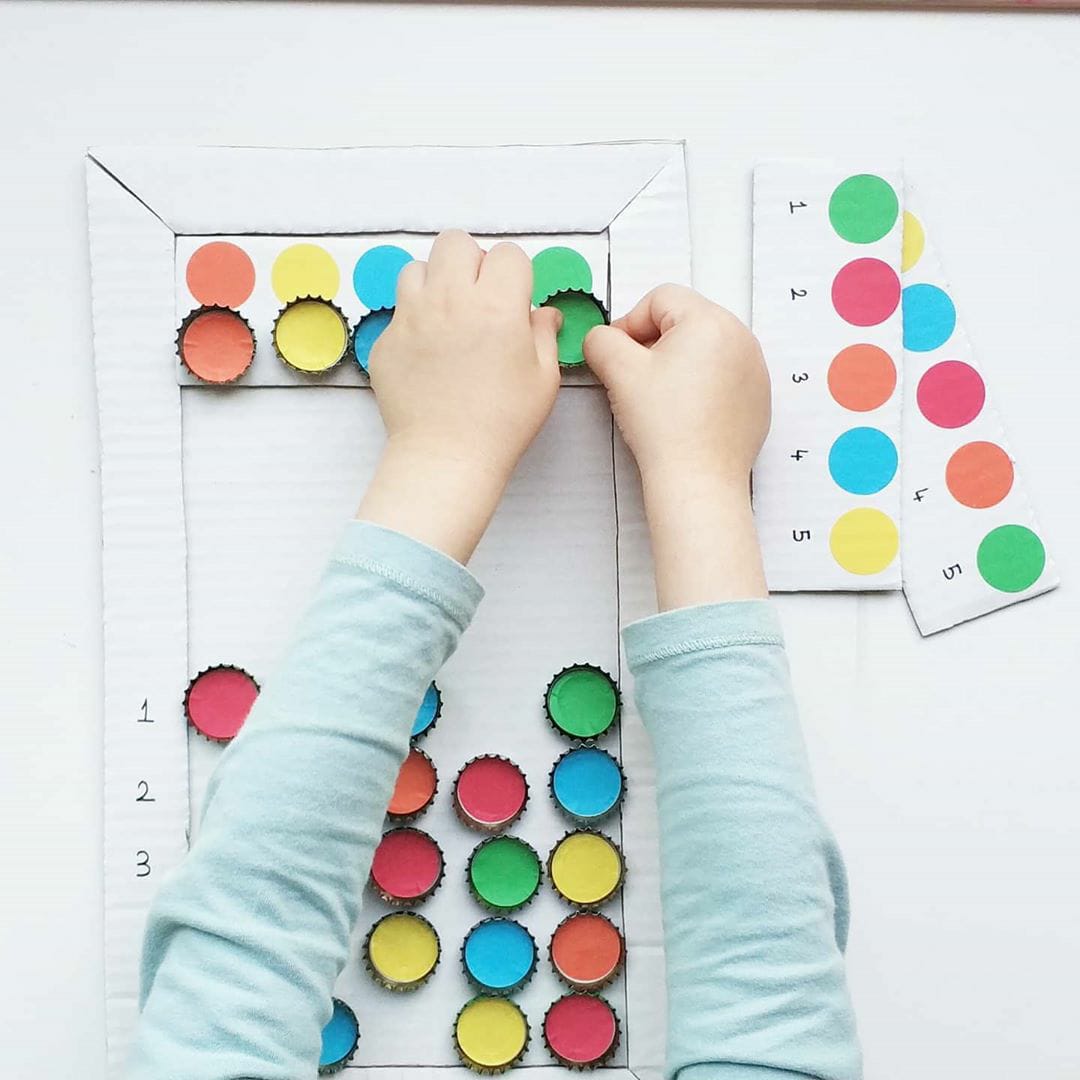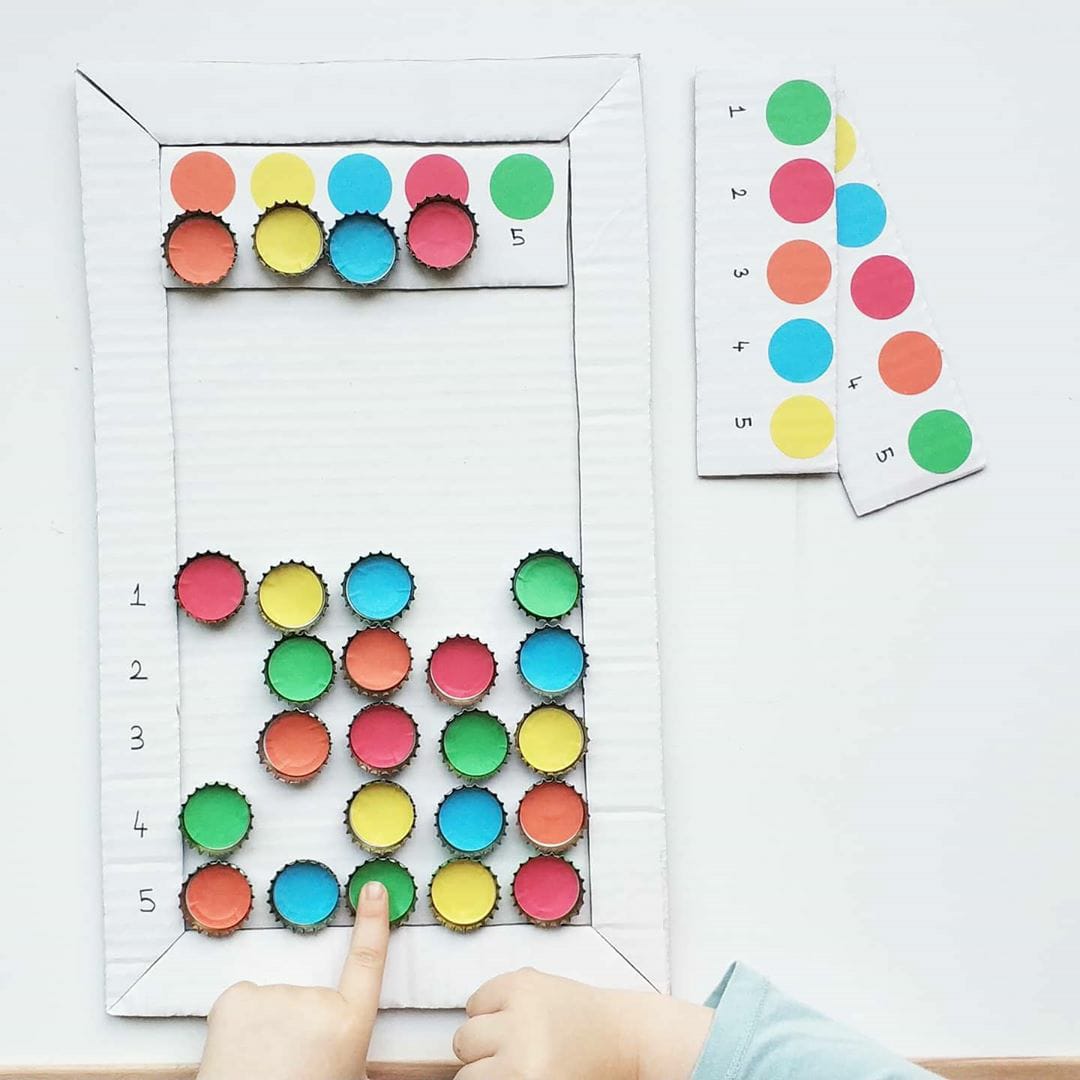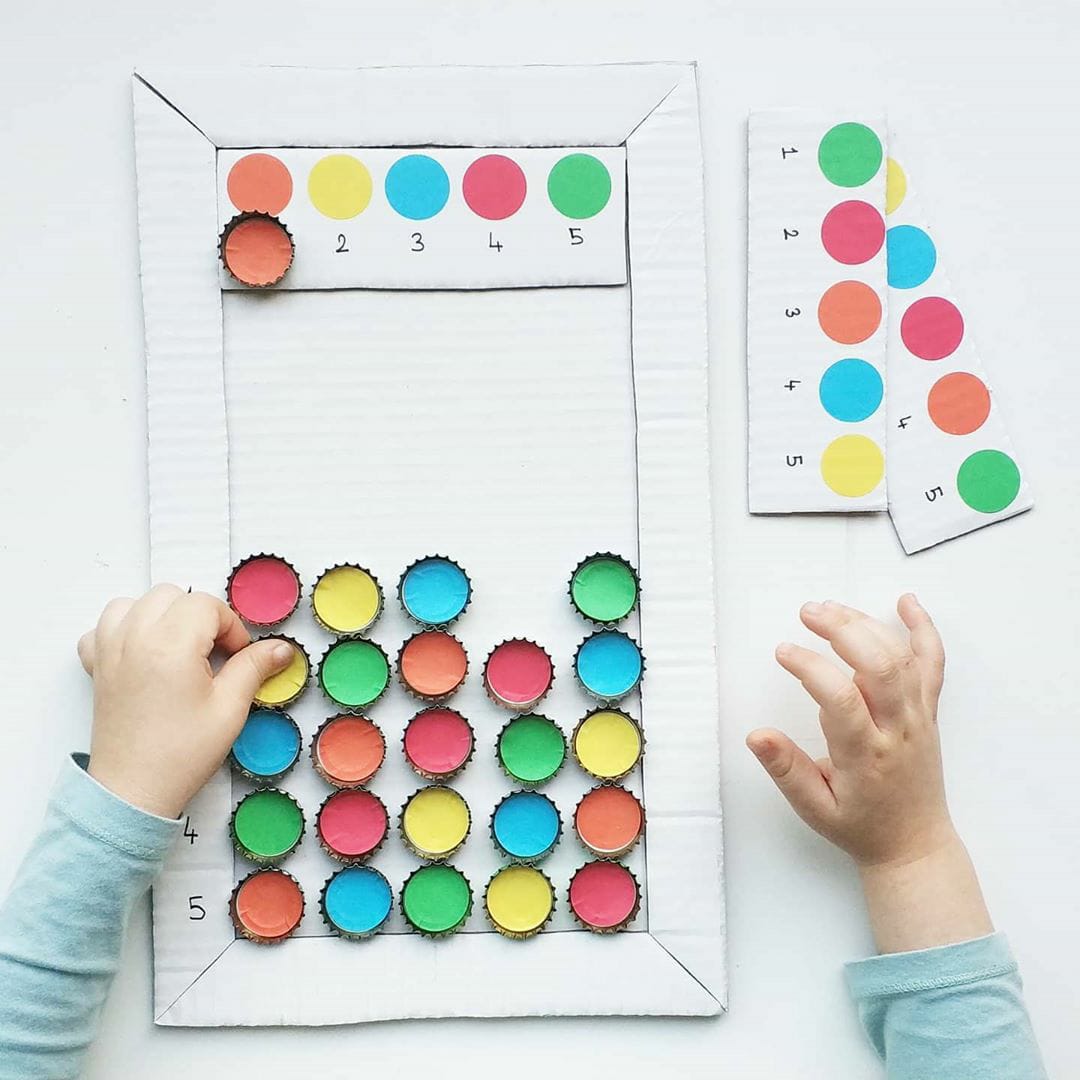 Drink/Food
Today, we played this activity that I prepared earlier to teach English / Turkish foods and drinks.
I think this activity is a good idea to teaching fun english at home.
Be sure, every training offered with games becomes more permanent. I also learn while teaching Ali Eymen.😉
(I wanted to upload photos again because previous images are not very clear)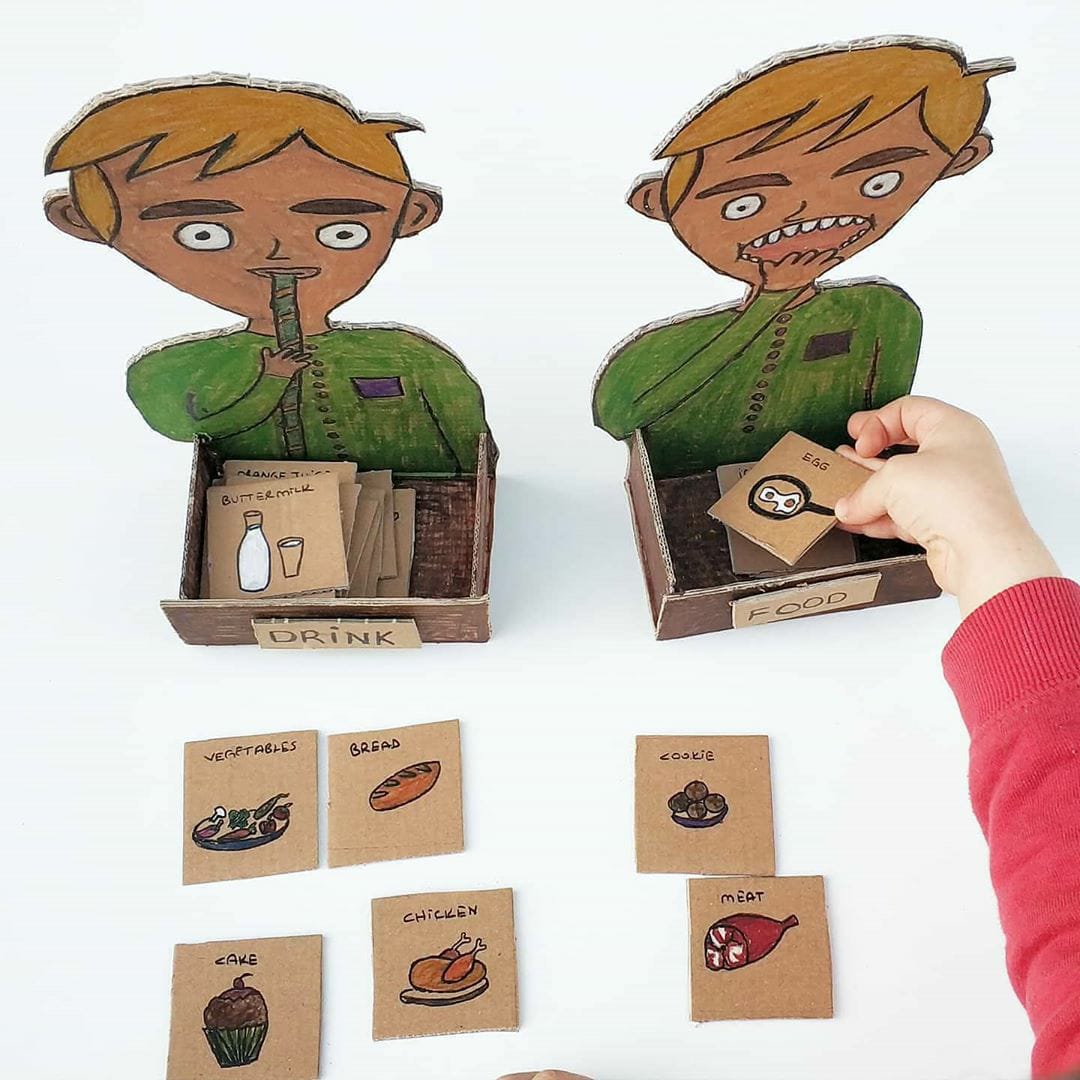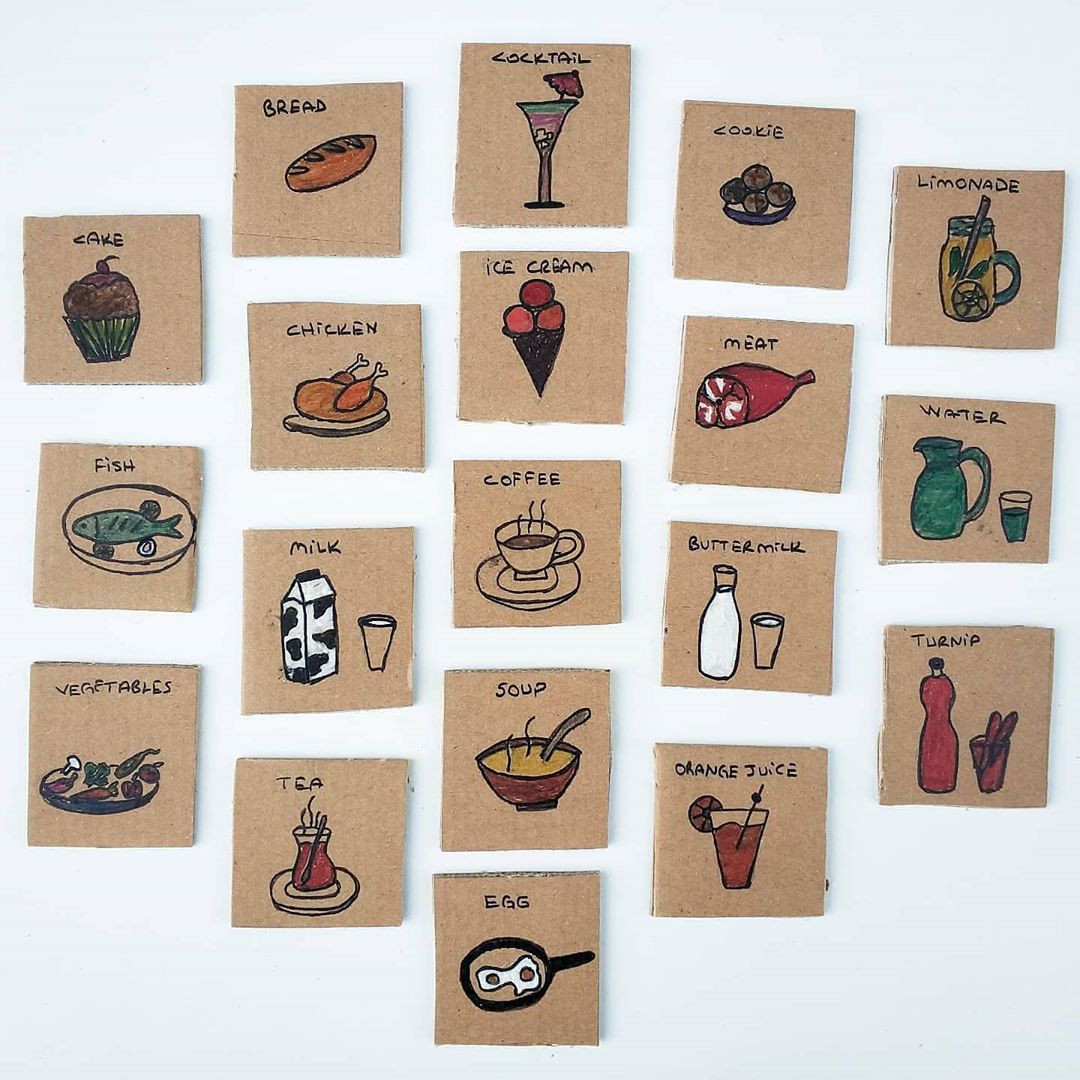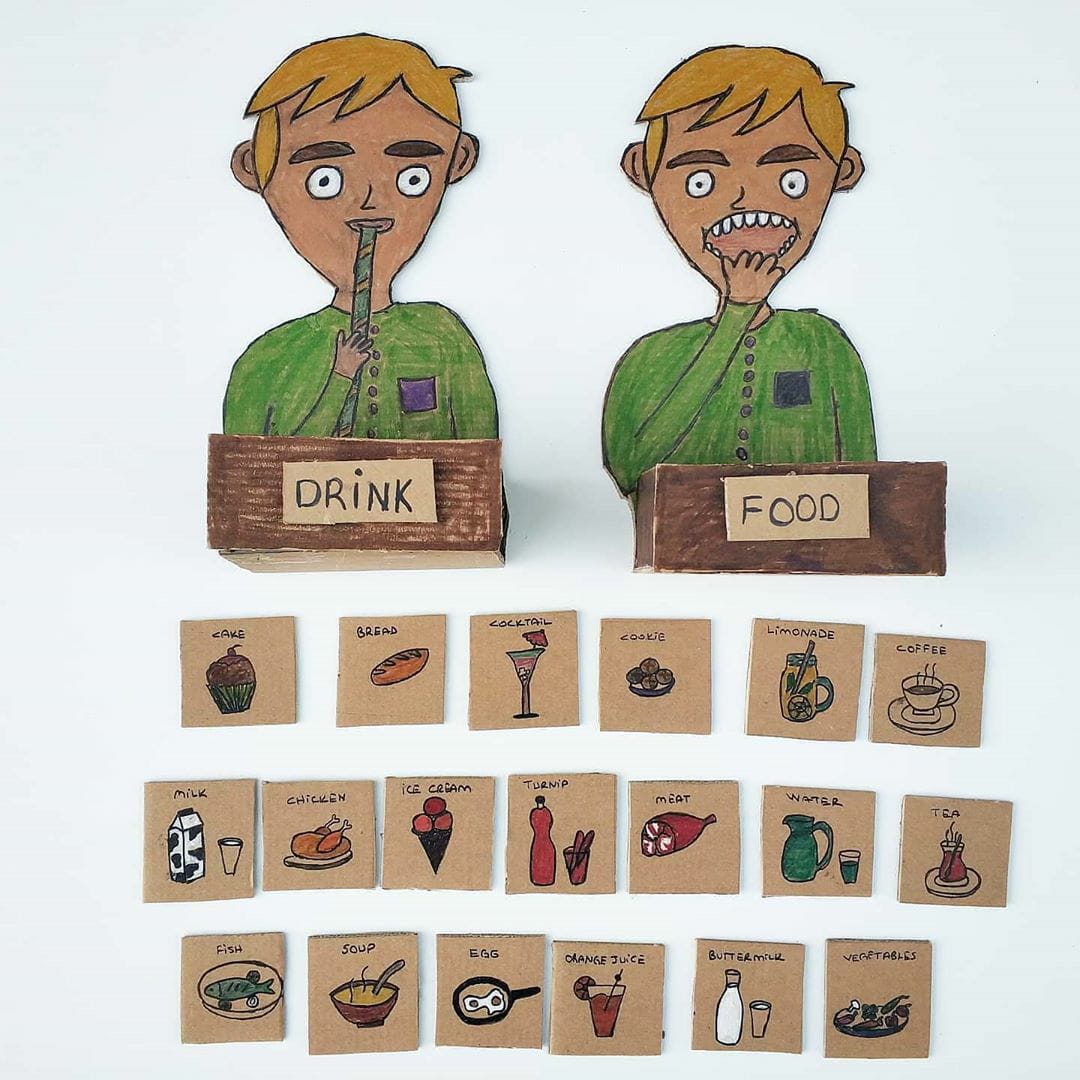 There are fun creative activities which dear mother prepares for her child at this page. We thank her so much again for her sharing. You can follow this handsome boy from the instagram page of @esra_selcukblgn. Have fun!
Vegetable fruit garden 🍇🍉🍓🌽🍄🥒
The vegetables and fruits we collected from the garden, put in the basket were accidentally spilled, they all mixed together. Let's find out from which garden we collected these spilled fruits and vegetables and put them in the right basket.3 years old. For the little ones, you can reduce the ratio of fruits and vegetables.😉🤗
– A game that I prepared to improve short-term memory, visual attention, visual scanning skills.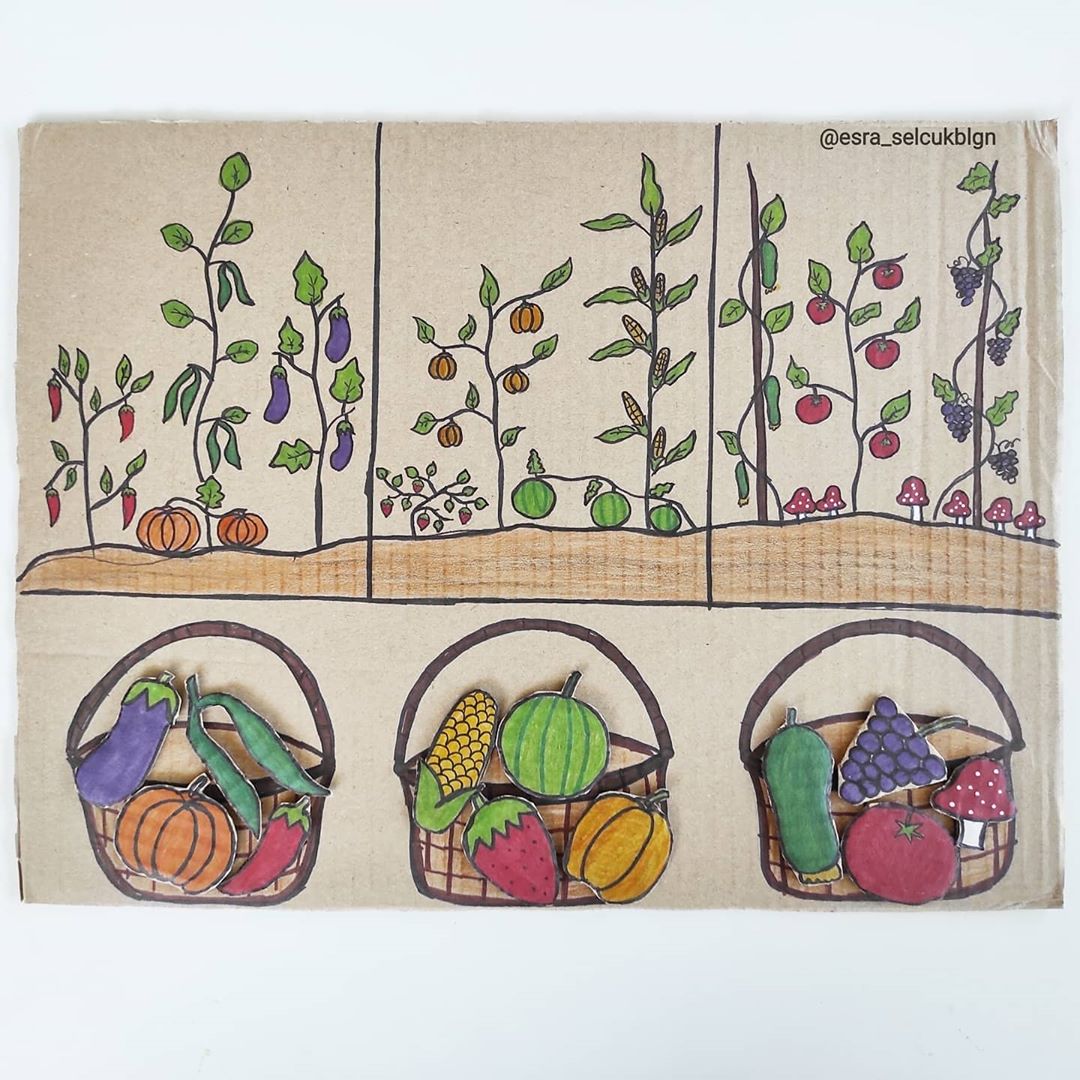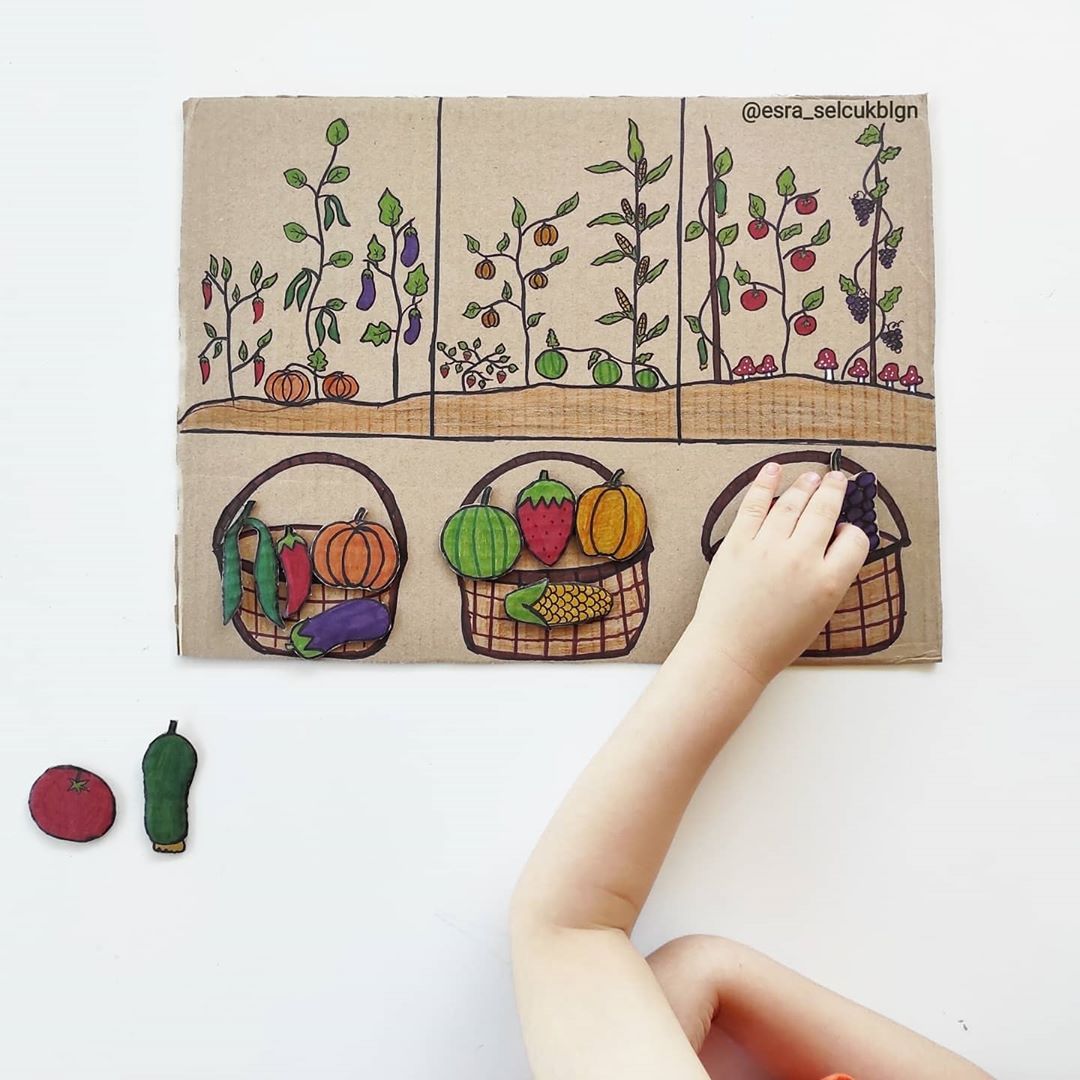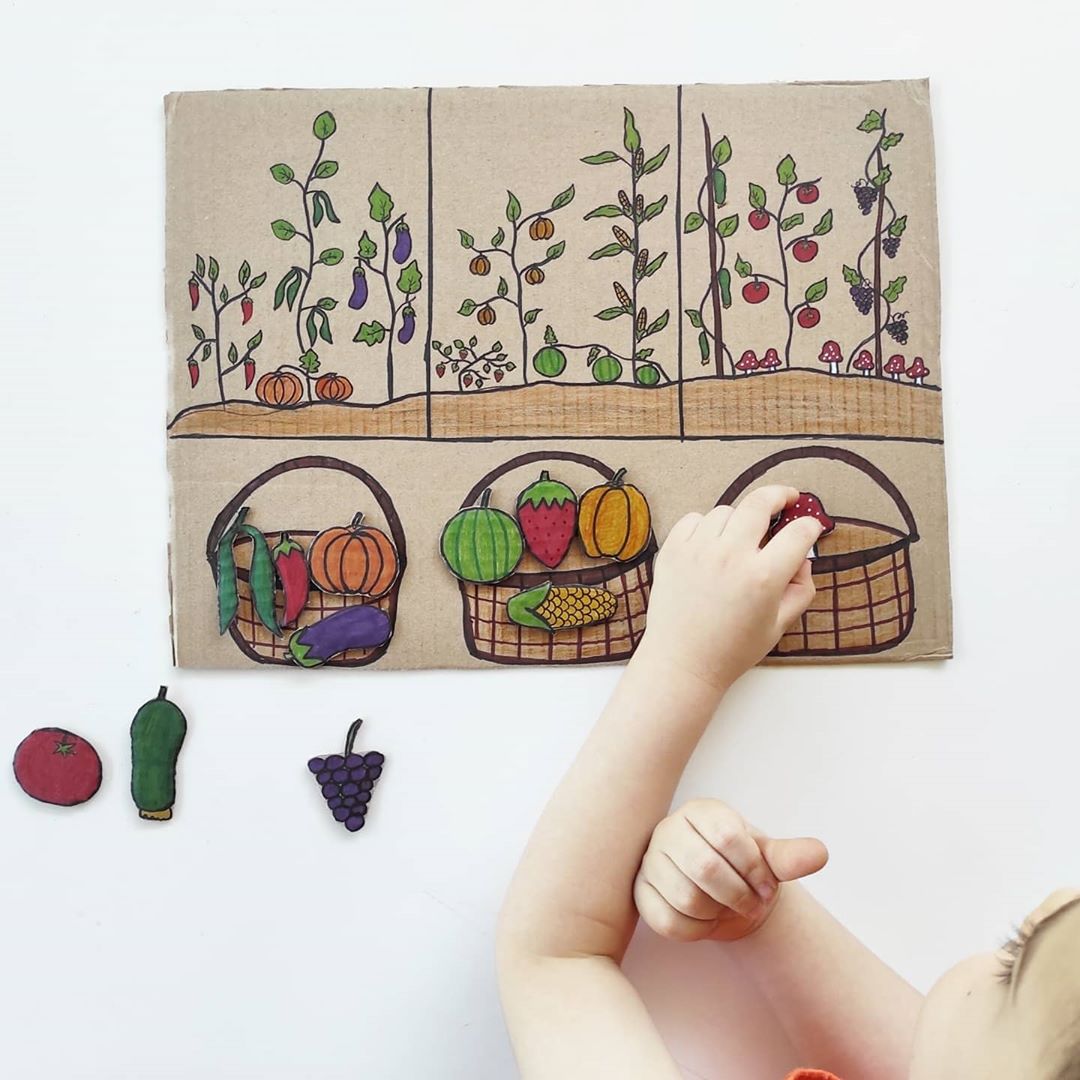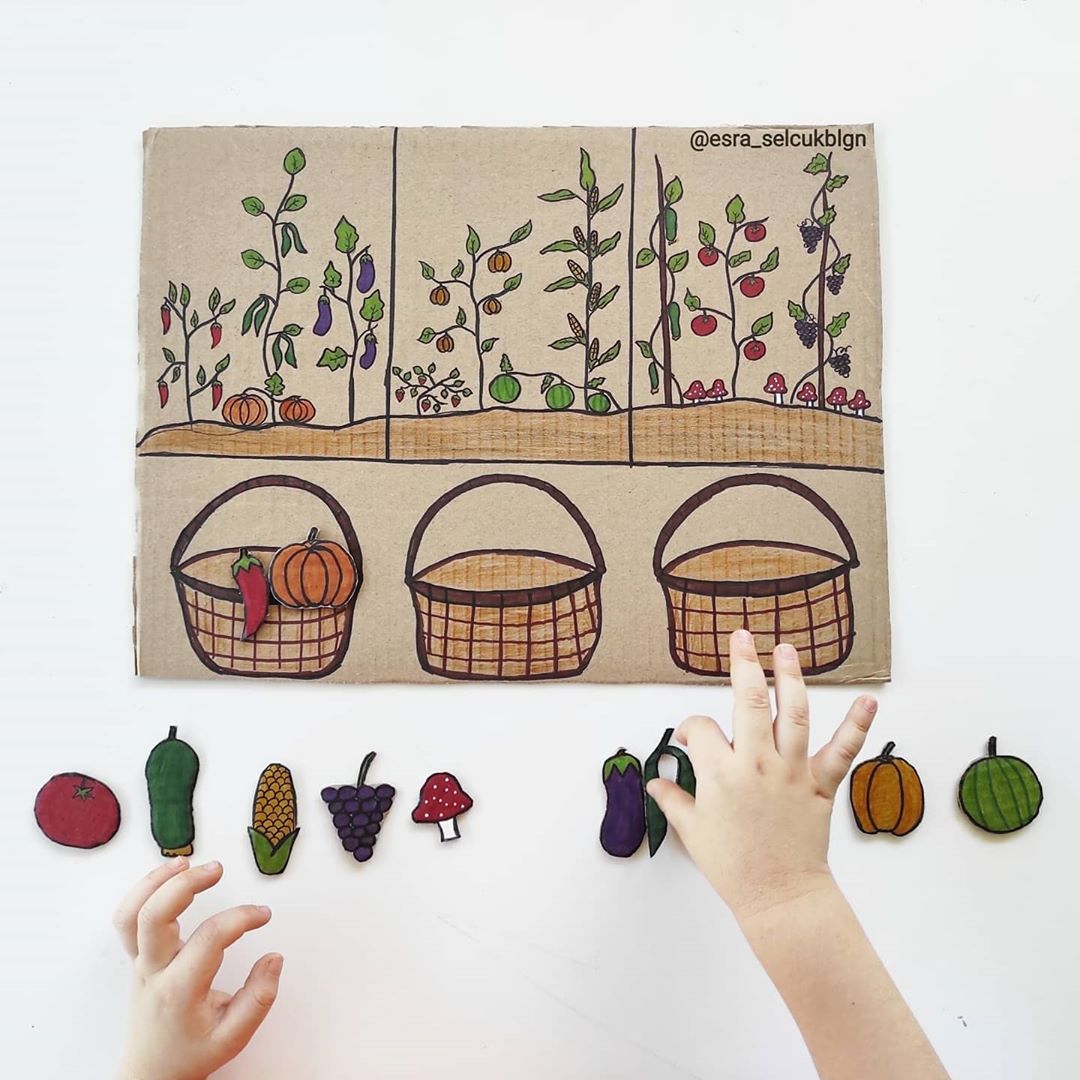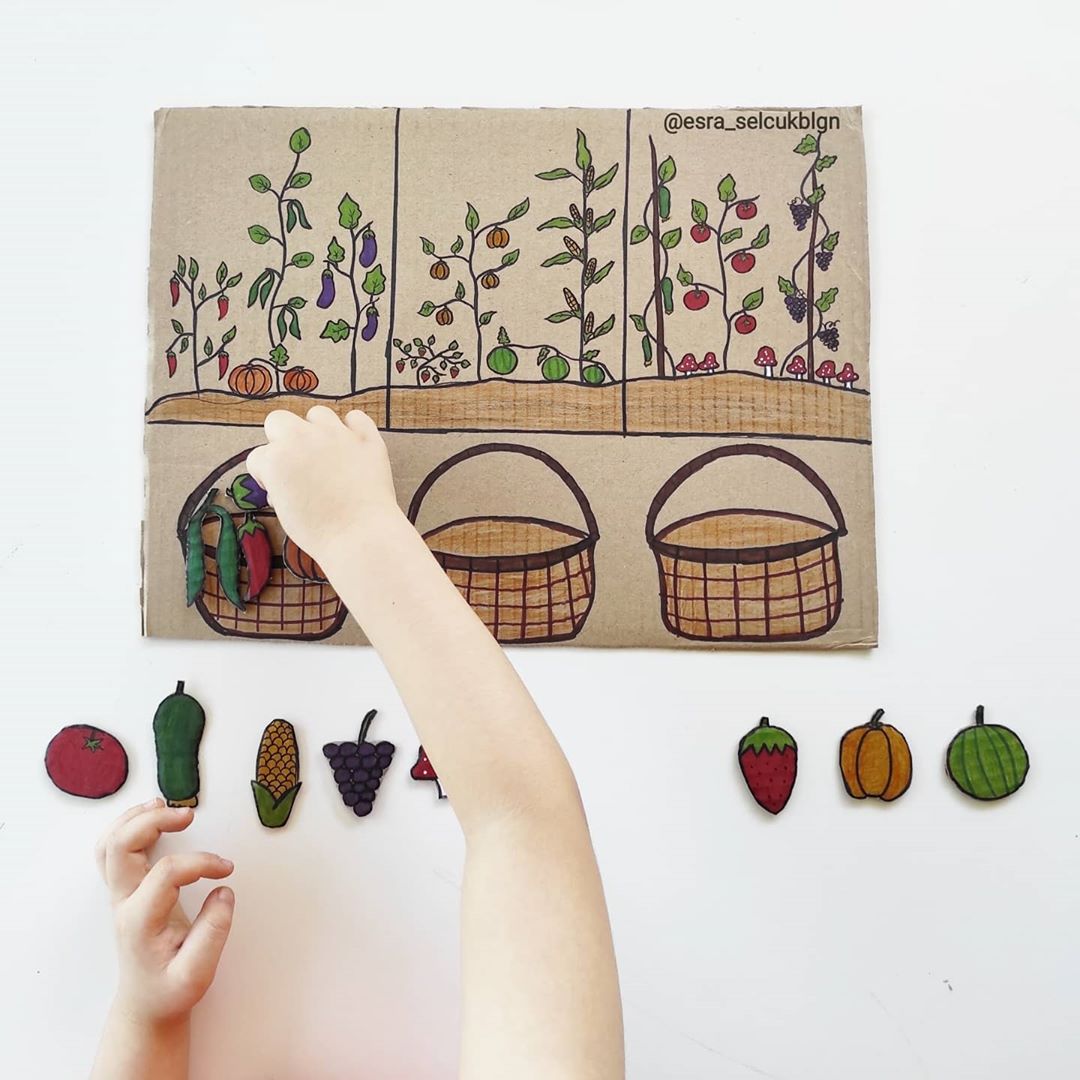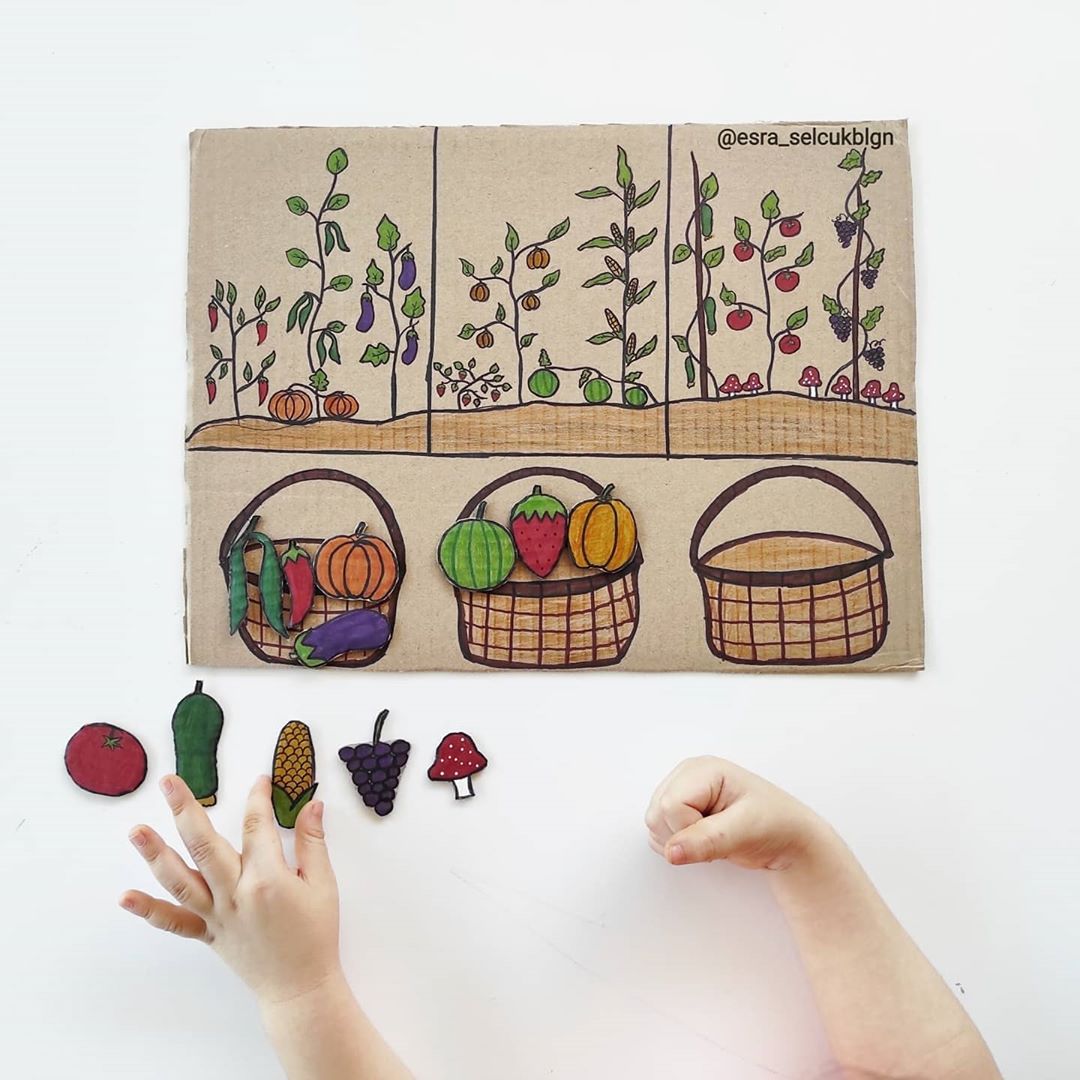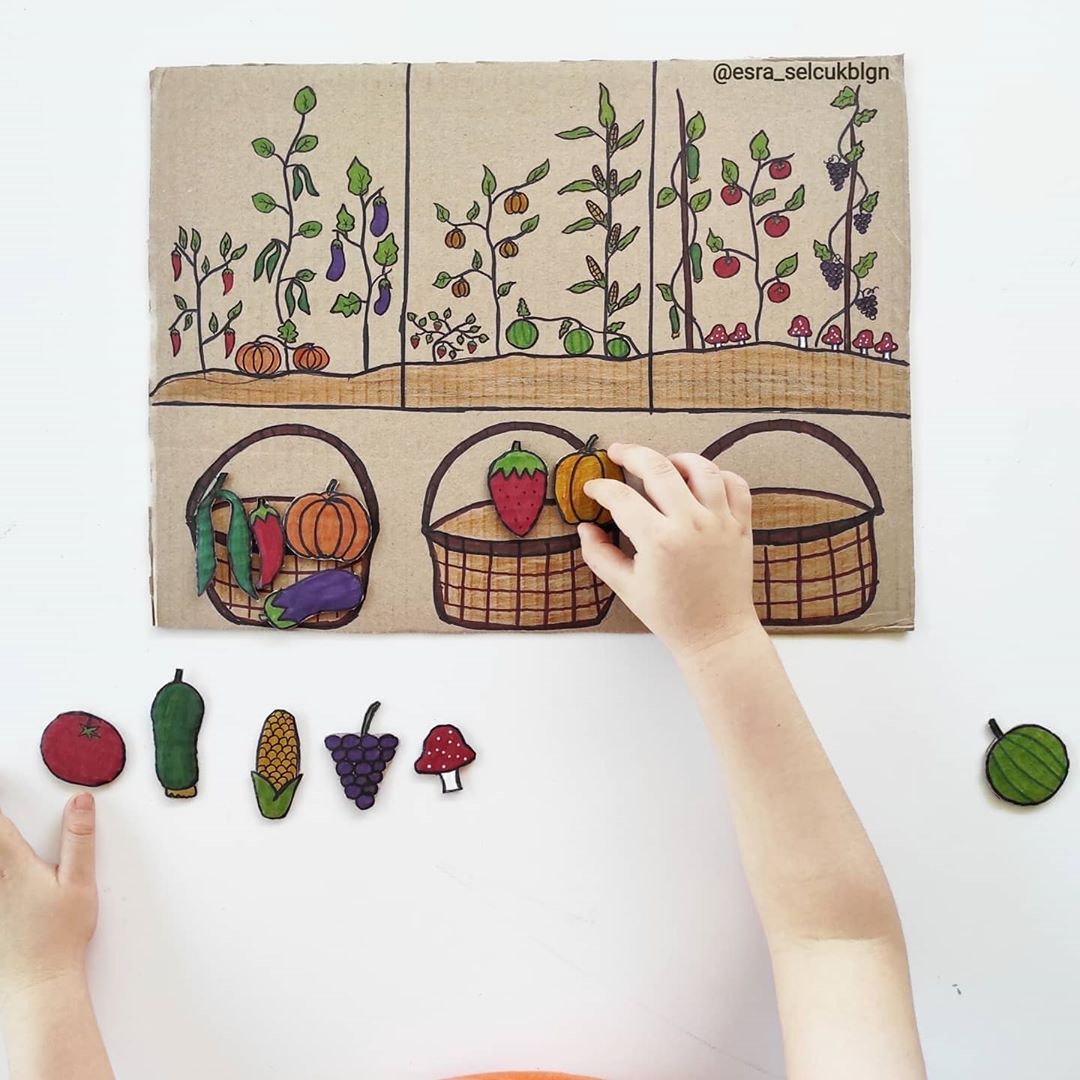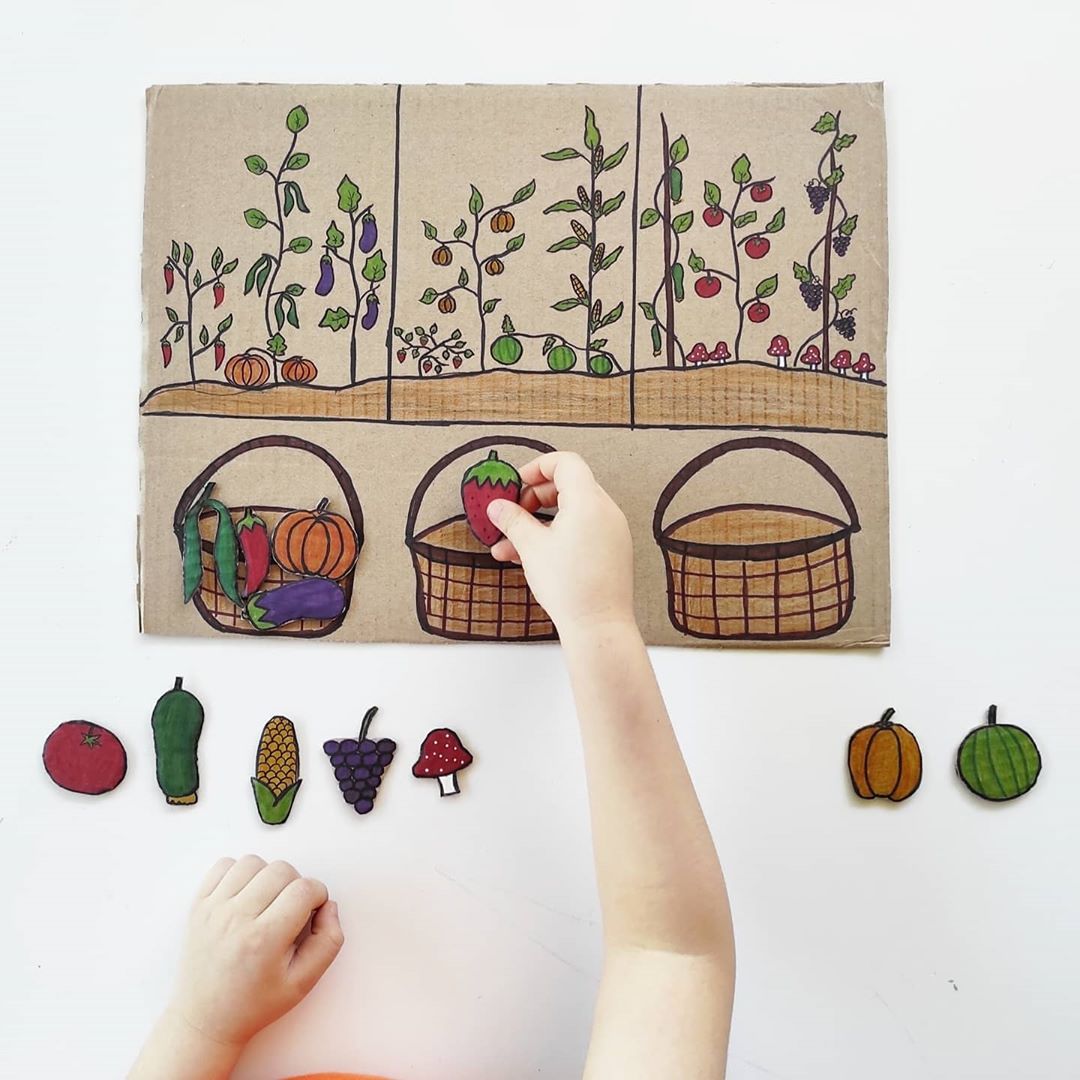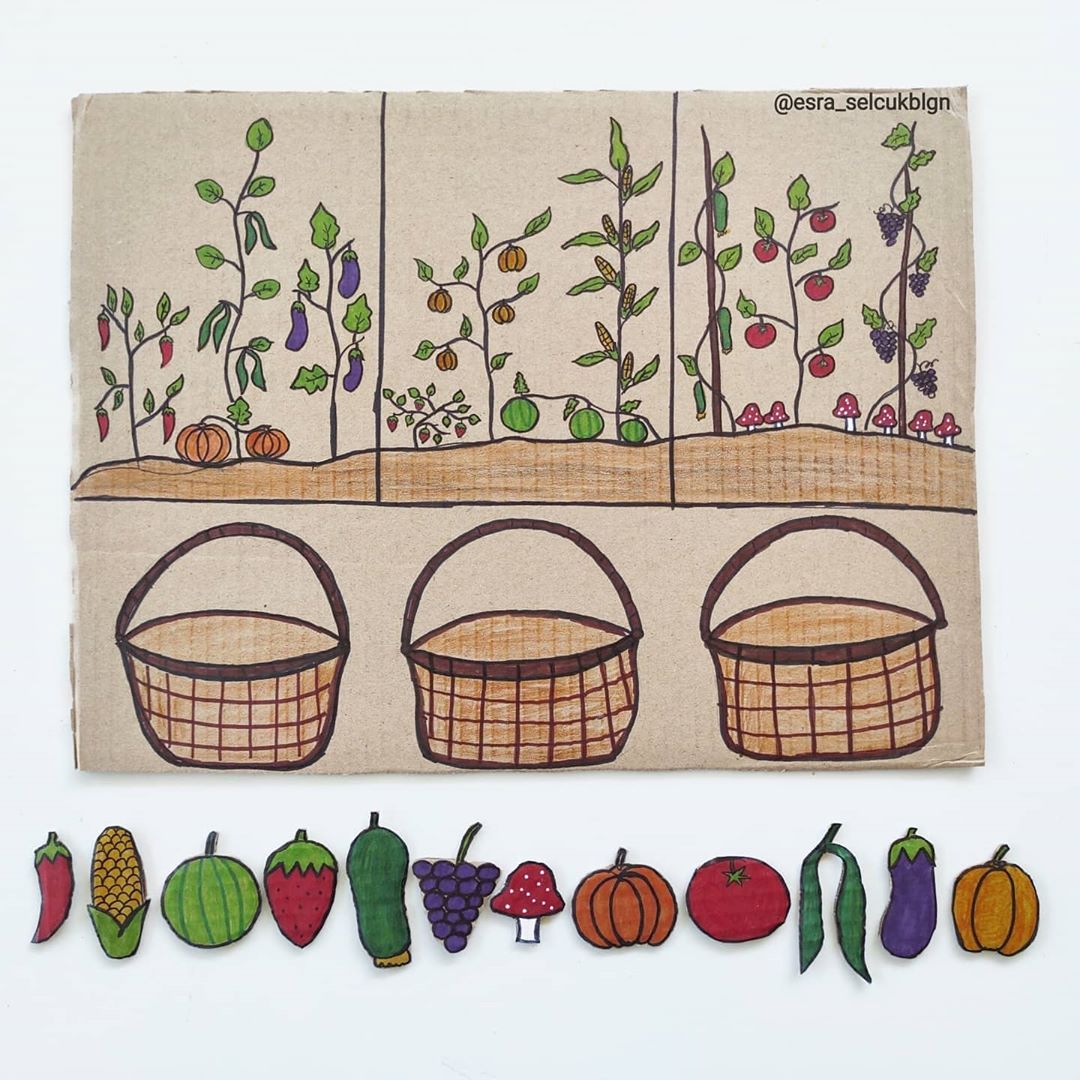 Multiple Activity
Today we played a lot of games with a material I prepared: dimensions, simple math, color matching and puzzles. My friend  had recently prepared a material for the color matching activity. When I saw him I thought of preparing this kind of activity. Thank you very much for inspiring me.
Age +3. You can choose and prepare only 1 activity for younger children.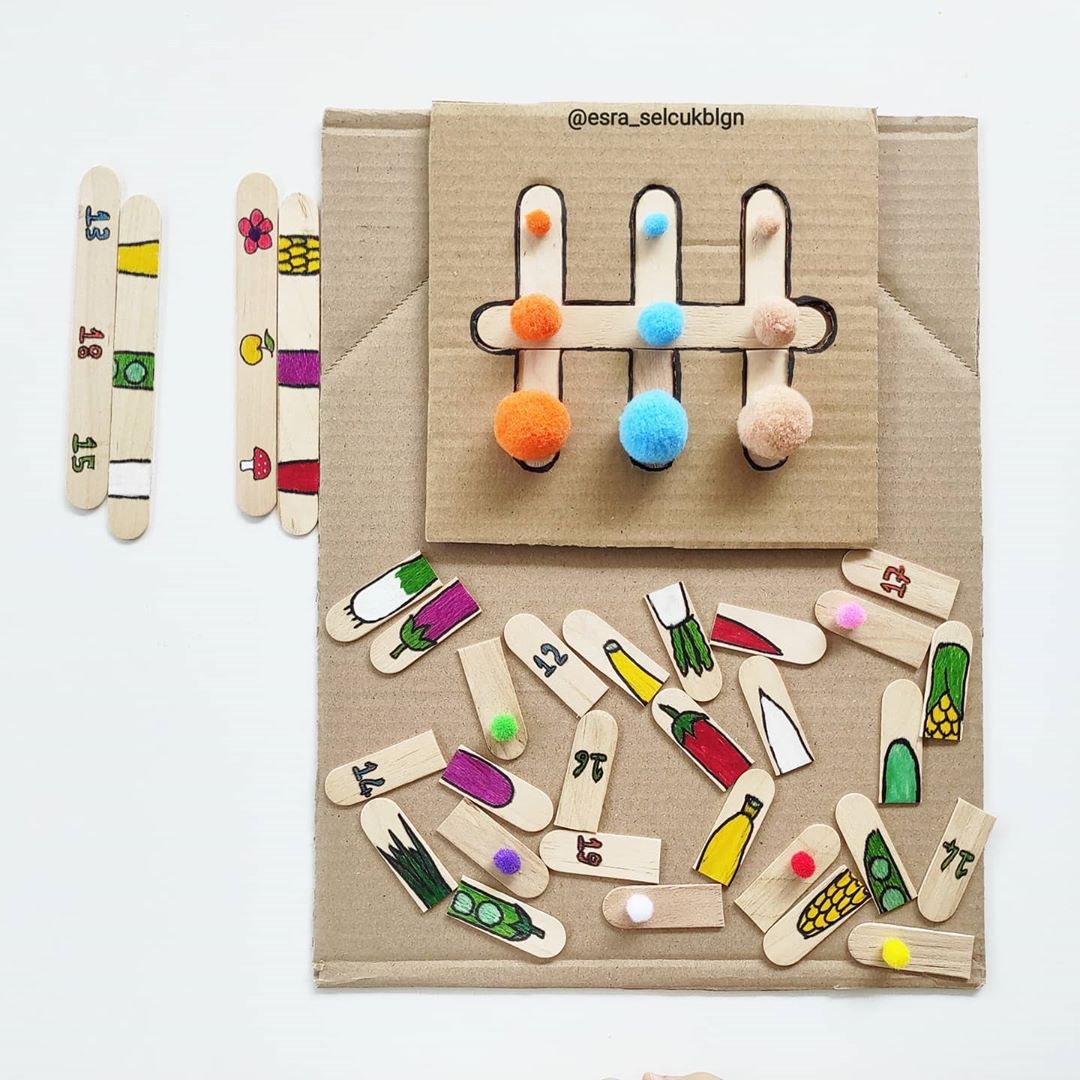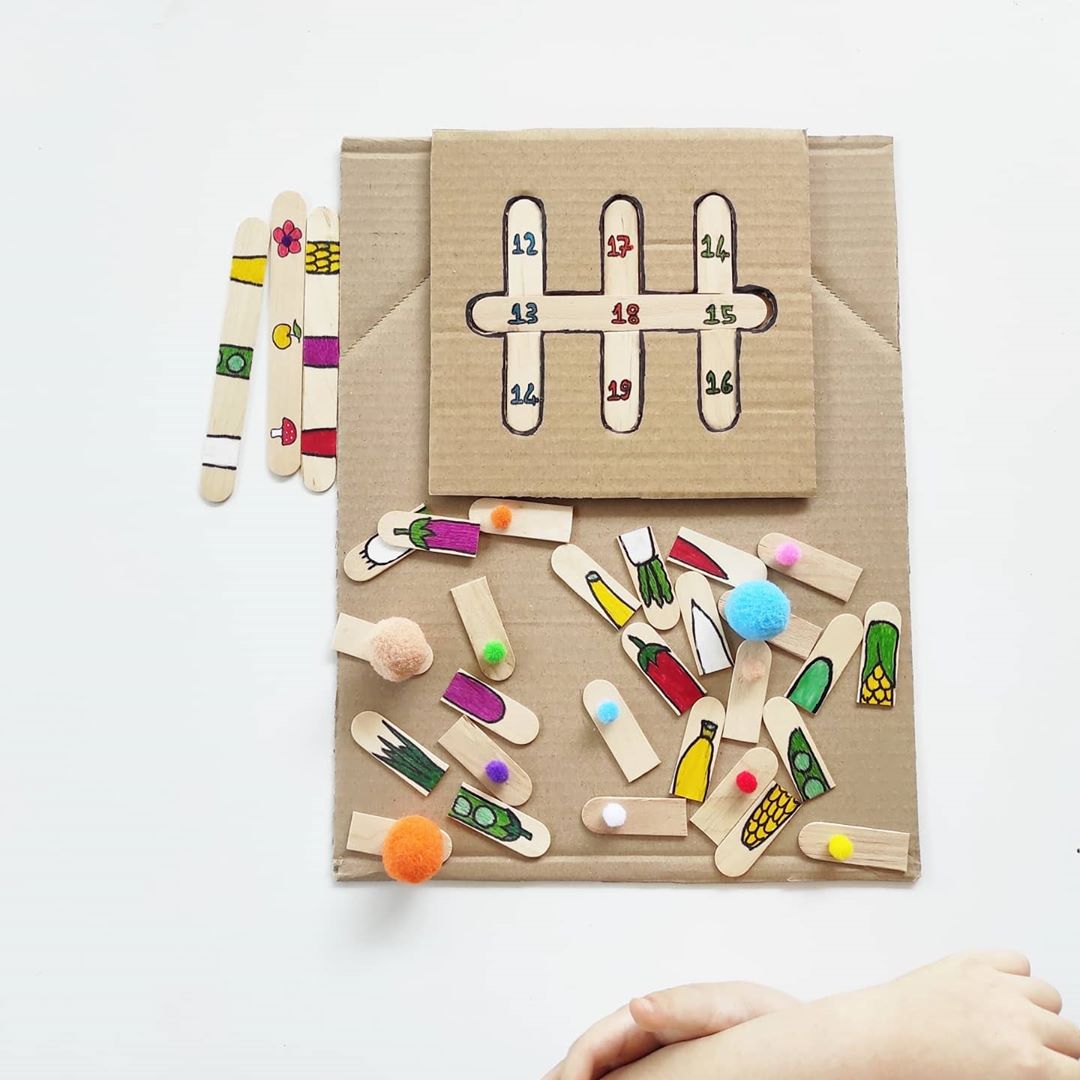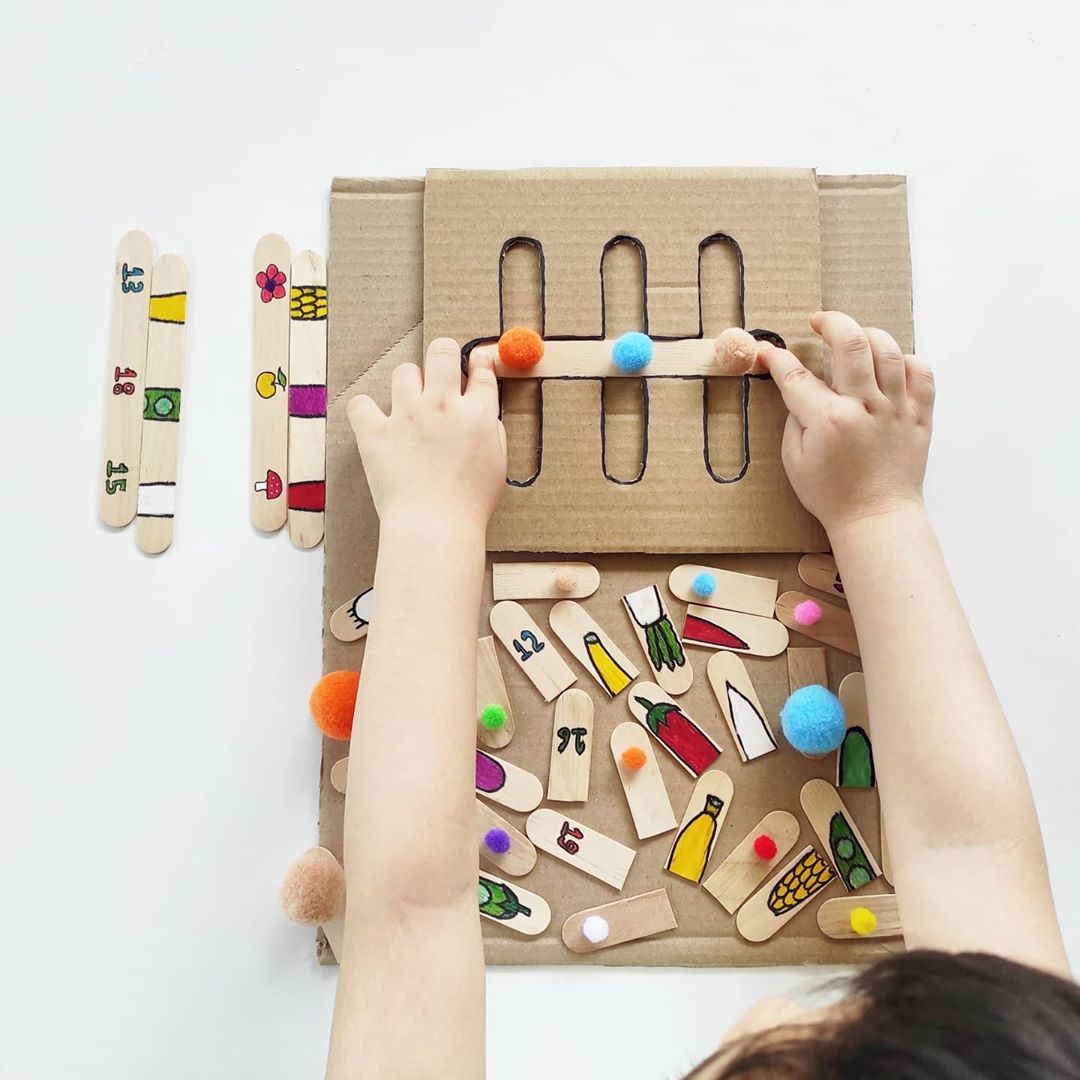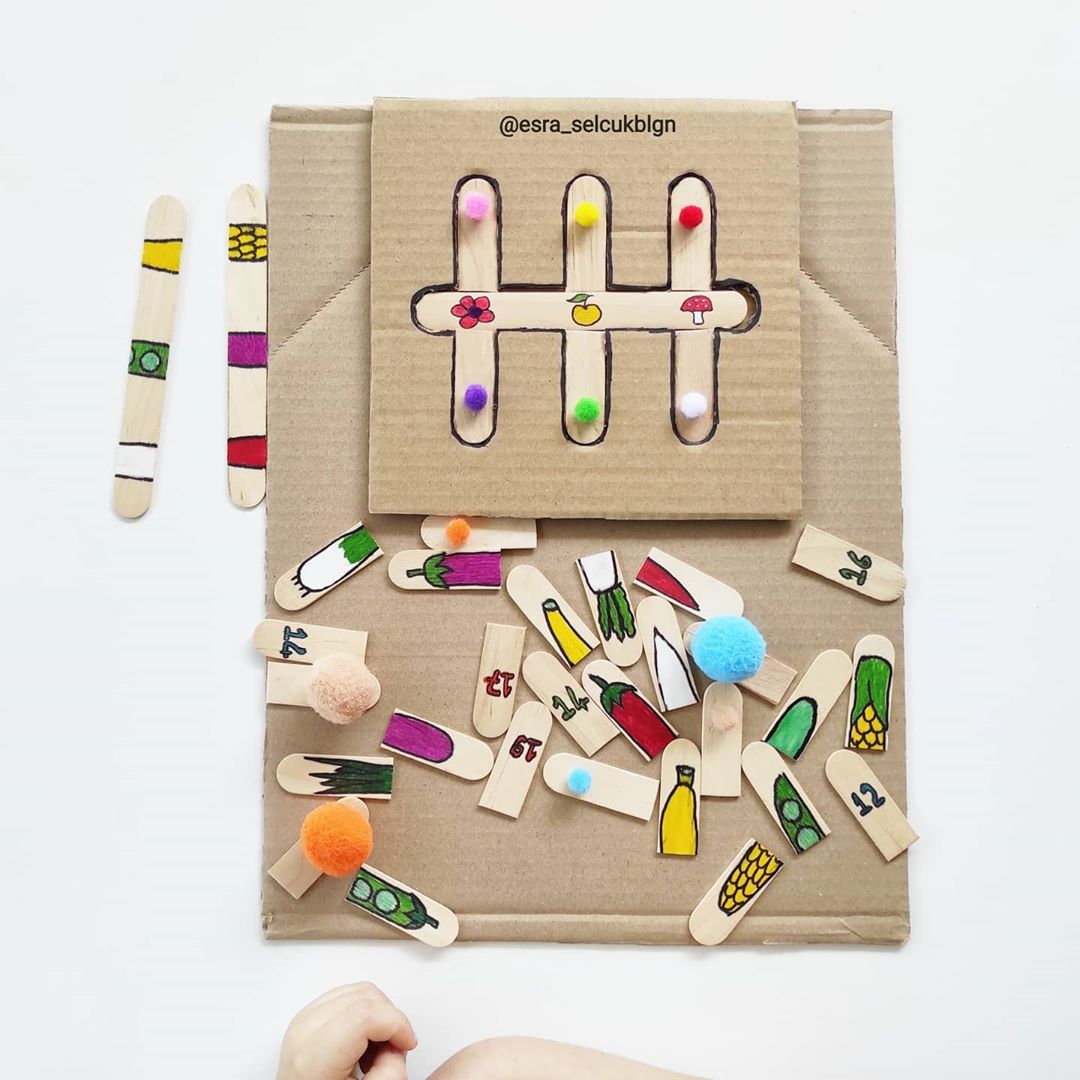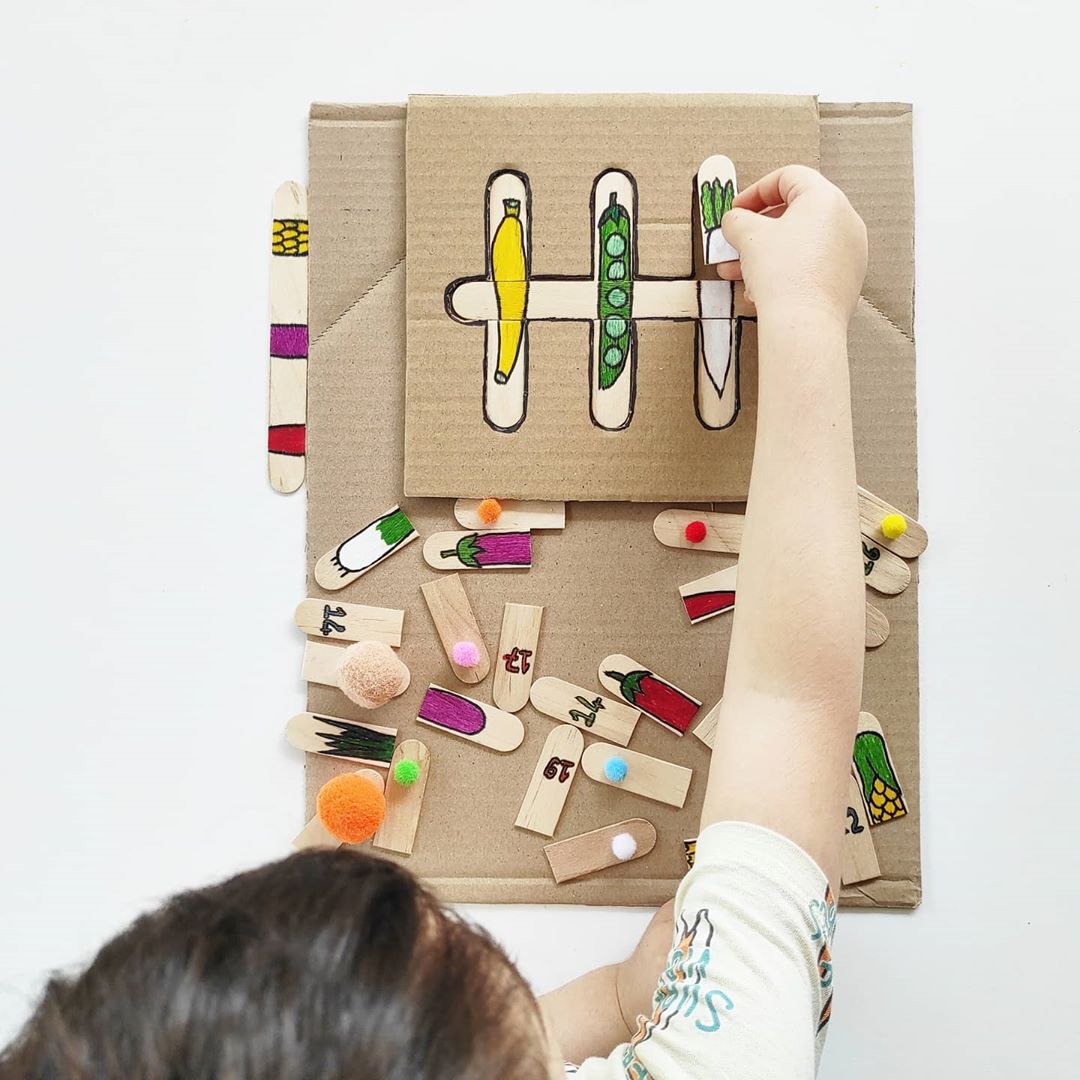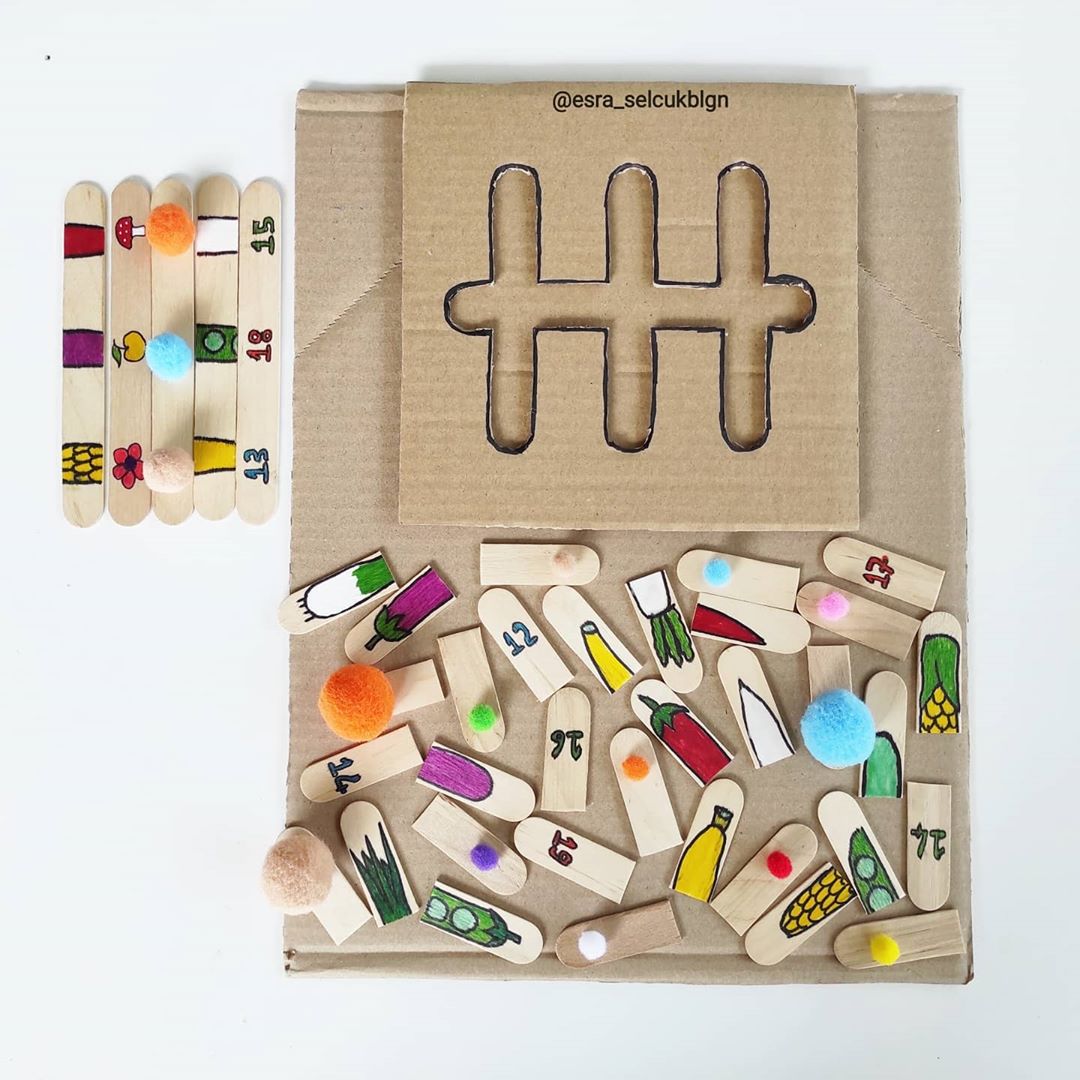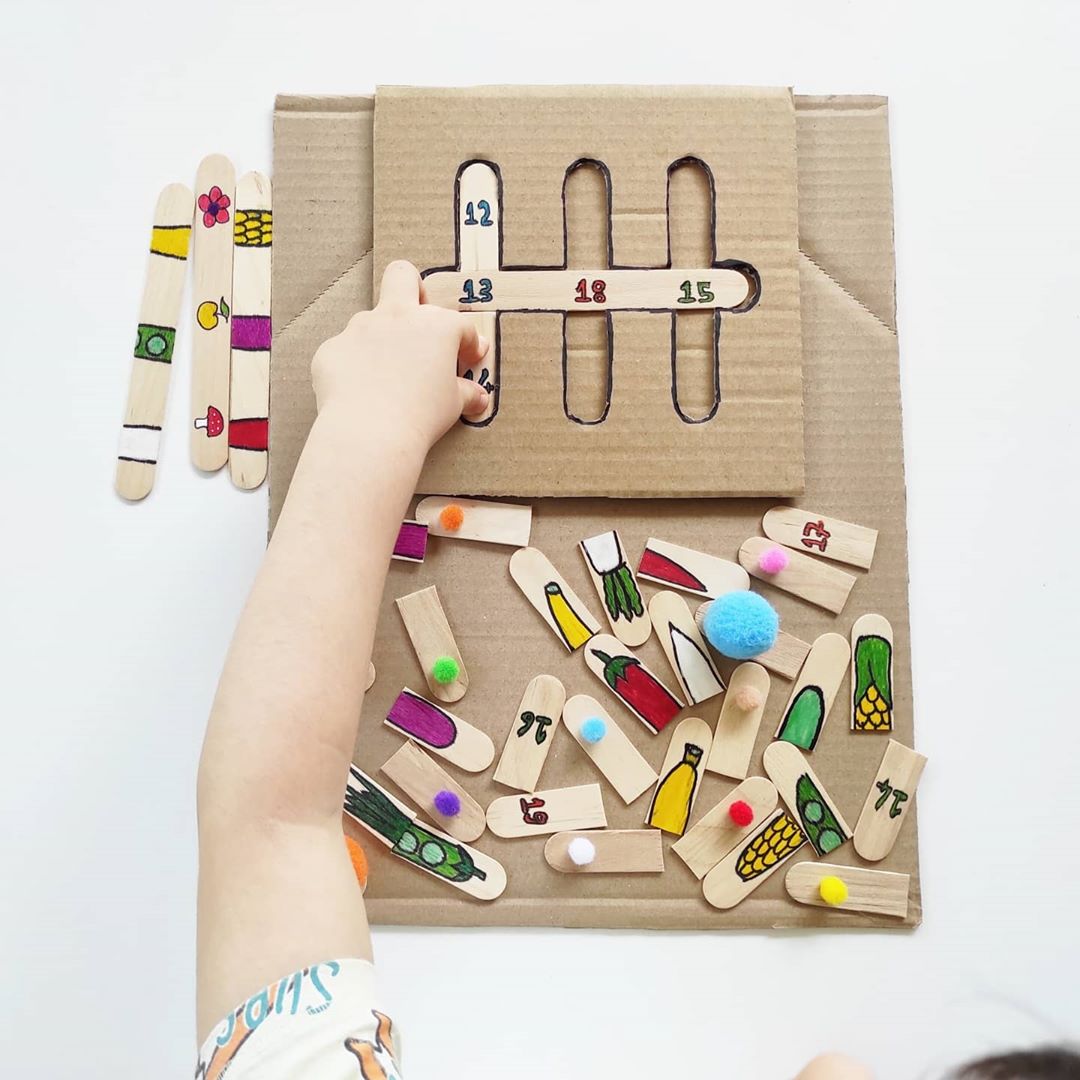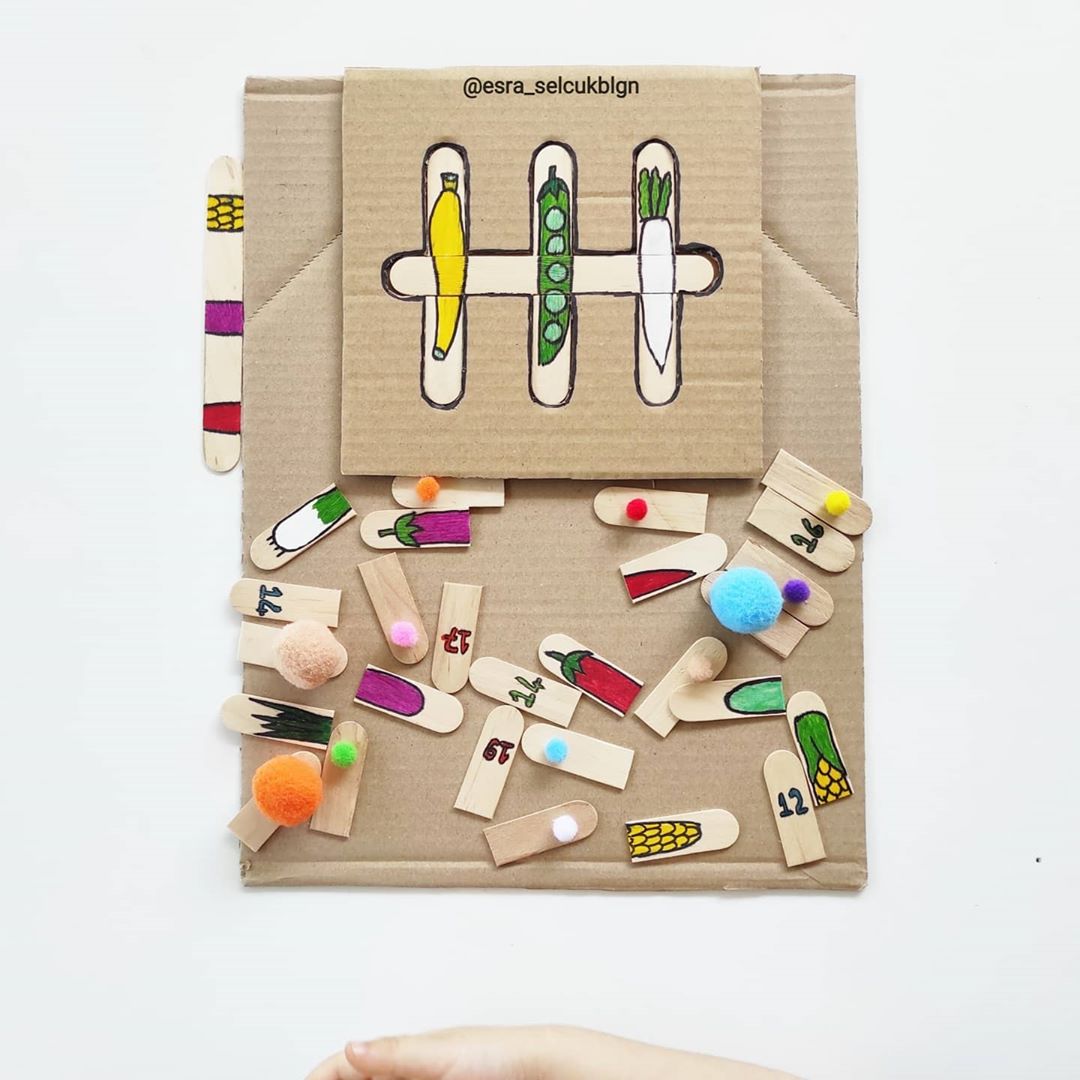 Picture Matching 🐢
Let's match the pictures of turtles drawn in different poses and then hook them into our binoculars. 😉🐢
(I made small holes in the binoculars I made from the roll so that the sunlight illuminates the inside of the binoculars. We turned it upside down to look at the pictures with binoculars.)
-A game that supports the development of visual attention while matching pictures, and fine motor development while attaching the illustrated cardboard covers to binoculars.
+3 age. You can play by making simpler drawings for under 3 years old.