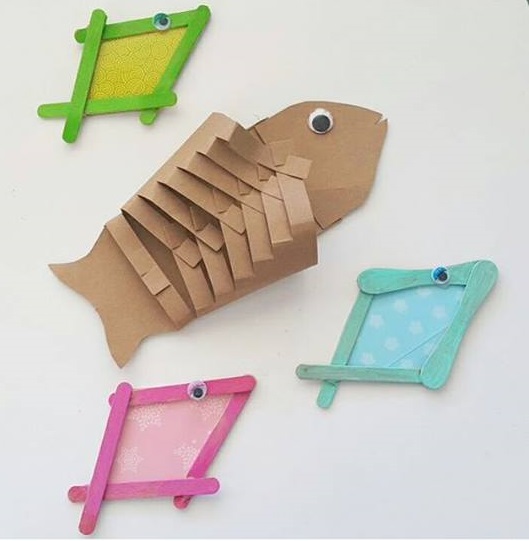 Preschool fish craft ideas
I can't believe this was our last week of seeing kids before winter break.We did this cute and easy fish craft with our preschoolers to work on cutting skills,swipe to see template.
Kids love opening this craft into a fish after they cut the curved and zig zag line and you cab then decorate the fish in a veriety of ways-crumple tissue paper,dot markers,stickers,finger paints,paper plates,Cd's,googly eyes,popsicle sticks.We had our kids color the fish and cut paper pieces for further cutting practice.
I love how colorful this little paper plate fish turned out.We created a school of fish for the first week back at school.
You can do many fish activities:
Collage
Painting
Craft and art activities
Fine motor skill 
 So today we made a fish out of CD.It is an idea that I got from Pinterest.Fun and easy craft activity
What you needed:
CD and stickers
Construction papers
Scrap papers
Popsicle sticks and paper plates
Toilet paper rolls
Goggly eyes
Paints
Rainbow fish craft preschoolers 
Paper plate inspired fish inspired by the story "The Rainbow Fish". 🌈 .
As we read the story of the rainbow fish we spoke about how having the most sparkles isn't the most important thing. Miss 4 commented that "it's not nice not to share" and she was happy when the rainbow fish gave a sparkle to each of the fish. It made her smile. 🐟
We also used our numeracy skills as kids counted the rainbow fish's sparkly scales!✨
A fantastic story for preschoolers with a strong life lesson!