Lamb craft ideas for kids
The children made some adorable lamb today in.Oh those are cute.
Do you guys have any idea what are these?
I somehow managed to finally put it up,my daughter's been eyeing on them and trying to help and of course the end result is bits and pieces,but overall we enjoyed crafting.
These are fun and can keep your child engaged,we all know they get bored easily.What pretty lamb these are.These are super cute… The white one do you get it in the market:))
How adorable is this little sweet lamb that we made in preschool class!The kids glued cotton onto their artwork giving it a soft and fury texture!
Sheep scene.I used my daughter's silver bubble wrap painting to cut sheep shapes.We sticked them on a green paper .And then she drew heads and legs to our sheep.Her sheep are way better than the one I did.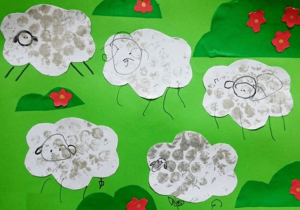 Thank you my daughter and my students